Translation of Wordpress English to Chinese Simplified(Part #11) -1105 words
Due to the problem of multiple accounts, the translation work was suspended for a few days. After communicating with ruah, I was given an opportunity and I will continue to provide translation contributions.
Project Details
What about project?
WordPress is open source software you can use to create a beautiful website, blog, or app.Beautiful designs, powerful features, and the freedom to build anything you want. WordPress is both free and priceless at the same time.
why have you decided to help translating this project?
I am a Chinese , I use WordPress to build a lot of websites, I am familiar with wordpress,so I hope I can do something to open source projects
why other translators should do the same.
Maybe they are wordpress users, love this product, we hope wordpress more perfect.
Links related to the translation
Github Link: https://github.com/WordPress/WordPress
Crowdin Project link: https://crowdin.com/project/wordpresss/
Crowdin Activity: https://crowdin.com/project/wordpresss/zh-CN/activity
Crowdin Report: https://crowdin.com/project/wordpresss/reports
Source Language
English
Translated Language
Simplified Chinese
This project has a total of 23,757translatable words, with 18,979translated, and 4,778words yet to be translated.
Number Of Words
20084 - 18979 =1105
Proofread Words
none
Previous translation on the same project
Translation Process
This is my tenth translation of this project,Because it is familiar with wordpress, it is not difficult to translate.
Proof of Work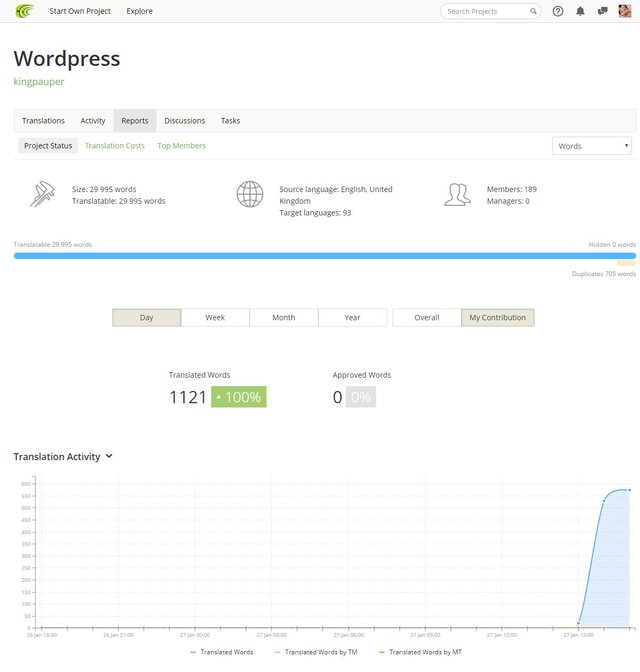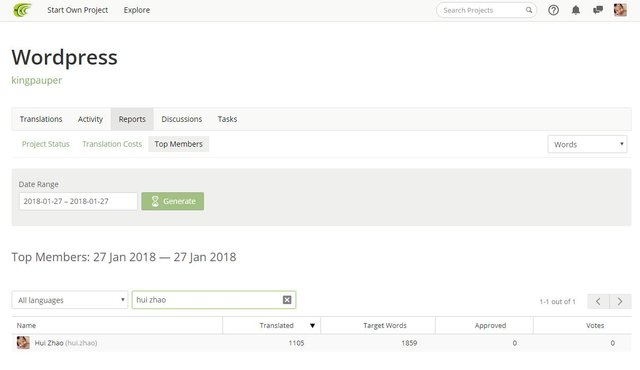 Translation-----File-----Language-----Time
您的密钥已被清除。-----wordpress.pot-----Chinese Simplified-----05:41 PM
错误:请填写必填字段(姓名, 电子邮件)-----wordpress.pot-----Chinese Simplified-----05:40 PM
抱歉,您必须登录后才可以发表评论。-----wordpress.pot-----Chinese Simplified-----05:40 PM
无法载入 %s.-----wordpress.pot-----Chinese Simplified-----05:39 PM
无效的插件页面-----wordpress.pot-----Chinese Simplified-----05:39 PM
正在安装您上传的主题:%s-----wordpress.pot-----Chinese Simplified-----05:38 PM
上传主题-----wordpress.pot-----Chinese Simplified-----05:38 PM
正在安装主题:%s-----wordpress.pot-----Chinese Simplified-----05:38 PM
正在安装您上传的插件:%s-----wordpress.pot-----Chinese Simplified-----05:38 PM
上传插件-----wordpress.pot-----Chinese Simplified-----05:38 PM
正在安装插件:%s-----wordpress.pot-----Chinese Simplified-----05:37 PM
插件重新启用失败,因为发生了一个致命错误。-----wordpress.pot-----Chinese Simplified-----05:37 PM
插件重新启用成功。-----wordpress.pot-----Chinese Simplified-----05:36 PM
重新启用插件-----wordpress.pot-----Chinese Simplified-----05:36 PM
固定链接-----wordpress.pot-----Chinese Simplified-----05:36 PM
隐私-----wordpress.pot-----Chinese Simplified-----05:35 PM
阅读-----wordpress.pot-----Chinese Simplified-----05:35 PM
撰写-----wordpress.pot-----Chinese Simplified-----05:35 PM
常规-----wordpress.pot-----Chinese Simplified-----05:35 PM
设置-----wordpress.pot-----Chinese Simplified-----05:35 PM
配置网络-----wordpress.pot-----Chinese Simplified-----05:34 PM
删除站点-----wordpress.pot-----Chinese Simplified-----05:34 PM
可用工具-----wordpress.pot-----Chinese Simplified-----05:34 PM
所有用户-----wordpress.pot-----Chinese Simplified-----05:34 PM
编辑-----wordpress.pot-----Chinese Simplified-----05:34 PM
已安装插件-----wordpress.pot-----Chinese Simplified-----05:34 PM
插件 %s-----wordpress.pot-----Chinese Simplified-----05:34 PM
编辑-----wordpress.pot-----Chinese Simplified-----05:34 PM
所有评论-----wordpress.pot-----Chinese Simplified-----05:33 PM
媒体库-----wordpress.pot-----Chinese Simplified-----05:33 PM
地址:-----wordpress.pot-----Chinese Simplified-----05:33 PM
地址(%s):-----wordpress.pot-----Chinese Simplified-----05:33 PM
访问网站-----wordpress.pot-----Chinese Simplified-----05:32 PM
电子邮件:-----wordpress.pot-----Chinese Simplified-----05:32 PM
发送电子邮件-----wordpress.pot-----Chinese Simplified-----05:32 PM
电子邮件(%s):-----wordpress.pot-----Chinese Simplified-----05:32 PM
姓名:-----wordpress.pot-----Chinese Simplified-----05:32 PM
提交在:<b>%1$s</b>-----wordpress.pot-----Chinese Simplified-----05:31 PM
待审-----wordpress.pot-----Chinese Simplified-----05:31 PM
编辑评论 # %s-----wordpress.pot-----Chinese Simplified-----05:31 PM
查看评论-----wordpress.pot-----Chinese Simplified-----05:30 PM
<a href="http://codex.wordpress.org/Media_Add_New_Screen" target="_blank">上传媒体文件的文档</a>-----wordpress.pot-----Chinese Simplified-----05:30 PM
<a href="http://codex.wordpress.org/Media_Add_New_Screen" target="_blank">关于上传媒体文件的</a>文档-----wordpress.pot-----Chinese Simplified-----05:30 PM
您可以不创建文章,直接上传多媒体文件。这样,您就可以得到一个用于分享的网络链接,当然,也可以在日后将这写媒体文件用在文章中。有如下三种上传文件的选择:-----wordpress.pot-----Chinese Simplified-----05:29 PM
上传新的媒体文件-----wordpress.pot-----Chinese Simplified-----05:28 PM
这个插件在启用的过程中产生了%d个字符的<strong>异常输出</strong>。如果您遇到了"headers already sent"错误、联合feed(如RSS)出错等问题,请尝试禁用或移除本插件。-----wordpress.pot-----Chinese Simplified-----05:27 PM
您不能删除主站点正在使用的插件。-----wordpress.pot-----Chinese Simplified-----05:25 PM
<code>%s</code>插件已被<strong>禁用</strong>,因为以下错误:%s-----wordpress.pot-----Chinese Simplified-----05:25 PM
<a href="http://codex.wordpress.org/Managing_Plugins#Plugin_Management" target="_blank">管理插件文档</a>-----wordpress.pot-----Chinese Simplified-----05:23 PM
如果因为插件出现问题而让您无法使用WordPress,您可以删除或重命名<code>%s</code>目录中的那个文件,其就会被自动禁用。-----wordpress.pot-----Chinese Simplified-----05:23 PM
通常每个插件都能和其他插件以及WordPress核心程序正常工作。但是,有的时候某些插件会和其他插件相冲突,进而产生兼容性问题。如果您的站点工作异常,可能是这个原因导致的。您可尝试禁用所有插件,再逐个启用,以排除问题。-----wordpress.pot-----Chinese Simplified-----05:22 PM
插件拓展、拓充WordPress的功能。插件安装后,您可以在这里启用或者停用它。-----wordpress.pot-----Chinese Simplified-----05:20 PM
插件-----wordpress.pot-----Chinese Simplified-----05:20 PM
不,返回到插件列表-----wordpress.pot-----Chinese Simplified-----05:16 PM
是,删除这些文件-----wordpress.pot-----Chinese Simplified-----05:15 PM
是,删除这些文件和数据-----wordpress.pot-----Chinese Simplified-----05:15 PM
您确定要删除这些文件吗?-----wordpress.pot-----Chinese Simplified-----05:15 PM
您确定删除这些文件和数据?-----wordpress.pot-----Chinese Simplified-----05:14 PM
由<em>%2$s</em>制作的<strong>%1$s</strong>-----wordpress.pot-----Chinese Simplified-----05:14 PM
由<em>%2$s</em>制作的<strong>%1$s</strong>(<strong>其数据也将被一并删除</strong>)-----wordpress.pot-----Chinese Simplified-----05:14 PM
您将要删除以下插件:-----wordpress.pot-----Chinese Simplified-----05:13 PM
这个插件可能已在网络的其它站点中启用了。-----wordpress.pot-----Chinese Simplified-----05:13 PM
删除插件-----wordpress.pot-----Chinese Simplified-----05:11 PM
您还没有权限删除这个网站的插件。-----wordpress.pot-----Chinese Simplified-----05:11 PM
您还没有权限禁用这个网站的插件。-----wordpress.pot-----Chinese Simplified-----05:11 PM
您还没有权限激活这个网站的插件。-----wordpress.pot-----Chinese Simplified-----05:11 PM
您还没有权限管理这个网站的插件。-----wordpress.pot-----Chinese Simplified-----05:10 PM
嗨, %1$s-----wordpress.pot-----Chinese Simplified-----05:10 PM
%s 管理网络-----wordpress.pot-----Chinese Simplified-----05:09 PM
%1$s&lsaquo;%2$s&#8212;WordPress-----wordpress.pot-----Chinese Simplified-----05:09 PM
%1$s&#8212; WordPress-----wordpress.pot-----Chinese Simplified-----05:09 PM
管理网络-----wordpress.pot-----Chinese Simplified-----05:09 PM
图表设计-----wordpress.pot-----Chinese Simplified-----05:08 PM
外部库-----wordpress.pot-----Chinese Simplified-----05:08 PM
设计者-----wordpress.pot-----Chinese Simplified-----05:08 PM
开发者-----wordpress.pot-----Chinese Simplified-----05:08 PM
用户体验负责人-----wordpress.pot-----Chinese Simplified-----05:07 PM
开发领头人-----wordpress.pot-----Chinese Simplified-----05:06 PM
创始人、项目领导者-----wordpress.pot-----Chinese Simplified-----05:06 PM
WordPress %s 版本的核心贡献者-----wordpress.pot-----Chinese Simplified-----05:06 PM
项目领导团队-----wordpress.pot-----Chinese Simplified-----05:05 PM
希望在本页面看到您的名字?<a href=\"%s\">来参与WordPress</a>吧!-----wordpress.pot-----Chinese Simplified-----05:05 PM
翻译者-----wordpress.pot-----Chinese Simplified-----05:05 PM
WordPress是由全球各地的爱好者共同创造的。我们不可能把他们一一列出,而是在这里介绍一些当前参与这个项目的最有影响力的人物:-----wordpress.pot-----Chinese Simplified-----05:04 PM
http://codex.wordpress.org/Contributing_to_WordPress-----wordpress.pot-----Chinese Simplified-----05:03 PM
月份和名称型-----wordpress.pot-----Chinese Simplified-----05:03 PM
sample-post-----wordpress.pot-----Chinese Simplified-----05:03 PM
日期和名称型-----wordpress.pot-----Chinese Simplified-----05:02 PM
归档-----wordpress.pot-----Chinese Simplified-----05:02 PM
固定链接结构已更新。-----wordpress.pot-----Chinese Simplified-----05:01 PM
您现在需要更新您的.htaccess文件。-----wordpress.pot-----Chinese Simplified-----05:01 PM
您现在需要手工更新您的.htaccess文件。-----wordpress.pot-----Chinese Simplified-----05:01 PM
固定链接结构已更新-----wordpress.pot-----Chinese Simplified-----05:01 PM
固定链接结构已更新。请去除web.config文件的写权限!-----wordpress.pot-----Chinese Simplified-----05:01 PM
您现在需要更新web.config文件。-----wordpress.pot-----Chinese Simplified-----04:58 PM
<a href="http://codex.wordpress.org/Using_Permalinks" target="_blank">永久链接使用文档</a>-----wordpress.pot-----Chinese Simplified-----04:58 PM
<a href="http://codex.wordpress.org/Settings_Permalinks_Screen" target="_blank">永久链接设置文档</a>-----wordpress.pot-----Chinese Simplified-----04:57 PM
"可选"栏允许您在文章归档的URL中加入"分类名"和"标签名"。比如,"未分类"目录的文章归档页面的地址可以是<code>/topics/uncategorized</code>默认情况下是<code>/category/uncategorized</code>。-----wordpress.pot-----Chinese Simplified-----04:57 PM
若您某篇文章包含多个分类目录或标签,且自定义链接结构包含<code>%category%</code>或者<code>%tag%</code>,则只有排序最靠前的分类目录或标签才会显示在固定链接中。-----wordpress.pot-----Chinese Simplified-----04:55 PM
抱歉,您不能将此项目移出回收站。-----wordpress.pot-----Chinese Simplified-----04:54 PM
您无法编辑该条目,因为它现在在回收站中。请先将其恢复,然后再重试。-----wordpress.pot-----Chinese Simplified-----04:53 PM
(0代表不评分。)-----wordpress.pot-----Chinese Simplified-----04:51 PM
恋人-----wordpress.pot-----Chinese Simplified-----04:50 PM
迷恋-----wordpress.pot-----Chinese Simplified-----04:50 PM
灵感女神-----wordpress.pot-----Chinese Simplified-----04:50 PM
情感关系-----wordpress.pot-----Chinese Simplified-----04:50 PM
同住-----wordpress.pot-----Chinese Simplified-----04:50 PM
已见过面-----wordpress.pot-----Chinese Simplified-----04:49 PM
我的另一个web地址-----wordpress.pot-----Chinese Simplified-----04:49 PM
关系:-----wordpress.pot-----Chinese Simplified-----04:48 PM
需要帮助?使用在页面右上方的帮助选项卡。-----wordpress.pot-----Chinese Simplified-----04:48 PM
(无父级)-----wordpress.pot-----Chinese Simplified-----04:47 PM
Trackbacks是一种通知老旧博客系统您链接到了他们的方法。如果您链接到了其他WordPress站点,他们将自动被<a href="http://codex.wordpress.org/Introduction_to_Blogging#Managing_Comments" target="_blank">pingbacks</a>系统通知,无须其他操作。-----wordpress.pot-----Chinese Simplified-----04:47 PM
这是示范页面。页面和博客文章不同,它的位置是固定的,通常会在站点导航栏显示。很多用户都创建一个"关于"页面,向访客介绍自己。例如:\n<blockquote>欢迎!我白天是个邮递员,晚上就是个有抱负的演员。这是我的博客。我住在拉斯维加斯,有条叫做Jack的狗,我喜欢鸡尾酒。</blockquote>\n\n...或者像这样\n\n<blockquote>XYZ Doohickey公司成立于1971年,自从建立以来,我们一直向社会贡献着优秀doohickies。我们的公司总部位于高谭市,有着超过两千名员工,对政府税收有着巨大贡献。</blockquote>\n\n而您,作为一个WordPress用户,我们建议您访问<a href="%s">控制板</a>,删除本页面,然后添加您自己的页面。祝您使用愉快!-----wordpress.pot-----Chinese Simplified-----04:46 PM
已ping通告过:-----wordpress.pot-----Chinese Simplified-----04:43 PM
+%s-----wordpress.pot-----Chinese Simplified-----04:43 PM
计划发布于:<b>%1$s</b>-----wordpress.pot-----Chinese Simplified-----04:43 PM
摄影-----wordpress.pot-----Chinese Simplified-----04:43 PM
节日-----wordpress.pot-----Chinese Simplified-----04:42 PM
支持多国语言翻译-----wordpress.pot-----Chinese Simplified-----04:42 PM
微格式-----wordpress.pot-----Chinese Simplified-----04:42 PM
首页发布功能-----wordpress.pot-----Chinese Simplified-----04:42 PM
编辑器样式支持-----wordpress.pot-----Chinese Simplified-----04:42 PM
名为<strong>%s</strong>的Walker类不存在。-----wordpress.pot-----Chinese Simplified-----04:41 PM
原始:%s-----wordpress.pot-----Chinese Simplified-----04:41 PM
您的新WordPress站点已被成功建立:\n\n%1$s\n\n您可以用以下信息登录管理员账户:\n\n用户名:%2$s\n密码:%3$s\n\n我们希望您喜欢您的新站点。谢谢!\n\n——WordPress团队\nhttp://wordpress.org/\n-----wordpress.pot-----Chinese Simplified-----04:41 PM
sample-page-----wordpress.pot-----Chinese Simplified-----04:39 PM
示例页面-----wordpress.pot-----Chinese Simplified-----04:39 PM
强化插件是位于<code>%s</code>目录中的高级插件,用来替换WordPress的一些功能。-----wordpress.pot-----Chinese Simplified-----04:36 PM
Drop-in高级插件<span class="count">(%s)</span>-----wordpress.pot-----Chinese Simplified-----04:35 PM
我的<span class="count">(%s)</span>-----wordpress.pot-----Chinese Simplified-----04:35 PM
数字型-----wordpress.pot-----Chinese Simplified-----04:34 PM
显示评论-----wordpress.pot-----Chinese Simplified-----04:18 PM
http://codex.wordpress.org/Introduction_to_Blogging#Managing_Comments-----wordpress.pot-----Chinese Simplified-----04:18 PM
允许在这个页面上<a href="%s" target="_blank">引用通告和广播</a>-----wordpress.pot-----Chinese Simplified-----04:17 PM
允许评论-----wordpress.pot-----Chinese Simplified-----04:16 PM
自定义字段可以在文章中添加额外的元数据,你可以<a href="http://codex.wordpress.org/Using_Custom_Fields" target="_blank">在你的主题中使用</a>-----wordpress.pot-----Chinese Simplified-----04:16 PM
用空格分隔多个URL地址-----wordpress.pot-----Chinese Simplified-----04:12 PM
发送引用通告:-----wordpress.pot-----Chinese Simplified-----04:11 PM
定时:<b>%1$s</b>-----wordpress.pot-----Chinese Simplified-----04:11 PM
发布于:<b>%1$s</b>-----wordpress.pot-----Chinese Simplified-----04:10 PM
发布时间:<b>%1$s</b>-----wordpress.pot-----Chinese Simplified-----04:08 PM
<b>立刻</b>发布-----wordpress.pot-----Chinese Simplified-----04:07 PM
发布时间:<b>%1$s</b>-----wordpress.pot-----Chinese Simplified-----04:06 PM
将这个文章在首页置顶-----wordpress.pot-----Chinese Simplified-----04:06 PM
可见性:-----wordpress.pot-----Chinese Simplified-----04:06 PM
预览更改-----wordpress.pot-----Chinese Simplified-----04:06 PM
嵌套评论-----wordpress.pot-----Chinese Simplified-----04:05 PM
主题选项-----wordpress.pot-----Chinese Simplified-----04:04 PM
置顶文章-----wordpress.pot-----Chinese Simplified-----04:04 PM
RTL 语言支持-----wordpress.pot-----Chinese Simplified-----04:03 PM
发布格式-----wordpress.pot-----Chinese Simplified-----04:03 PM
全屏模版-----wordpress.pot-----Chinese Simplified-----04:03 PM
特色图片-----wordpress.pot-----Chinese Simplified-----04:02 PM
特色标题图片-----wordpress.pot-----Chinese Simplified-----04:02 PM
特色-----wordpress.pot-----Chinese Simplified-----04:02 PM
自适应宽度-----wordpress.pot-----Chinese Simplified-----04:01 PM
固定宽度-----wordpress.pot-----Chinese Simplified-----04:00 PM
4列-----wordpress.pot-----Chinese Simplified-----03:59 PM
4栏-----wordpress.pot-----Chinese Simplified-----03:59 PM
浅色-----wordpress.pot-----Chinese Simplified-----03:59 PM
深色-----wordpress.pot-----Chinese Simplified-----03:59 PM
如果当前主题支持,描述将在菜单中显示。-----wordpress.pot-----Chinese Simplified-----03:57 PM

---
Posted on Utopian.io - Rewarding Open Source Contributors
---