With all these changes I feel like I'm constantly updating this tool. Which is not a bad thing !
Anyways, with hf20 came rc costs. At first I thought it wouldn't change much from the bandwidth and we would still be able to do whatever we wanted to do and spam the blockchain as we wished. Boy was I wrong.
boy
was
I
wrong.
Basically claiming became super expensive, and I almost drained my account and @steempress because this tool would claim way too often.
(even today @steempress is still at like 20% of its rcs)
So I made changes ! A lot if you look at the commit history.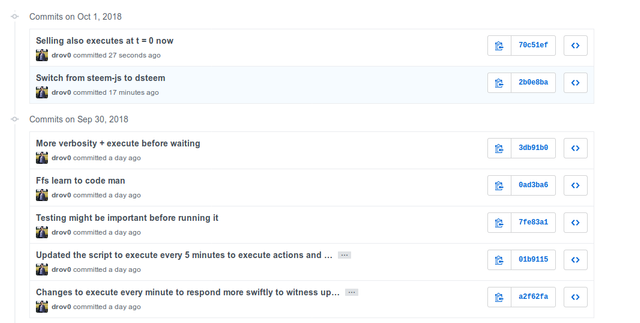 (I'm usually the kind of guy who does one commit = 500 changes like this one so this is a lot of commits for me)
Timing changes
Claims are only once per hour
In the end do we really need to claim every 5 minutes ? Once per hour is way more than enough for most of us. So now the "claim" action will be triggered only once per hour.
Liquids actions are once every 5 minutes
But other actions still need to be triggered more often, for instance selling sbd for steem and powering it up/putting it in savings. So I made it so that the "sell sbd and do whatever you need to do with your liquid steem" action would be triggered every 5 minutes. This means that your usual liquid steem/sbd actions will still be executed as often as before :)
Power down resets are every minutes
This is actually a change that I wanted to do a while ago when coding the update that introduced power down resets (for more info see Here).
Since the timer used to be every 5 minutes for all the actions, this means that every week, assuming a worst case scenario, there can be a 5 minutes window of time where the power down is not reset. And even though it's a worst case scenario, it's still too much for me and I wanted it to execute every minute or less but I knew I had to make some relatively big design changes to the whole redeemer. But hey now it's done :D
So now your power downs will be much more efficient and worst cast scenario you'll only loose 54 minutes of power down over a year.
Dsteem is the new hype
It's been a lonnng while that I've been wanting to ditch steem-js in favor of dsteem (made by @almost-digital) which is more modern and much better to work with.
So I took the time and reworked the whole thing to use dsteem. Took a while and forced me to change pretty much all of the code but hey now it works !
And that should be it for now. See you around for another update :)
Oh and of course, please vote for @steempress as witness. :D