Introducing HEDE: Wiki Platform & Knowledge Sharing Dictionary on Steem
Repository
https://github.com/Hede-io/hede.io
Website: https://hede.io
---
Development of HEDE began four months ago, and testing began in the last two months with the amazing Filipino and Turkish community members by rewarding over 2000 entries, 1250 topics, 300 authors, and 4 languages on #hede-io. We are now very excited to introduce HEDE to all Steemians.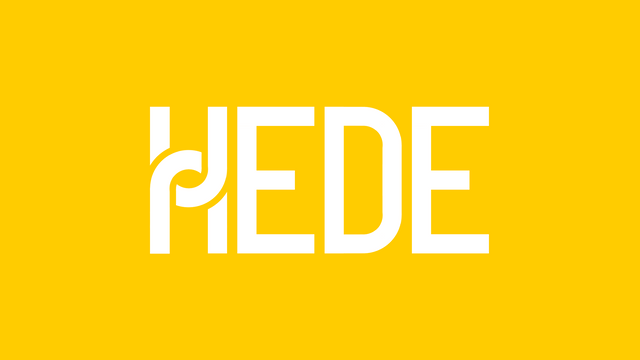 What is HEDE?
HEDE is a collaborative knowledge sharing dictionary where you share information about anything in the universe by first defining it. We let different authors add an entry into any HEDE topic without approval, so it becomes fun and enjoyable way of creating wikis on Steem. We encourage authors to share valuable and informal information based on their experiences as we don't check for accurateness.
HEDE was developed and founded by Ercument ESER (@ercu). The site name comes from popular internet slang term used for word "thing" while defining something in Turkish. "It is a nice hede".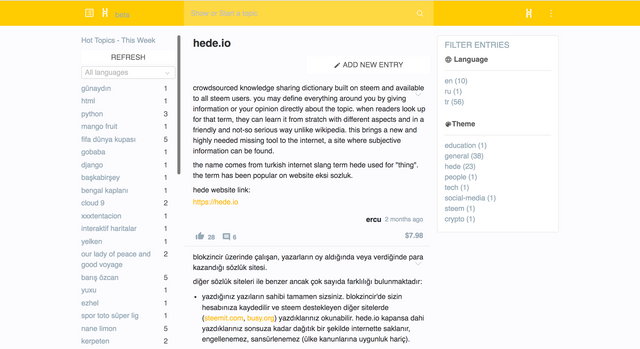 Example Entries
Before diving into the details and importance for the future of Steem and human history, let's see some examples of entries written on HEDE.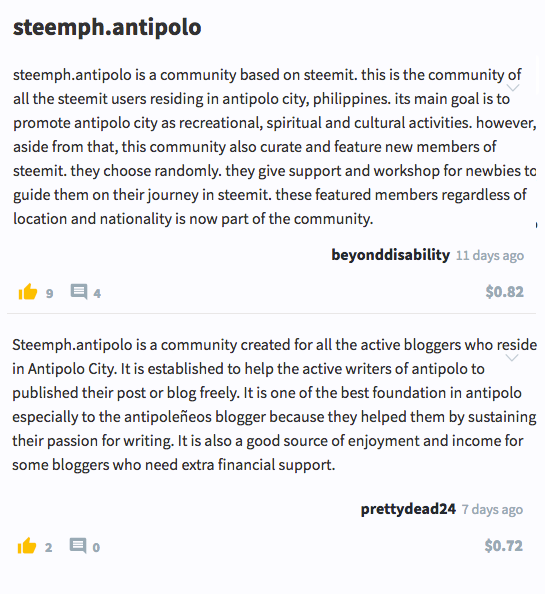 For now, we expect authors to write about their culture, country, city, traditions, foods etc. and steem related terms in English and we will mostly upvote those topics using our @hede-io account. However, there is no limit to the topics;
slang terms,
any project or product
any event (ces 2018, mad cool festival 2018, steem gathering istanbul 2018)
people (Ned Scott, famous youtubers, politicians, fiction characters,"married man", instagrammers)
your friend's username on steem
social media (YouTube channels, websites)
acts (get a tattoo, open a blog, be a father)
places, tv series, movies, books, restaurants
How to start a new topic / write a new entry on HEDE
Starting a new topic and writing a new entry on an existing topic are done in the same way shown on gif.
Write the topic name in the search bar.

hit ENTER or select "Show".

Write your entry in the text input.

If there are other entries already on that topic, yours will be added after them.

If there are no entries found, when you write the first one it will start the topic with your entry being the first.
Our Aim: Making access to information easier
The Internet is full of information that makes our choices easier. While Wikipedia and many wikis provide objective information, people want to see friendlier "experience-based information" thus tend to use Reddit comments, Quora answers, Twitter tweets, Amazon reviews, and Steem posts before deciding what to do, eat, buy, vote for, where to travel etc.
The problem is that, when we know the specific topic to search information for, we have to check all the posts one by one, read all duplicated posts and their comments which is very time-consuming. Often googling does not work here, as it shows content "related" to your query not directly "about" the topic. It is same on Steem, the tags show related posts but not directly about them. For example, to learn people's experience about utopian-io you cannot use utopian-io tag as it will show any posts upvoted by them. Subreddits also include a broader range of topics which makes subreddits just like tags moderated by good people.
We believe and hope that HEDE will solve this problem and will be one of your choices to look at when you need information.
FEATURES
0% beneficiary from posts
No approval needed to publish entries
Multilingual and has language auto-detection
Informal and experience-based wikis
Topic-based like other wikis that makes information easily accessible
The entry becomes a post on Steem
Filtering entries by language and theme (category)
References to other topics
Add tags and Steem specific title to your post
Responsive design supporting mobile
Optimized fast browsing and fast searching of topics
More Problems we solve
Wikis, Wikipedia, Urban Dictionary cannot keep up with the trend new terms, memes and apps coming up every day. On HEDE, you can very easily start a topic and publish your entry without any approval.
On Steem, the post you shared will be read by your followers during first few days. However, on HEDE, it can be read years later like any other wikis.
On Steemit, until Hivemind, it is hard for people to get attention and new followers as the system is profile based. We help authors get noticed with like-minded and people with same interests, so they will get new followers.
On Steemit, variety of the topics are very limited, people mostly talk about steem itself. However on HEDE, you can talk about anything in the universe deeply and no one can question why you do.
On Steemit, you can write a duplicated post saying same things with other people, but on HEDE duplicated entries are not allowed on the same topic. This keeps the entries getting detailed and teaches new things to the reader.
On Reddit, same things can be talked on different subreddits, threads, comments using different titles, different links to news sites. Old threads are archived and cannot be updated again. However, HEDE allows all different topic names to be standardized which allows them to be found easily.
What we have achieved so far
We had many friends and a community supporting us.

In our testing phase, we got 22nd by the number of authors and 20th by the number of posts among all 50 Steem apps without any marketing on Steem (Source). This is a good example that apps without Steemit delegation can also rise.

We got interest on social media outside of Steem, have concluded that people want to get rewarded to share their knowledge instead of letting only website owners benefit from them.

We got many new authors signed up just to write on HEDE, not on Steemit. You can read similar experiences on Turkish posts here. As we don't have enough delegation for newcomers, we stopped any possible marketing efforts and focused on existing Steem users.

Old Steem accounts who have not been active for a long time started writing on HEDE when they heard about the project.

We have increased visibility of newcomer authors' posts and let them find like-mind people on the same topics.

We got in touch with some crypto influencers and advisors. When they saw the work we had done, they changed their mind about Steem in a positive way.

With our topic-related titles and posts on many kinds of professions, steemit.com has benefited our SEO and is getting in the first page for most of our topic names. (We can't have stats about this)

Dictionaries are important social media sites in Turkey. More than 200 sites have been established and all of them are commercial solutions. Making modern HEDE interface open-sourced has been a big thing for the ecosystem.

Authors appreciate having freedom of speech because steem being distributed and thus unable to be restricted by a government, unlike other sites. They also like ad-free browsing, unlike other similar sites.

We had more than 2000 entries, 1250 unique topics, 300 authors in 2 months testing time.

We have created a good knowledge base with information and experience about almost all steem terms (steem, sbd, steem power, utopian.io, steemviz, steemworld etc.) in Turkish language. We believe that newcomers can learn steem easily in this way.
Plans
Although our final aim is big, we just want to focus on the next steps and accomplish them in the best way.
We want to attract more English-speaking people from all around the world to learn about their cultures.
We want to be most informative site for Steem related terms in English.
We will update the app as frequently as we can by fixing any potential problems and adding amazing new features.
We will try to find ways for getting delegation support to speed up our growth and talk to interested sponsors.
We will be looking ways for adding SMTs into our design. SMTs should be on testnet in few months. SMTs will have many uses such as paying native ads with them.
Security
HEDE is highly secure by using Steem Connect for authentication and authorization. We do not keep your access tokens on the server but client, so even our server is compromised attacker can't do any harm to you. Your access tokens are stored on your browser encrypted with 2048 bit RSA key.
What do our authors say about HEDE?
It's a project I'm very excited about. I hope it gets attention in the world beyond Turkey. @muratkbesiroglu (source)
It's been a great project, well done. I thank you for all your hard work. I'm spending more time here than Steemit. @konmaster (source)
The platform that I like most among all which I have used so far and is based on Steemit :) We hope you will not forget the Turks after the announcement that will come on the global :) You will have to vote too much :) @drfrostgirl (source)
There are turning points in the history of the world: the invention of fire, the discovery of texts, geographical discoveries, the conquest of Istanbul, the invention of the internet, the emergence of social media, finally blockchain-based systems and we are witnessing this transformation, the blockchain revolution.

Be aware of that, people! here, what we write on this site, will shed light on the mystery like wall paintings in caves in the primitive times. Our people or societies afterward may not understand anything, but as long as we write we will have left a mark on people and history after us. @mesutkelleci (source)
People like me who have difficulty writing in the busy business life, will both be more active and happy to give support to such a community." @literaturk (source)
Although the idea is very good, there are problems with the marketing. a promising marketing technique can bring a lot of people here. @tespitadami (source)
a promising new formation that could be the source of information in the future. (I wish that) it will soon be seen in the top of google searches. @biciftci (source)
Similar Projects
We have taken examples of existing websites and combined them with community guidelines using the experience we gained on the testing phase. Following is a list of websites currently running and proven to be successful that are similar to HEDE:
Urban Dictionary
Urban Dictionary is a website launched in late 1999, where people can define slang words from real life or social media. People like using it because it helps them to learn the meaning of words in a friendly, simple, and funny way. It is so popular that it has Alexa rank of 507 worldwide and 220 in the US. Some developers even wanted to make similar ones to it in specific areas like HackTerms for coding terms. The entries added on UD has approval process after entry is written. As of 2009, it had around 4 million entries, it should be many more today as we don't know stats. More than 80% of visits are from search engines.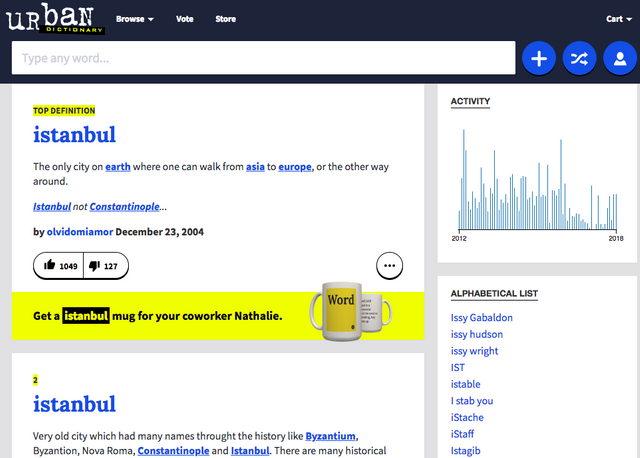 Eksi Sozluk (Sour Dictionary)
Eksi Sozluk is one of the collaborative dictionaries in the Turkish language launched in 1999 and operating since then with Alexa rank of 15. It is where people look first to get information in a friendly way. As it has flaws with the knowledge sharing part, HEDE aims to solve those problems. Every month over 1 million entries are written with a total number of entries of 80 million. There is no approval process of entries, but each author needs to be whitelisted first for his entries to be seen by others. There are 400k authors approved who have waited between 5 and 10 years to get whitelisted. More than 30% of visits are from Search Engines.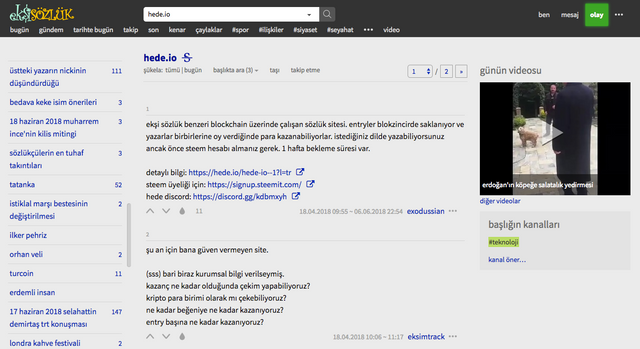 Wikia
Wikia is a for-profit, free wiki hosting site which allows informal wikis to be published with different themes and communities. The wikis are more detailed than Wikipedia articles as they have very specific information or discussion about video games, tv series, books etc. To date, it has raised 39.8 million in investment. Furthermore, Alexa ranks it 19th in the US, with 14 million registered users. More than 55% of visits are from search engines.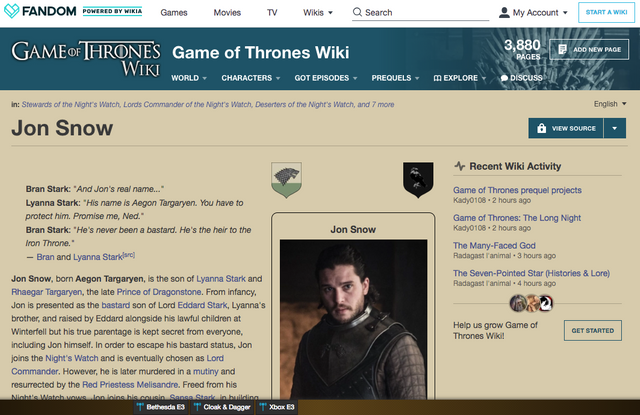 Difficulties we have faced on Steem
Some new free Steem memberships take too long time to get approved, we have seen some accounts had 1.5 months of wait time.

Even if user patiently waits and get the approval email, he might forget to save the password on the onboarding web page. 4 of my own 7 friends I suggested to sign up had this issue. We have read many experiences like this on social media posts. Stats of steemitblog posted yesterday show some evidence.

Steemit.com gets all the search engine traffic so it leads us not able to generate income for authors using ads. We will work on this issue to collect and spend the income as SPs.

Moderators in some communities don't know how 3rd party apps work: When you post on other apps, it is added on Steem too. We have spent the time to tell that this is not plagiarism.

As our entries are direct to the point and we have references to other topics which prevents duplicated information given, minnow moderation complain about some of them being short.

We need more ways to monetize the app, so we believe SMTs will be useful for it. SMTs and ads might have benefits to increase 7-day payout limit.

Some days we constantly get timeouts from Steem Connect broadcast/vote actions. The website stops operating those days. It is told me that the problem was from steemit RPC node.
Development Notes
HEDE uses react.js on the frontend, node.js as backend and PostgreSQL for the searching API.

I have forked old Utopian UI and removed all utopian specific code except the skeleton. Then combined that with busy code and started writing HEDE.

Utopian & Busy JavaScript export file size was downsized from ~4mb to ~300kb by using class specific imports, domPurify instead of sanitize-html, Brotli compression and UglifyJsPlugin and some others (2 weeks).

JavaScript browsing speed performance increased by ~4x to ~8x by optimizing re-rendering by mostly using shouldComponentUpdate and staying away from react states (2 weeks).

Utopian server-rendering was broken, a big portion of development (3 weeks) went into fixing it. Now the site is SEO optimized but yet not enough.

Access tokens are encrypted with RSA public key and stored on the cookie. The token is decrypted with private key on our server while doing the request and cleared from the server memory immediately after the Steem Connect API request is completed.
Thanks
In addition to thanks list on our Turkish announcement post;
Thanks to all existing authors and new Filipino friends @beyonddisability, @julstamban, @juviemaycaluma, @rafael1984, @prettydead24 and @ruah,
@ruen for the most amazing logo on blockchain world,
@eyupyusuf for Turkish moderation and hard work in all areas,
@roj for advices and support,
@markhalen for his detailed ideas and vision,
@emrebeyler for networking to get first global users,
@tubi for sharing his experience on his great steem project @dngo-io,
@firedream for first delegation support,
@fabien for patiently answering my development questions,
@damla for announcement ideas,
@arie.steem for introducing us to Indonesian community,
@utopian-io team @elear, @knowledges, @espoem, @amosbastian and @roj for guiding me through open-sourcing and announcing the project.
@fundition team @hightouch, @enisshkurti, @burakakdogan for advices and help
Support HEDE
HEDE needs your support to award its authors to create the world's biggest knowledge-sharing platform.
Discord
We have a Discord server where you can share your ideas, feedback and all your questions and get notified about the announcements about the project. Click here to join the Discord server.
Platform Tag: #hede-io