Noice; Create your own sound. Shut-out the distractions.
What is music? What is noise? The meaning of those terms are quite related. According to what I was taught in high school;
Music is organized sound, while noise is unorganised sound.
However, whether a piece of sound is music or noise, it is directly relative to the listener. That is; what you consider music, might be noise to someone. And what you consider noise might be music to my ears. Anyway, I'm not trying to start a debate. Whether noise or music, one thing that is constant in both of them is "sound". And, the sound that is music to our ears, is usually for entertainment. But's that not the only thing music is good for (or used for). Aside from being entertained, I listen to a certain kind of music to keep me distracted from activities around me, and focused on work. And it works just fine, but sometimes, the music can be distracting. Especially if the music content isn't just a sound, but accompanied with vocals. It becomes more of a problem when I'm engaging in intense brainstorming.
Yesterday, by a stroke of luck and chance, I found an app that helps to keep me distracted from my immediate environment, and focused on work. Aside from being focused on work, you get this all-round relaxed feeling. And you don't have to bother about getting distracted by the sound. THat's because the sounds aren't like your typical music.
In this article, I'm going to be talking about the app. I won't exactly call this a review(but it is), because the app is just simple as it is.
Noice; relax, improve focus, and boost productivity with minimal background noises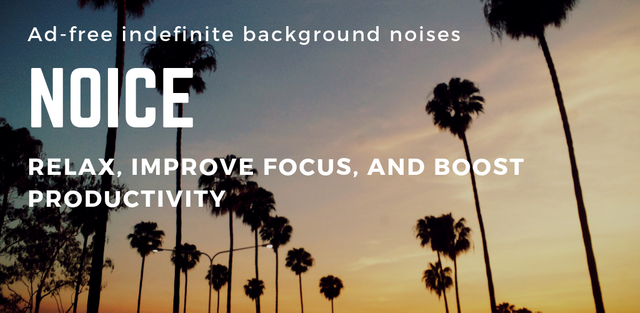 source
The app I'll be talking about in this article is "Noice". The name is of the app is quite misleading though. I mean, if you tried to pronounce it, you'd indirectly be pronouncing "noise". So before I checked out the app, I was expecting a prank app. Prolly an app that would simulate different kinds of noise, and I'd use it to disturb a friend. Well, I checked the app out, and contrary to my expectations, the app is one that brings peace and calm. Lemme spare you the boring details, and let's go straight to the developer's description of the app;
For a lot of people, a little background noise is helpful to calm down and focus. In some cases, it's also a boost to productivity. Background noise can also help minimize the effects of stress.
Noice is an app that allows you to create your own set of background sounds by mixing clips from environmental sources. Create your perfect surroundings by combining different sounds to drown out distractions so you can focus on your work, or generate serene, peaceful environments that encourage you to fall asleep. source
The description right there is everything you need to know about this app. The developer did not only explain the app, but also the general idea on which the app was birthed. Once glance at the app's description, I knew it was an app I needed. And if you're someone who likes to get lost even while in the midst of distractions, you will find this app useful.
Review of Noice; lock-out the distractions, lock-in peace & calm.
Noice is a simple app. I've said that a couple of times already. However, the developer still found a way to make a list of features. And that's great. But I'll tell you one thing. The list of features points to one major thing; using the app. Anyway, I'm glad that there's a list of features provided. It means that I'll be working around that premise.
The features of the app (as found here) are;
18 recorded noises
Make customised mix
Save your favourite mixes
Play alongside other music players
Individual volume control for each noise source
Offline playback
There you have it; the app's features. I'll talk about all of them, whilst sharing my opinions alongside. And for the first time in a long while, I won't be talking about the interface of an app. The reason being; Noice isn't an app that you should so much of it's UI. Basically, you just get into the app and get out(if you've already created presets).
Without further ado, let's delve into my review of Noice.
18 recorded noises.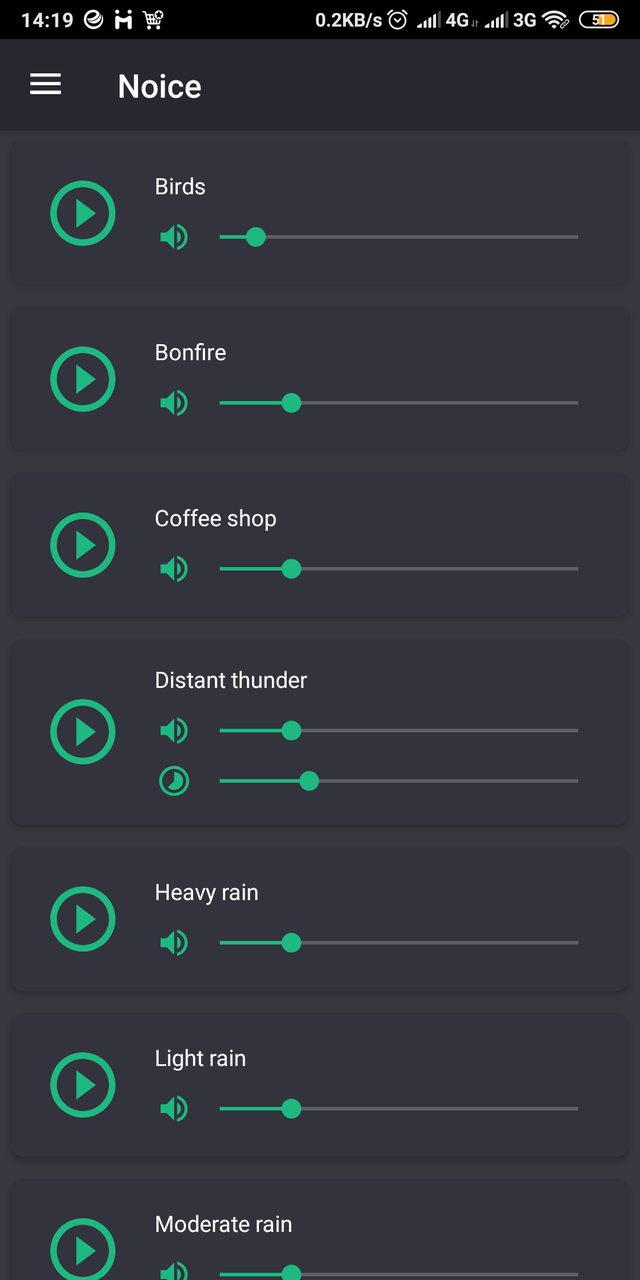 If you read the app's description, you should know how the app works. But for the sake of conciseness, I'll repeat a line from the description here;
Noice is an app that allows you to create your own set of background sounds by mixing clips from environmental sources.
So basically what you'll be doing on the app is combining several sounds to create the one that suits your mood or desire. The project owner didn't want you going through the stress of being a producer. So he made some nice sounds available. There are 18 different sounds to be precise. He is calling these sounds noise though. And normally if we were listening to these sounds naturally, we could tag them as noise.
So there are 18 different sounds to play with. However, I think that's very limited. I'd have appreciated more, and I'm expecting more sounds in the future. The project is barely two months old. And I think the developer just needed to release a workable product. I'm quite optimistic about the addition of more sounds in the future.
Although I've complained about the limited amount of sound available at the moment, I'm quite pleased with the ones available. They are just so nice. My favourite sounds are;
Birds.
Bonfire.
Morning in a village.
Well, as a standalone sound, you might not like it so much. But the combination of the 3, gave me the perfect sound I needed.
Make customised mix.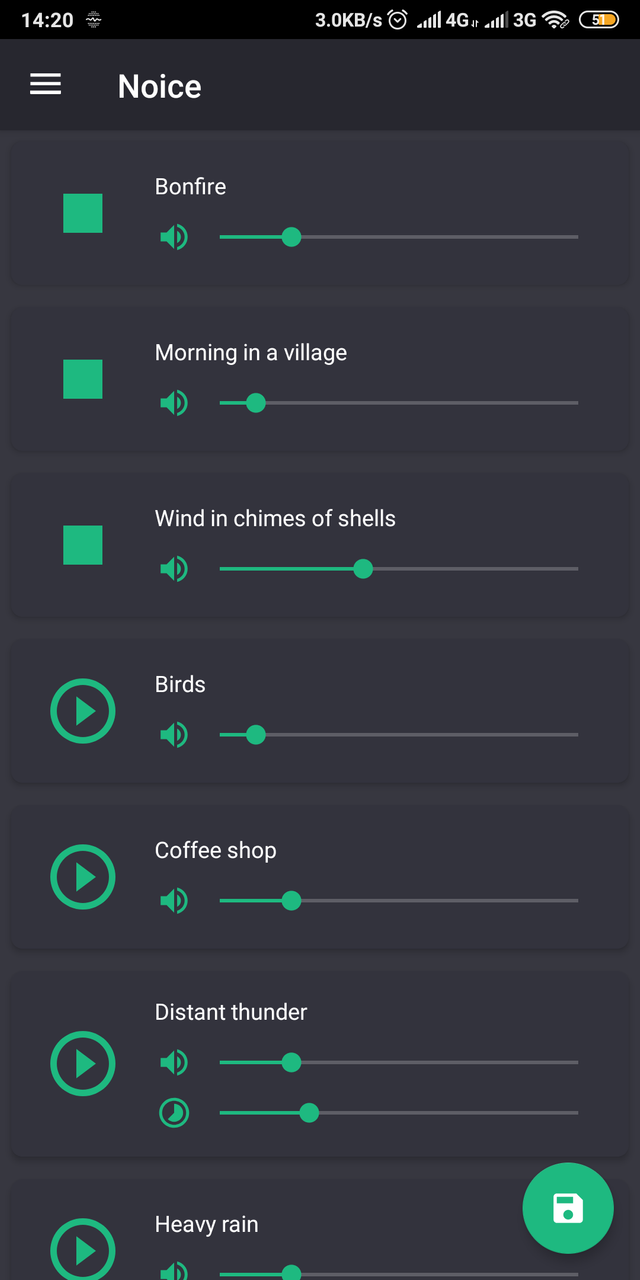 The app comes preloaded with 18 sounds (courtesy of the project owner's graciousness). However, these sounds won't mix themselves. And just playing a sound might not give you what you want. You've got to spend a little time trying out all the elements together. Putting them piece-by-piece, and then find your soothing sound. You necessarily don't have to use all the sounds, but you can check all of them out.
Making a customized mix was quite very easy for me. And it wasn't because of any skill I have. I was outright lucky. I had just checked the app and was trying out the sounds. In less than 3 minutes, I had created my desired mix. I was so pleased with myself. Well, my mix might not sound appealing to you though. You have to find your own desired sound. I already shared mine. You can try it out, and maybe you'll like it too.
Save your favourite mixes.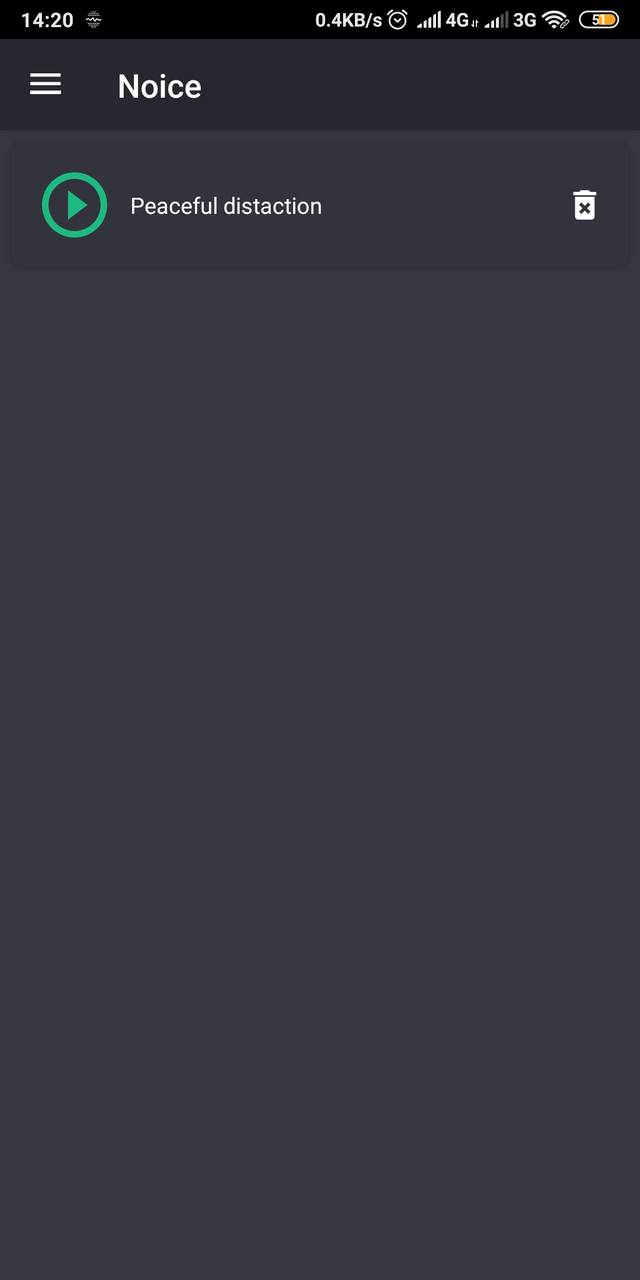 After creating your desired mix, you have the ability to save it as a preset. Now that's a very good thing. For some of you, it might take a reasonable amount of time to get your desired sound. Now, imagine that every time you exit the app and re-launch, you have to do that again. I'm sure that would have an effect on your experience. It'll be a pain really. Well, the developer's smart enough to know and do what's right, and he did. So whatever sound you create, you can save it. I don't know how many mixes that can be saved though. I've created only one so far, and it's all I'll ever need(for now though). And yes, I saved mine as "Peaceful distraction". Pretty cool title right? You can save yours with cool titles too.
Play alongside other music players.
There isn't much to talk about here. The feature is quite explanatory. You can play Noice alongside other music players. It simply means that, even while playing a song on your music player, you can play the mix from Noice alongside. I tried it, and it worked as expected. The music from the player, and the mix from Noice, were sort of merged(in terms of volume). So you can hear the song you are playing, and also the mix on Noice. It's a nice thing, but I'll rarely use the app that way. I mean, the major reason I'm using Noice is so I don't have to play an actual song, and get distracted by it. So using this app this way is a no-no for me. However, if I wanted to try, there are few songs I can do that with. There's Yanni's Nightinggale, or some other of his songs. Then there are some Enya songs that I can work with.
Individual volume control for each noise source.
While creating your customized mix, there is a volume slider you can tweak. This helps you control the intensity level of a particular sound. Adjusting the volume slider is key to creating a perfect mix.
Offline playback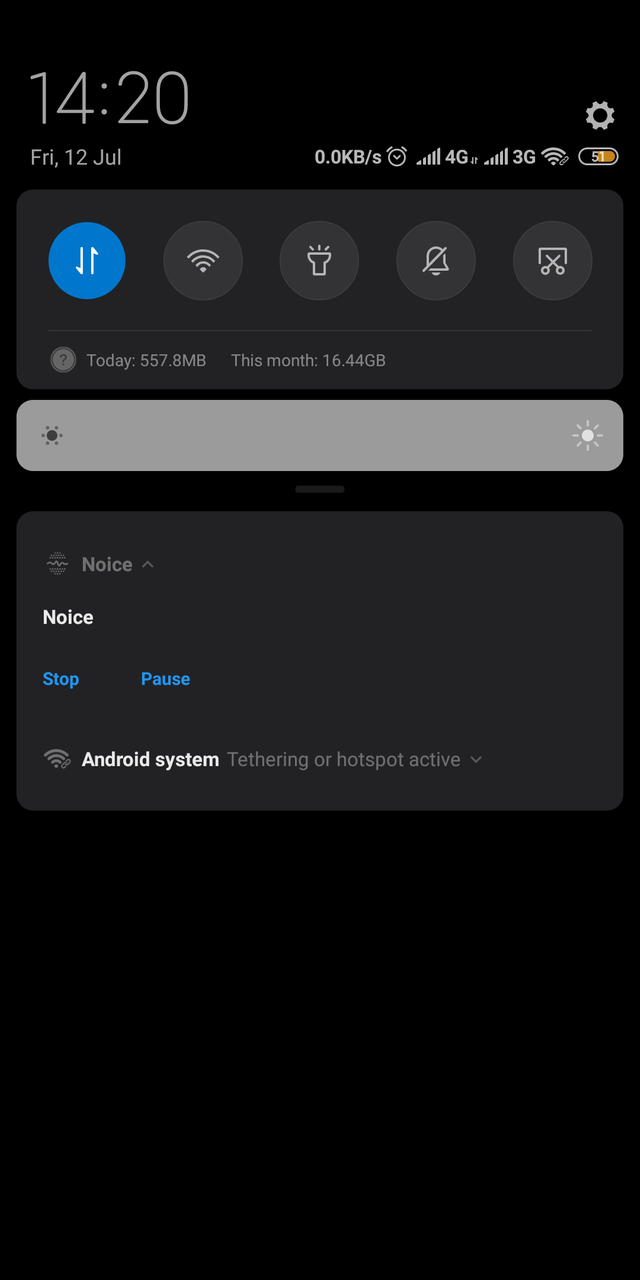 Perhaps not the best way to have described this feature. Offline playback would make it seem as though the app has certain internet requirements. On the contrary, it doesn't. By offline playback, it means that you don't have to be on the app all the time to play(or pause) a mix. The app works even while you are off the app. However, the app needs to be running in the background.
When you launch the app and play a mix, a control panel for the app becomes available on your device's notification panel. You can either pause or play a mix from there.
There you have it. All the features of Noice reviewed. The app is as simple as the alphabet A. And I like it a lot, but I think there are some areas the app can be improved. They are minor tweaks though, but good ones.
Areas where Noice can be improved.
The app is amazing as it is right now, but it still has room for improvements. Based on my experience with the app, these are the areas I think the app can be improved;
More Sounds.
There are only 18 sounds in the app at the moment. And while they are great, the addition of more sounds will not hurt anyone. Having a catalogue of a maximum of 50 different sounds won't hurt. Or maybe 30 would do the trick. Having so many sounds to choose from can also make the app distracting and difficult to use.
Numerical indicators on volume/duration sliders.
I think have numerical indicators on the sliders would be a good addition. Probably from 0-100, or anyhow the developer deems fit. The sliders would help know the actual level a sound is on. It'll be important in cases where I'm trying to replicate a particular sound, but with some other tweaks to it.
The ability to rename a preset.
This isn't a big issue. But, mistakes are bound to happen. Even while typing a word. And typing a wrong name on this app wouldn't be a big deal. But, it doesn't hurt to be able to make corrections after a mistake.
Share a preset.
I don't know how feasible this would be. That's because these sounds are embedded in the software and they aren't just mp3(or other audio) files. But if there's a way for this to happen, the developer should do so. It will be nice to be able to share presets with our friends. Saves them the stress of setting it up on their own.
Play next mix.
So I talked about offline playback, and how you can pause and play a mix. However, I thought it would be nice to have a "play next mix" button (if you have more than preset mix).
That's all the minor suggestions I've for now. I'll propose them to the project owner, and hopefully, he sees a reason to implement them.
Summary.
I'm certain that I'm not the only one that finds respite in listening to music when the environment is distracting. I do that a lot. When I'm being distracted, I just connect my headphones and shut myself out. Listening to music has been helpful over the years. But Noice is everything I could have asked for. Aside from shutting out distractions, the melody(of the mix you created) has this serenading effect. The feeling is just so good.
In this article, I've been able to review Noice. My review was pretty much straightforward. The app is amazing. Would get better with time. And I'm hopeful the developer will implement my ideas(when I propose them).
Thanks for reading!
Links
Resources:
The content of this post was created based on my knowledge of the project, and mostly from my experience. The images used are screenshots of the platform on my device. Other images gotten elsewhere have their source links provided just below them.
Github profile: