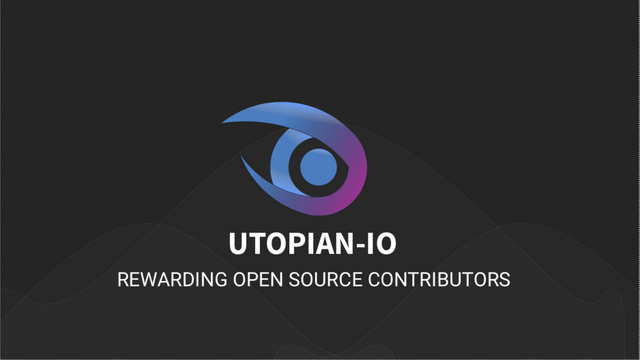 Repository
https://github.com/utopian-io/v2.utopian.io
##Introduction
Hello, I'm Harry, and in this article, I'll be discussing a project which the topic of this blog post already gives hint to. If you are a contributor to open source projects and on the steem blockchain, it won't need overthinking to know what project it is as you may already be part of it.
If you guessed Utopian, then you guessed correctly. In this blog post series, I'll be talking about the project "UTOPIAN" which is the only project I'm aware of that incentivize contributors to open source projects.
Here's the list of things that will be discussed in this blog post that will definitely cut across different series.
1. A brief explanation of open source projects.
2. Utopian.
3. My opinion on rewarding contributors to open source projects
4. Utopian effect
5. My Utopian user experience and review.
Benefits and advancements of Utopian overtime since my first contribution
Areas where Utopian platform needs to improve in my opinion
This article might be a little confusing as in some areas it might be addressing an audience that is unaware of the project and most times to an audience that is well informed of the project.
Have fun reading!
---
Post Body
To begin this post just like I said I would, I'll briefly explain Open source projects just in case you don't know what it is and I will be doing this with my own terms though.
What is an Open source project?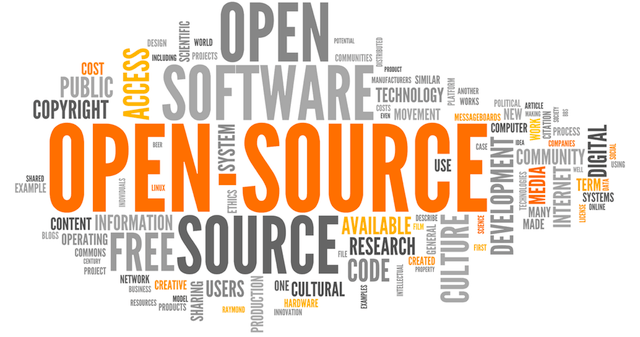 Image source
Open source projects or often called open-source software(OSS) is a software whose source code is free to use, modify and distribute under the confines of a license. Open source software is mostly developed by a collaborative effort of different individuals. I'm not entirely sure but a majority of Open source codes are hosted on Github which aids collaboration between project owners and contributors in areas such as bug tracking, feature requests, task management, and wikis for every project.
UTOPIAN
Utopian is an open-source project built on the steem blockchain and was developed or created to reward or rather incentivize contributors to open-source projects and not selfishly contributors to the utopian project itself but to other open-source projects as well.
Prior to the existence of this platform, millions of individuals all over the world have been contributing to several open-source projects they like either on Github or other platforms where the source codes of these projects are hosted. These contributions are often bug reports, bug fixes, documentation, translations, enhancement suggestions, and implementations etc. The contributors are often enthusiasts and freelancers who don't need payment to contribute to the projects they contribute, however, some project owners are generous enough to buy a coffee(tip) contributors who contribute to their project. Although I'm not entirely sure of this as I've not seen nor experienced it, I think it happens. Utopian in my own knowledge becomes the first platform that does this(reward open-source contributors) officially.
Click here to learn and know more about the Utopian project.
The question is,
Should contributors to open-source projects be incentivized?
This question might have been asked thousand times over and the responses I think, would have always been a mixed bag. In my opinion, rewarding contributors to open source projects isn't in anyway a bad idea. I've thought about this several times and in all the possible outcomes the advantages that come with incentivizing contributors outweighs the disadvantages. The only disadvantage I could find that comes with tipping contributors is that a lot of contributors will only contribute because of what they stand to earn from it which isn't actually cool and an abuse of the system. But if this is thought about in another perspective, I think it's a win-win situation even when the contributor's intentions are not genuine because every contribution to an open source project leads to further advancement of the project.
Utopian has faced its fair share of contributors who abused the system to rape the reward pool and this really affected the community. Fortunately, a lot of measures have been put in place to ensure abuse is curtailed and I think this is functioning properly.
Like I stated earlier, the advantages of rewarding open-source contributors are a lot and this not only reflect on just open-source projects but on personalities and that's true for me personally.
UTOPIAN EFFECT.
The utopian effect is what I'll like to call the effect of Utopian on projects and individuals.
1. Self-discovery and development.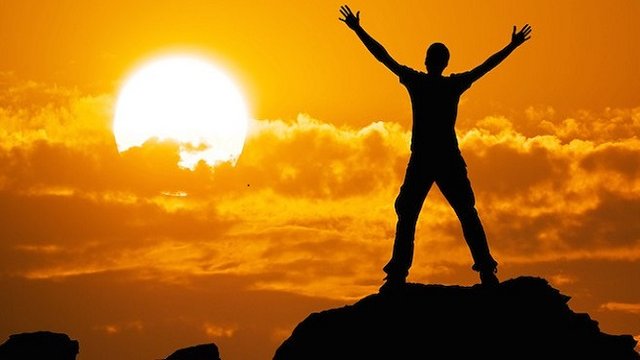 Image source
This might seem unlikely an effect of Utopian because it is not easily noticeable but it is. To understand the Utopian platform better, I referred to the meaning of utopian
Modelled on or aiming for a state in which everything is perfect; idealistic.
I know as humans we can't be hundred percent(100%) perfect but we can work on ourselves and improve to become better than what we were. That is the Utopian ideology in the general sense.
The Utopian platform has an indirect way of making contributors strive to work on themselves and improve on whatever category they are passionate about so they can earn higher incentives. I've heard of and come across testimonies of contributors who can attest to the fact that the utopian community has had huge impacts on their lives and they have greatly improved their skills. This is also the case for some moderators and community managers on the platform. I've followed up on some "People of Utopian" posts where utopian community managers are sort of interviewed and from what I read most of them weren't originally professionals but through utopian platform were able to groom their skills and ultimately rose to those roles they have. Just recently I came across an inspiring blog post of one of Utopian's community manager @rosatravels to be precise on how she attained a reputation of 70 on steemit. Although she really didn't state if the utopian platform had a self-development effect on her, it is evident that her contributions on utopian had a hand in her steemit success.
Personally, the Utopian platform has also had this effect on me. Prior to becoming a contributor on utopian, I had no idea of what open-source software or projects are. This platform(Utopian) has exposed me to a lot of things. Although I've been a freelance writer before utopian, I felt I was good and not needing improvements until I started making contributions first in the copywriting category where I received a lot of advice and tips on how to become better at copywriting by the community manager @jmromero. Now I'm beginning to engage more in the blog category and yet again @didic has been very supportive by providing tips and advice on how to create a great content. I'm not at my best but I'm improving as he(@didic) stated this in his review comment on my last contribution. Someday, I hope to become a moderator in the blog category of Utopian and get a chance to work with @didic. This would a great impact on my already existing abilities.
2. Project development, sponsorship and advancement.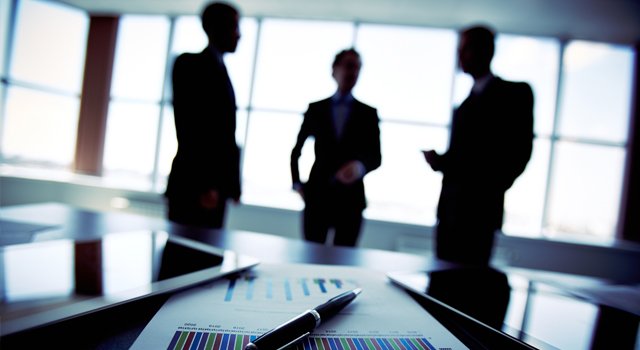 Image source
Through Utopian's objective to incentivize contributors to open source projects, a lot of developers have sprung up and the incentives they earn from contributing to open source projects have helped develop a handful of useful open-source projects. A lot of projects mostly dapps on the steem blockchain have been in one way or another been sponsored or have received support from utopian in form of incentives.
A lot of developers are not good graphics designer, content creators and aren't able to carry out publicity campaigns for their projects, but through utopian community these developers have been able to receive contributions in the areas which their projects lack and there is a possibility that the developer might have had to pay for those services if professionals elsewhere were contacted to make those contributions or maybe not though. It's a great thing that utopian categories cover all the areas necessary to add to the growth of open source projects.
3. Virtual community of professionals.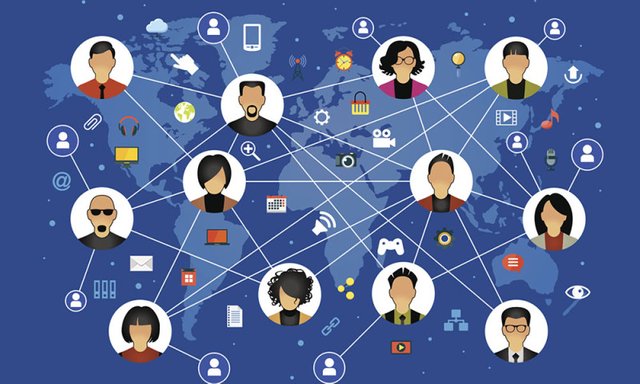 Image source
The Utopian community has been able to onboard professionals in several categories and also through self-discovery and development as I stated above has led to the creation of professionals in several categories. I call Utopian a virtual community because there's no actual physical hub but that doesn't in anyway affect operations of community members and when the services of professionals are needed, they are available.
---
Summary.
In this first post of this series, I've been able to discuss four(4) points listed in the introduction. It won't take a genius to understand that with this post I'm in support of contributors to open source projects being incentivized. I'm quite aware a lot of project owners and contributors especially on Github frown at the concept of Utopian and are not in agreement with the operations of Utopian. They see only the negative side of how Utopian affects the system but I wish their orientation changes with time as they begin to see how important and amazing the Utopian platform is.
This blog title asks a question
Incentivizing contributors to Open source projects. Was it the best idea that was birthed??
In my opinion like I stated earlier on, Yes!! the concept of utopian is amazing and I'm glad to be a part of it.
Thank for you reading. Stayed tuned for my next post on this series where I'll be talking about my user experience of Utopian and give my review of the platform. More topic points will be included in the next post.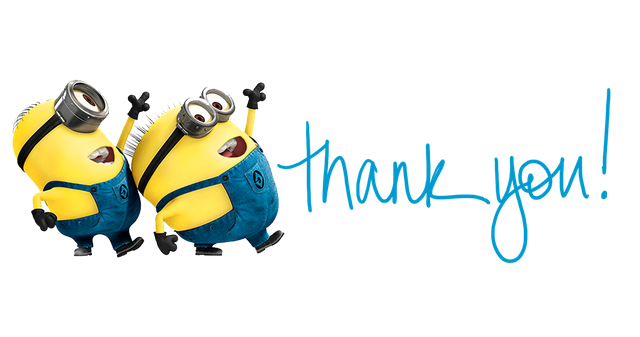 Source
Resources
Aside images, content was created from my own Knowledge of the platform.
Series Backlinks
This is my first post on this series.