If you do a lot of shopping, you should try out Secuso's Privacy-Friendly Shoppping-List.
I remember when I was still a kid with my siblings(sisters), my mum would send any of us on errands. Most of those errands were to buy something from a store in the street. It could be to buy just one item or, several items. If it was 1-3 items, it was easy to recall, and I'll buy accordingly. But, if the number of items were about 5-7 or thereabout, it was hard to recall of all them. Not because my memory wasn't sharp, or I wasn't smart. But, because I mostly spent half of our journey to the store; playing. Lost in the euphoria of playing around, I'd forget the items I was asked to buy. My mum had to ensure that I didn't forget next time. What she did was; write down the items she needed me to buy, and their respective quantity. The shopping list worked like a charm. I could play as much as I wanted while on an errand, and I will buy all the items as instructed. That was a long time ago though. I'm more mature now, and I could go shopping without "playing" while on my way. However, being matured didn't totally eradicate my reliance on a shopping list. I still write out stuff I intend to buy. Not necessarily because I'll forget though. But, a shopping list helps to confine me to only the items I need to buy. When I'm at the market(without a list), I get carried away, and sometimes I purchase items I didn't plan for. Does that ever happen to you? I guess it does. So a shopping list has always been a helpful tool.
Times have changed, and I no longer have to write down my shopping intents on a piece of paper. I could do that on my phone. I normally use my notepad for that purpose, and that's okay. It's been quite a long time since I went shopping. My shopping needs have been covered for some time now. However, in one of my usual Github exploration, I stumbled on an app specifically designed to be a shopping list. I decided to check out.
In this article, I'll be reviewing the software. I'll share my opinions alongside, and make suggestions when necessary.
SecUso's Privacy-Friendly Shopping-List.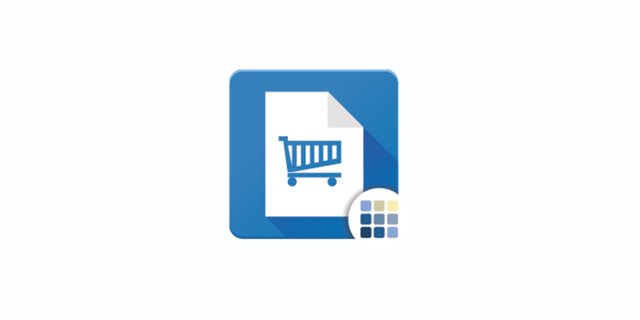 Source
The app I'll be talking about in this article is; Secuso's Privacy-Friendly Shopping-List. Before you get confused by the name of the app, I'll explain. The app is basically a shopping list app. Secuso is the name of the organisation that develops the app. In fact, they(Secuso) are actively developing several other apps. I haven't exactly checked the other apps, but I think they'll be cool.
The project owner(s) parade all their apps as "privacy-friendly". And I think that's their selling point(it doesn't mean that they sell their apps though). It's 2019, and user privacy has become a huge deal. It is now possible for your personal information to be retrieved by a developer, or third-party service operators, when you use an app. There are so many things that can be done with the information that is retrieved. That's why I'm sceptical about the kind of apps I use. I always look out for the device permissions the app requests for. If it's a permission that can give the developer access to very private information, I usually decide against using that app. But, if the app is very important, I check-out the developer's privacy policy(if it is available).
Now, with all the issues of user privacy, would you rather not use an app with a very strong stance on user privacy? I definitely would. Here's their motivation;
Nowadays there are many apps that require many or all permissions available in Android in order to be installed. However, these apps do not always need all of the permissions they ask for. With this project, we want to offer an app where the user can be sure that private information such as contacts, location, identity etc., are not being used by the application. This app is part of the Privacy Friendly Apps group developed by Technische Universität Darmstadt, Germany. More information can be found under https://secuso.org/pfa
source
In this article, I'll be talking about the Shopping list that this group(Secuso) has developed. If you do a lot of shopping, you should definitely check the out app.
Review of Shopping-List.
Writing reviews are much easier when there's a list of features to follow. Unfortunately, the developer(s) didn't provide a list of the app's features. But that isn't a big challenge. As I've always done in cases where a concise list of features aren't provided by the developer, I'll try to formulate mine. However, Shopping List isn't having so many features that generate talking points. So what I'll be doing is; reviewing how the app works, highlighting several areas, and sharing my opinions.

Without further ado, let's delve into my review of Secuso's Shopping List.
Getting Started.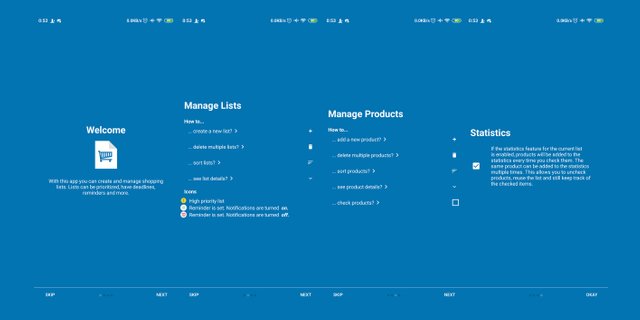 When you install and launch Shopping-List, you are greeted with a welcome screen. The welcome screen is made up of 4 slides containing useful information. In one of the articles I published recently, I talked about how nice it is to have a welcome screen. And not just a welcome screen, but one with useful bits of information about the app. My desire is what the developer(s) provided in this app. The start-up screen has a reasonable amount of useful information.
Although I'm not yet reviewing the app's UI, I'll say that I already liked the app's UI just from the welcome screen. The whole screen is designed with a gradient of blue colour. The texts font and colour are cool too. There are no vector arts, but that isn't a problem at all. The welcome screen serves its purpose perfectly.
After you are done swiping through the slides, the next page is the app's main, or home page.
Shopping List's main page.
After going through the welcome screen, the page that pop's up is the app's main page. It is from this page I can discuss the app's UI.
Shopping List's UI.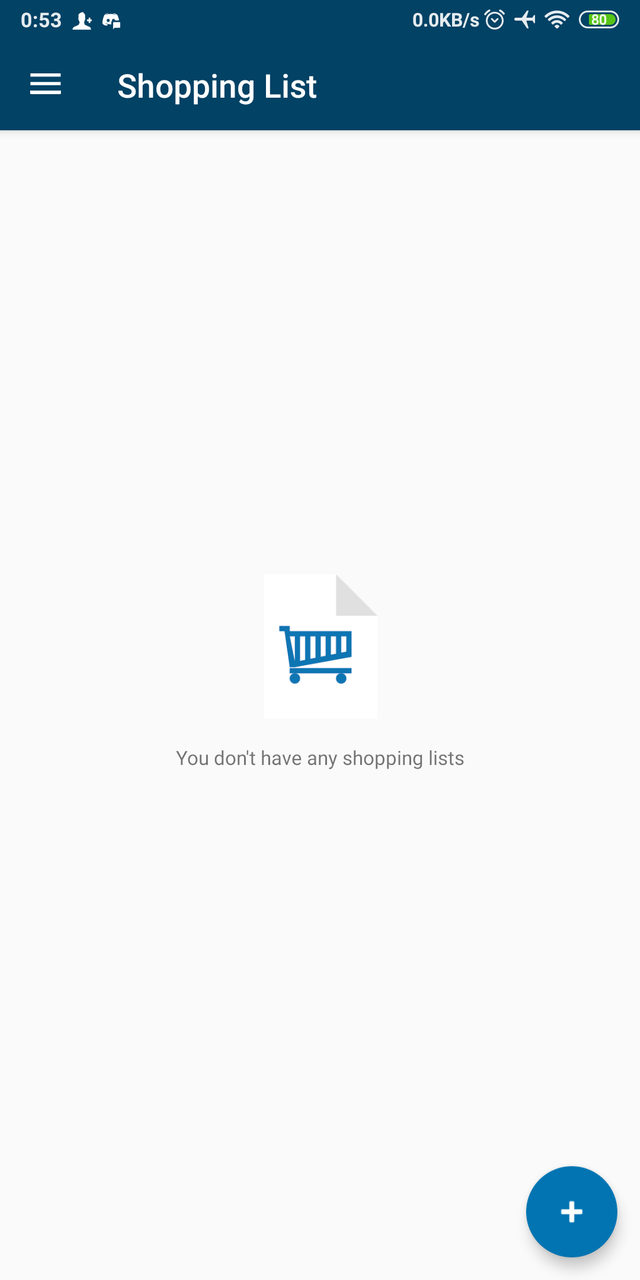 The UI of Shopping List is impressive. The impression started with the app's welcome screen. I had no doubts that the app would look great after the welcome screen. And my hopes weren't dashed in any way. The app looks great. I love the colour scheme that was used. The app is designed with a blue and white colour scheme. Blue is my favourite colour, so the app's UI is a good sight to look at.
Inasmuch as I liked the app's UI, I was a bit disappointed that there were no theme options. I'd have ideally loved to try out and use a dark theme on the app. A dark theme laced with the app's blue colour accent would have been great. That notwithstanding, the app looks great overall.
The main page of the app is clean. There aren't many elements on it. There's the left sliding-menu icon, and the plus (+) icon to create a shopping list. This takes me to my next talking point;
Creating a shopping list.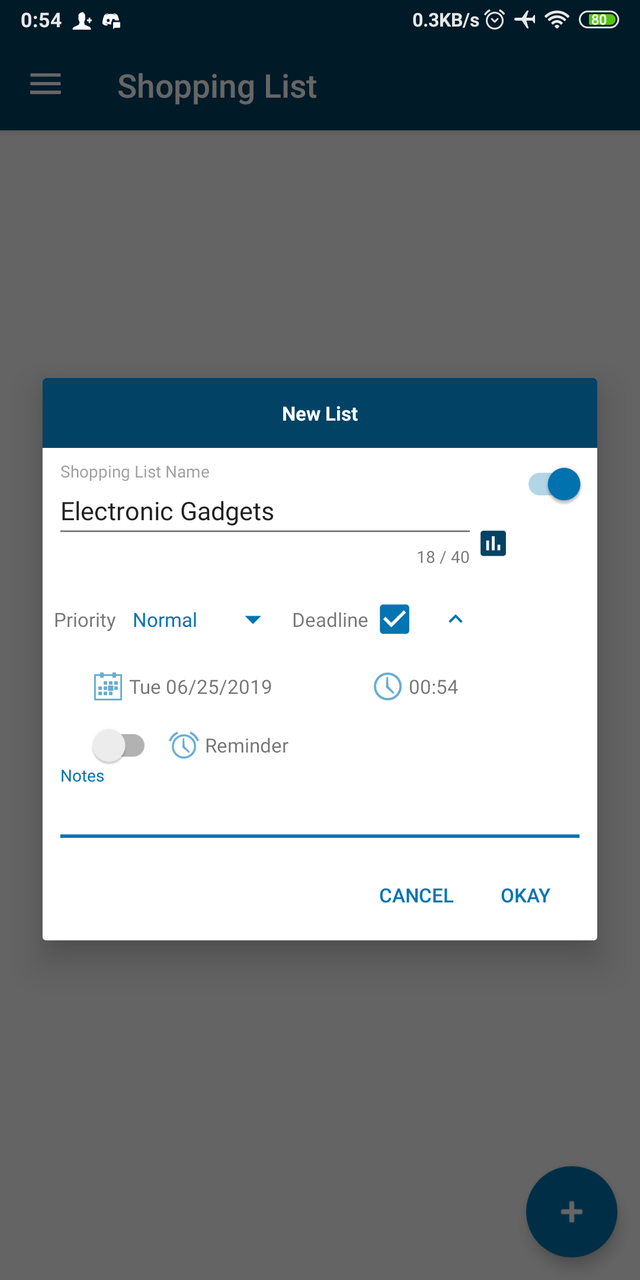 Creating a shopping list is basically what this app was designed to do. And the simplicity of it; amazes me.
When you click on the creat list button, you have form titled "New List". This isn't the actual shopping list per se. You can think of it a shopping list group. I think it is a great idea. This way, you can place several items in different categories. There are many things we could shop for. It could be for foodstuff, electronics, clothing, etc. So you can create a shopping list for any of them. In the image I shared above, you can see that I created a shopping list for electronic gadgets, and clothing. Those I the things I mostly shop for lately. Food items are covered by someone else(and I'm grateful for that).
Aside from naming a shopping list, there are other options on the form. You can set the priority of the list. If it is something you need to buy very urgently, you can set the priority to high. If there's no pressure, you can leave it as normal. You can also set a deadline for you to purchase the items on the list. When you check the deadline box, you are now able to set a deadline date. You can also turn on a reminder if you wish. The developer(s) also went extra by including a notes panel. This is basically to write more information about the list. In my case, I wrote nothing. I don't think there was any need for me to do that. The last option available on the form, is the option to turn on/off statistics of the list. Although I don't like reading stats, I turned it on.
After you are done creating a shopping list, the next thing is to add products/items to the list.
Adding items to a shopping list.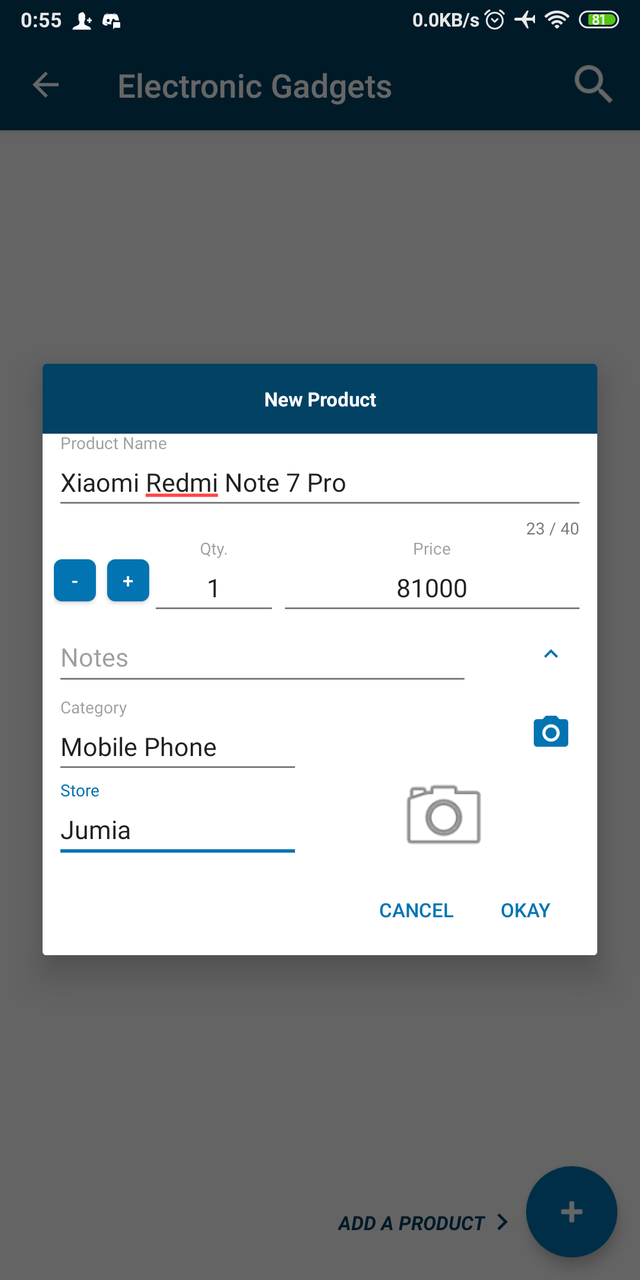 The process of adding an item to a shopping list is very similar to creating a shopping list. You have almost the same form. However, the options on the form are different this time.
The details you can fill in are;
Product name
Quantity
Price
Notes
Category
Store
A camera button: to add photos.
Once again, the developer(s) ensured that every tiny bit of detail was covered; in the shopping list "items" form. Entering a product's name, quantity, and price, are the basic, yet important parameters. The other options aren't something that would affect you (if you decide not to fill them). However, it doesn't mean I don't appreciate the extra information that I could add. I talked about the notes feature on the form earlier on, and I say I don't think I'll use it. For the category, I don't exactly know what the developer(s) expected an end-user to fill there. That information could have been more explicit, by creating a drop-down menu of preloaded categories. However, I used logic to decode that it could mean the category of the item I'm adding. The store option doesn't need an interpretation. It is simply the proposed store you'll be purchasing an item from. Now the last option is one I kind of had issues with. That is; the camera option. Without any atom of doubt, I understood what the developer(s) hoped to achieve by including the option. An end-user can add a photo of the product. But the issue is, I can't possibly snap a picture of an item or product I don't yet own. I was expecting that there would be an option to import photos from my gallery or file manager. Unfortunately, that option wasn't available. It would have been a better idea to implement a "fetch from gallery" feature, than a camera. I'll try to open an issue of this suggestion to the developer(s). I'm optimistic they'll buy the idea.
Creating a shopping list and adding items to it, are the main features of the app. However, the developer(s) went ahead to include a statistics chart.
Statistics.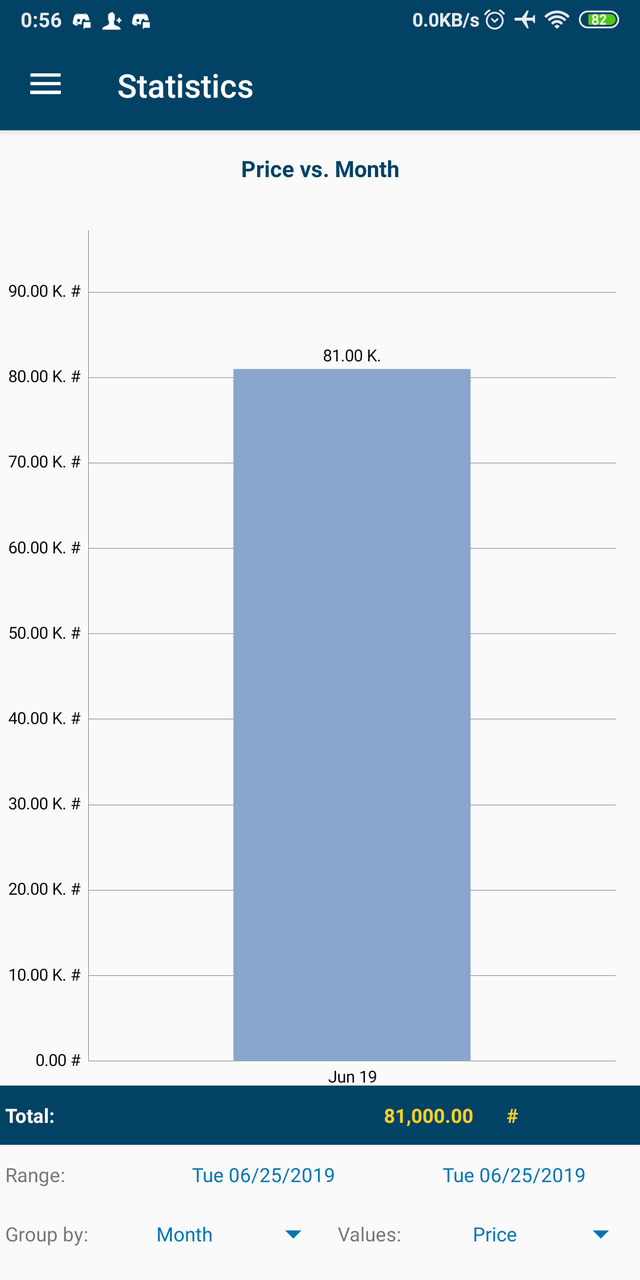 Checking out stats is something I rarely do. It's even worse when there are several parameters. On Shopping-List, the statistics of a list is shown on a graph. The values the graph uses, are formulated based on several parameters or information that you enter. You could decide to display a graph of price against product, quantity against product, etc. You could also decide to turn off statistics completely, when creating a shopping list. In my case, I turned it on, but I know I'll rarely check it out.
That's all there is to know about Secuso's Shopping-List. The app is quite a simple app. Solidly built to serve the purpose for which it was designed. For the few days I used the app to ensure I wrote a concise review, I enjoyed every bit of it. My experience with the app was superb. I didn't encounter any bug. There weren't any issues. The only issue I had was the camera option which didn't allow me to fetch photos from my gallery. That wasn't a big deal at all. Because if the feature wasn't there, I wouldn't even mind.
A little more about other use-cases of Shopping-List.
In my introduction, I talked about a typical handwritten shopping list my mum always provided, when she sent me on technical errands. The purpose of that list was to remind me of the items I was sent to purchase. This shopping-List app can serve the same purpose at the one which my mom provided. But this time, there's an added advantage. The Shopping-List app can also act as a shopping budget/ planning app. Creating a shopping list and adding products to it doesn't mean that you are going to purchase the item immediately. You can decide to add the item to buy it at a later time. You can specify a date on Shopping-List(app), and you can set a reminder. I think it's a cool thing. If you checked out my list, I entered some products. I plan on buying them soon, but I'm not in a rush. So I can also call my shopping list, a wishlist.
Summary.
In this article, I've been able to spur you to go out on shopping trips. I've also reviewed an app that will guide you on your shopping expeditions, so you don't buy unnecessary items, and spend above your budget.
Shopping-List is an amazing app. The first amazing thing is its privacy-friendly structure. The app only requested my camera permission. It required that permission so I could use my device's camera while on the app. Now that I think about it, I kind of understand why I was unable to add photos from my gallery. To add photos(instead of snapping), the app would require my storage permission. Maybe using that permission has an effect on the group's(Secuso) strict stance on user privacy.
Overall, I'll say that the app is amazing. It has a great UI, and it's services are delivered with perfection.
Thanks for reading.
Links
Resources:
The content of this post was created based on my knowledge of the project, and mostly from my experience. The images used in this article are screenshots from my mobile phone or PC. Other images used, have their source links provided just below them.
Github profile: