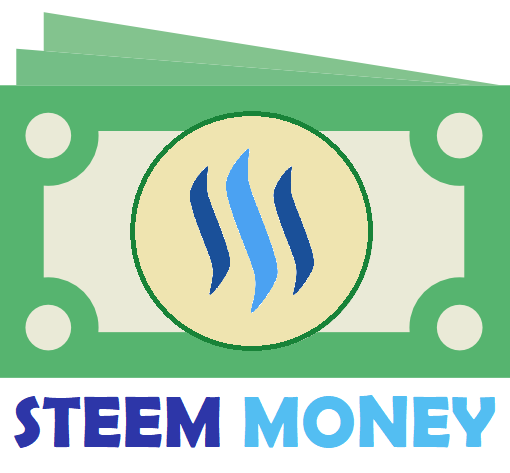 New Feature
I added a steem and steem dollar converter on Steem Money application. This feature will not just convert from Steem/SBD to Bitcoin but also to any other curriencies like Australian dollar, Chinese Yuan, Japanese Yen, Philippine Peso, etc.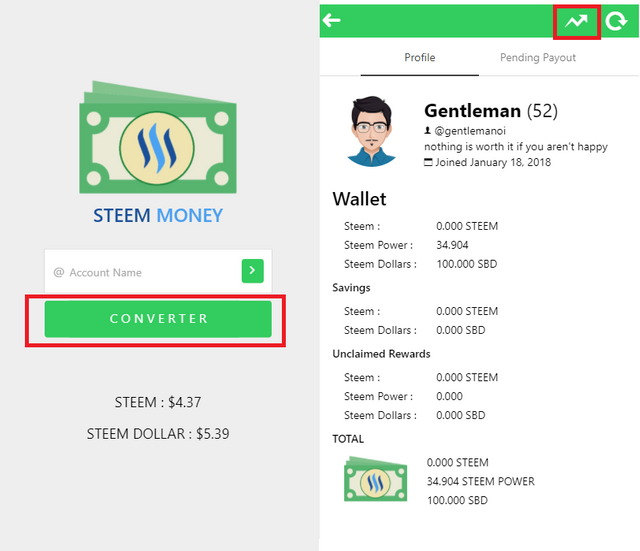 As you can see, I added a new button in home screen and profile screen to link to the converter.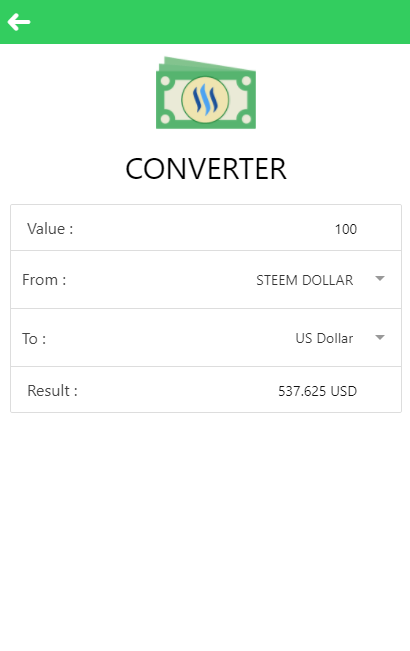 In Converter Screen, we can convert any value from Steem or Steem dollars to any currencies listed below.
List of Currencies:
BTC - Bitcoin
USD - US Dollar
AUD - Australian Dollar
BGN - Bulgarian Lev
BRL - Brazilian Real
CAD - Canadian Dollar
CHF - Swiss Franc
CNY - Chinese Yuan
CZK - Czech Koruna
DKK - Danish Krone
EUR - Euro
GBP - British Pound
HKD - Hong Kong Dollar
HRK - Croatian Kuna
HUF - Hungarian Forint
IDR - Indonesian Rupiah
ILS - Israeli New Shekel
INR - Indian Rupee
ISK - Icelandic Krona
JPY - Japanese Yen
KRW - South Korean Won
MXN - Mexican Peso
MYR - Malaysian Ringgit
NOK - Norwegian Krone
NZD - New Zealand Dollar
PHP - Philippine Peso
PLN - Polish Zloty
RON - Romanian Leu
RUB - Russian Ruble
SEK - Swedish Krona
SGD - Singapore Dollar
THB - Thai Baht
TRY - Turkish Lira
ZAR - South African Rand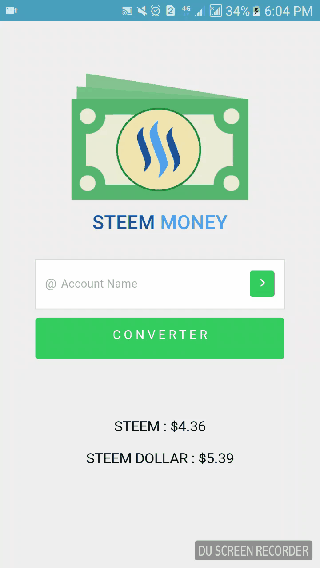 How did you implement it/them?
Relevant Commits
I used Fixer.io and CoinMarket API to convert the Steem/SBD based on the current value of a currency. First, I retrieve the value of Steem/SBD in US dollars using the CoinMarket API. Then, I retrieve all the currencies in Fixer.io and set USD as the base parameter. Lastly, I multiplied the value of Steem/SBD in US dollars with the current value of the selected currency.
Links
---
Posted on Utopian.io - Rewarding Open Source Contributors
---