Day 3 Campaign: Marketing Utopian on Facebook
Day 3 marketing campaign on Facebook for Utopian. Let's keep this growth going and get more people excited about open source!
—The first Utopian Facebook campaign has been running for almost 72 hours now, as I write this.We also started a 2nd. campaign Monday. I've worked out a full strategy on how I will be building up momentum on this front. This includes a plan to create around five different campaigns, targeting a number of different countries and testing different ad copy.
I will be pausing these ads later today. Analyzing the data. Then I will be creating many more ad sets more targeted. This will result in lower CPC and better results.
Here are the results of the first Utopian Facebook campaign running since November 19th: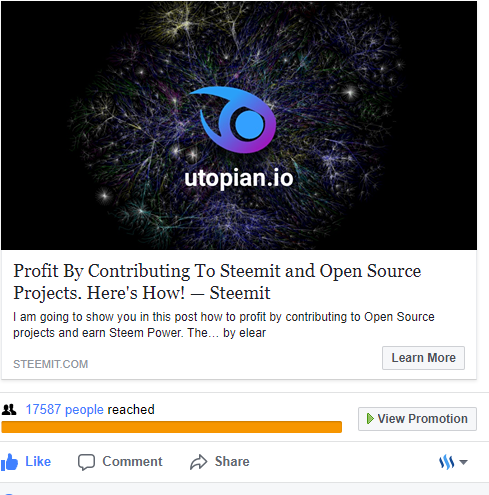 Here's a closer look at the demographics of the audience for this particular campaign:

Take a look at some of the immediate results from the first campaign test. Bear in mind that we'll see better results as we go. I'll track improvements as I make changes and bring more campaigns online over the course of this week.

The quick numbers add up to that we've shown over 17000 people this ad about Utopian, and generated over 360 click-throughs to a specifically chosen Steemit post all about Utopian.
We also created another ad on the Official Utopian Facebook page. And here is a screenshot of stats from both campaigns combined:

So in 72 hours we have generated over 470 click-throughs. And reached over 23,000 people on Facebook, in total.
Account creation will soon be available on Utopian.io, and when that's all ready to go, we'll begin driving traffic directly to the site to help them get started with the project. I love this sort of marketing work, and am excited to see how open source will change the Steem landscape for the better. Celebrating contributions created for all to use and innovate with by rewarding them with Steem is an exciting chance to give everyone a chance to share their work, and to develop technology for the people, by the people.
---
Posted on Utopian.io - Rewarding Open Source Contributors
---