Summoned Monsters - Status at 08.12.2017
This report is the last before the release of the game. Yes - the game is playable. I could even spend it today, but I want to add a few things.
Game status
There are 27 cards in the game. During the last report there were 18, so the increment is 9 cards. It does not seem to be much, but with 18 cards the game was "non-playable" (you had to set a condition - do not check the deck) - now you can easily do the whole deck.
It is worth mentioning that the first monster "fusion" appeared - it is created by combining two monsters using the "Fusion" card.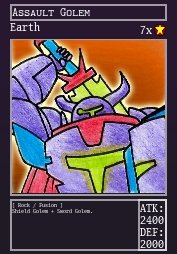 So - if someone wants to play, there is no problem :)
ToDo
There are 12 cards to implement, while a few new cards are "on the way". That is why I decided that the date in January 2018 will allow me to implement everything.

I have to correct one element in the card generator: Depending on whether it's a monster or a spell / trap, one element is rendered differently.
Third: The game is in Japanese by default. I take English subtitles from other Open Source versions, but the "current" ones are outdated. I will have to add a correction soon.
Does the game work without problems?
Unfortunately not. It turned out that after returning home I built the entire engine and if we win / lose / give up - customers disconnect as "connection loss". The game works in general. The creator said that he does not know how to fix it - maybe he will succeed in the future! ;)
No sound - the game generally has no sound - there is a code that adds something like that, but uses a non-free library, and I would not like to use such things.
Link
Project repository: https://github.com/fervi/openygo
Commits from last revision:
1, 2, 3, 4, 5, 6, 7, 8, 9
---
Posted on Utopian.io - Rewarding Open Source Contributors
---