Task Request - Steem-python developer needed for upvoting & resteeming campaign bot
Details
---
We are planning a campaign to encourage comments in our STEEM community. Part of this campaign is an upvote & resteem bot to promote good posts manually selected by our community.
https://steemit.com/steemdev/@benniebanana/getting-started-with-steem-python-upvote-and-comment-bot-examples-linux
I saw this post and we need to replicate this, but I need to set up a more complex upvote bot that does the following with the steem-python package.
For tag.py in the repo, the bot needs to upvote (1%, changeable) the main post, of which it has a comment with a specific tag #exampletag in the comment body. (NOT the tag in the main post or the main post body, should work like @originalworks except the trigger is #exampletag instead of @originalworks or !originalworks)



For example, If the comment looks like #exampletag This is really a nice post!, the bot detects #exampletag.
The comment should not be made by the original author and the commenter has to have a rep of over 30 (changable). Else, no upvotes, comments or resteems are made.
And then the bot account has to comment the comment with the designated tag, with a message that the bot upvoted the main post, much like the picture above. Also, the bot account has to resteem the main post. The upvote and comment should obviously only be done once per main post, working exactly like @originalworks except for the resteem and some constraints.
Also, on mention.py, with the same conditions, there should also be a separate script for when mentioned as @examplebot instead of #exampletag, exactly what @originalworks does except that there is no !originalworks. For example, If the comment looks like @examplebot This is really a nice post!, the bot detects @examplebot.
Are there any developers that can do this job? If anyone experienced reads this post, please help prepare for our campaign.
The program should be operated in Linux under an Anaconda/Miniconda 3.6 release. Please assume that steem-python and needed dependencies (please specify if something else than steem-python) are already installed and can be called as ./bin/python3.6, like the picture below.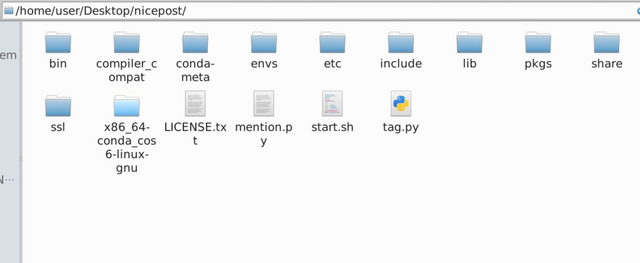 Components
The scripts are initiated by start.sh, which is already written. The Python scripts tag.py and mention.py should be completed in order to finish the project.
Deadline
It would be plausible if this project is done by March 3rd. Schedules can be changed.
Communication
Please come in the below link, and we can communicate about the development. We welcome any developers experienced with steem-python.
https://discord.gg/VAfhqGh
Please support our proposed campaign. Thank you very much for reading.
---
Posted on Utopian.io - Rewarding Open Source Contributors
---