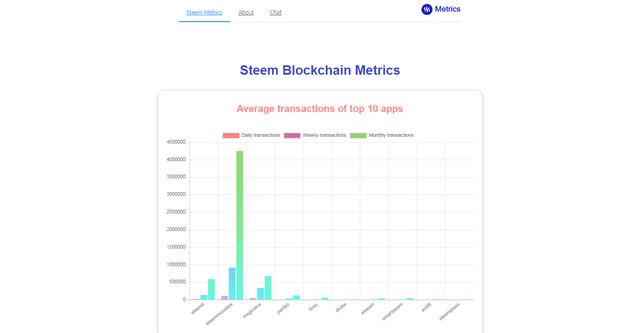 Introducing Steem Metrics, graphical metrics explorer for the Steem Blockchain.
Graphical insights for the Steem Blockchain
Steem Metrics is an web app that shows various metrics from the Steem Blockchain with charts. We hope that the use of charts would make it easier for users to visualize insights of the Steem Blockchain.
This version display only four basic charts: 
Average transactions of app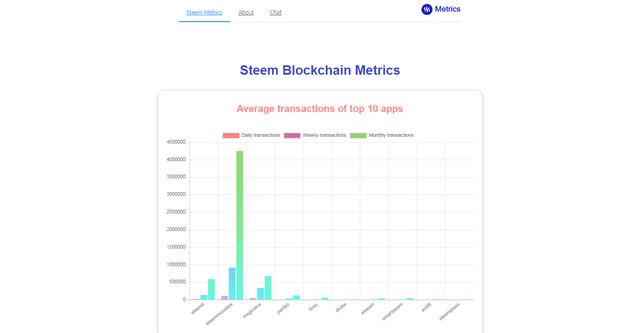 Average user of apps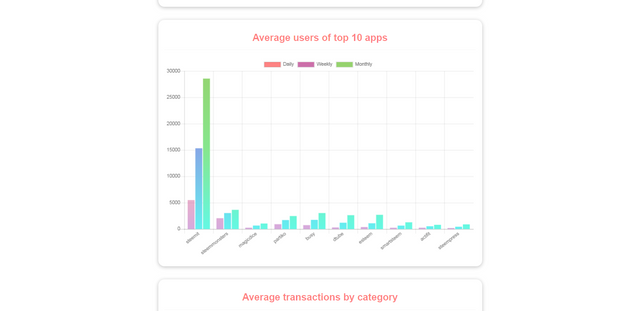 Average transaction by category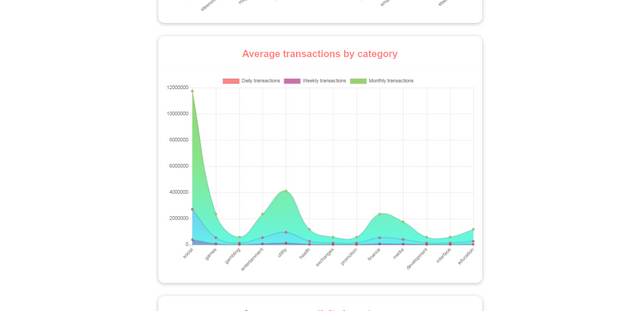 User activity by category
Data is sourced from the Steem Apps API. Steem Apps is by @theRealWolf. More charts and insights would come in the next updates.
What is coming in v2?
In the next update, we would add the following:
market insights
witness insights
Steem based npm libraries insights
trend(tags and more) insights
Sustainability
This project is being developed as a prerendered SPA which is being hosted on Netlify. Data is gathered from API endpoints.
We hope this model would help keep the reduce the costs of running the project, hence help to keep up.
Contributing
Steem Metrics is another open source project from the Steem Institute, if your are interested in inspecting the code or contributing to it, visit the repo on Github.
You can also join our Discord server at: https://discord.gg/xeSnGc8, if you are interested in a role or any of our projects.
Project links
Website: https://steemmetrics.com
Steem: https://steemit.com/@steemmetrics
Github: https://github.com/steem-metrics/steem-metrics
Chat: https://discord.gg/xeSnGc8