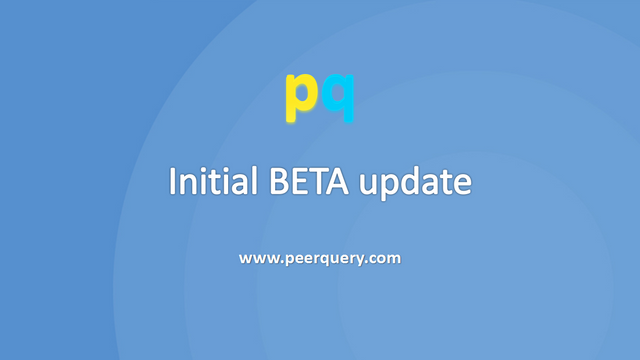 Now that App Stream and Curator are Minimum Viable Products with fully working protoypes, I have retired from their personal development to resume work on Peer Query.
A working but minimal beta update is now live. The beta will see a complete transformation of the design and functionality of the site.
Repo: https://github.com/peerquery/beta
Peer Query beta
New project focus
Peer Query beta is to focus on the core vision of the entire project:
Peer to Peer collaborations powered by Steem.
To this end we will upgrade from a Steem tag browsing interface into a full blown platform for building projects with peers.
This refactoring will begin from the next update, and there would no longer be the option browse posts tagged as "proposal", "question", "quizz" and others.
Musing.io has built a very wonderful Q&A app on Steem, and we hope they would be able to carry that industry forward. Starting with the next update to Peer Query, we will re-direct its focus into building a platform for facilitating true peer to peer collaborations.
As part of the re-factoring we will introduce several new products, services, features and partnership to facilitate peer to peer cooperation.
Retaining Steem trending
The Steem trending content page will be reserved for now. It serves as a shortcut to know what's trending on the Steem blockchain so for now will be maintained.
What's new in the beta?!
Improved content renderer
The content render has been improved to use that of Curator. Most custom markups should render well, raw YouTube links would be converted into iframes, raw image links will be converted into image tags and more.
The content parser is not perfect, we will continue to improve it.
New post reading side bar
We now have a sidebar for the post viewing page. In time it will be populated with useful information to the user.
Showing voter list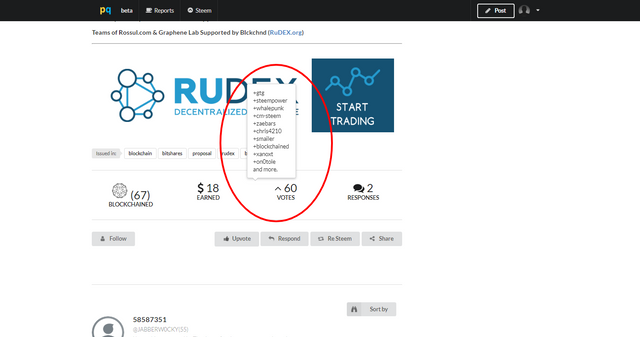 Oh yes. You can now hover your mouse over the vote counts on any post to see the list of the users who voted it, sorted with the highest voters first.
Upvotes are signaled by + prefix while downvotes are signaled by a - prefix. You can access this feature on the post viewing page. This features also works for comments!
Live preview button
While viewing posts on the homepage or reports page, you could click on the bug icon button in the post card to see an instant popup preview!
Neater footer
The footer design is improved though not all links on it are populated yet. Completing the site and filling missing pages are the number one priority for the next update.
Terms of use
At the footer of the site you would see four new terms: abuse, full disclosure, terms and conditions and privacy policy.
Like every other terms and conditions, they may contain controversial statements, yet they are only meant to secure the interests of the Peer Query team and community from mishaps.
What's changed?
New menu bar
The top menu has been relieved of the former tag browsing menu items.
Improved homepage
The homepage has been slightly resigned for now. The top jumbotron will now be hidden to logged in users. Several resigns and upgrades would soon follow.
Cleaner posting page
The posting page of the alpha looked crowded because it featured a section which showed a summary of your last post along with relevant stats on it.
That extra section has been removed in the beta, offering a minimalist posting interface.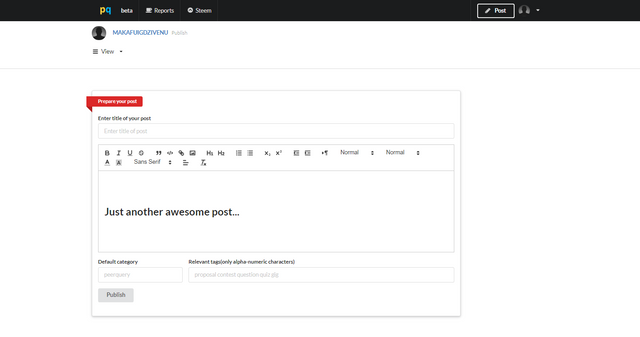 Code improvement
Peer Query's alpha codebase does't boast of the best code quality and with this version cloned from it, the beta will need refining to improve the code quality.
A few improvement were already made in this update, more will come in the next update.
Peer Query roadmap?
Shift from tag explorer to full platform
Complete code upgrade for improved code quality
Rapid development and completion of beta
Introduction of projects and other advanced features
Partnership with Steem enterprises and stakeholders
Repos
Installation: https://github.com/peerquery/beta/blob/master/README.md