Top media dapps of 2019 - Steepshot
Repository:
https://github.com/Chainers/steepshot-mobile
Introduction
Hello and welcome to my next post on the top 2019 media dapps. This series became necessary after @oracle-d and @dapplovers made a call for users to make a review of the dapps in the media category. This post will focus on an image sharing platform known as Steepshot.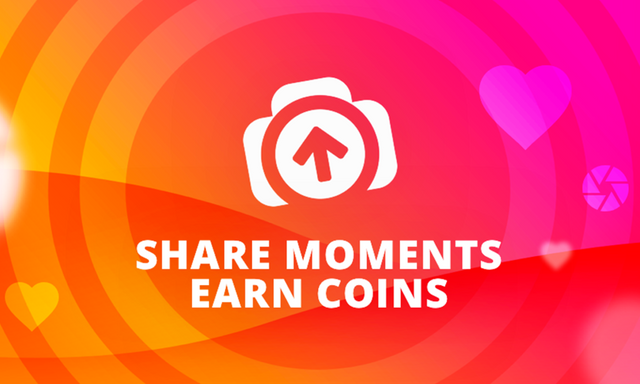 source
Picture sharing has existed a while and introducing the smartphone has made it popular. At inception, the smartphone kept giving us a low picture quality compared to what the professional cameras were giving. Just like so many aspects of our generation, the smartphone camera has evolved tremendously. Shots from the latest iPhone, Samsung and other devices are now clear enough to attempt to compete with some professional cameras.
My generation is a generation that is so concerned with their social media lifestyle. Most people want to appear as the best online. Instagram is where oppression takes place. It is one of the popular picture sharing platforms. One flaw of Instagram is the lack of reward for its users. No matter how many followers a person gets, it can never be translated into cash. This is the reason I'm writing a review on Steepshot. Steepshot gives a picture sharing platform where we can slay and earn.
What is Steepshot?
I may define Steeepshot as a platform on the Steem blockchain that enables us to share pictures of our lives and surroundings with our followers. When the users share their post through the platform, the user earns incentives in the form of steem based currencies. They can convert this steem based currencies into fiat at any desired time. I have used this platform, and I was happy to earn from my photo stories.
Getting started
Getting started on Steepshot is simple.
Follow the following steps below to get started:
Visit here
Click the 'sign in' button.

It will take you to the sign in page. There are two options available, you can sign in with your details directly or you can use steemconnect to feel safer.

After a successful login, it will ask if you want to receive push notifications. You are free to either accept or decline.

It will redirect you to your feed page.
To create a post, follow the following steps below:
On your homepage, click the 'create post' button.

The create post page will be open. This is the page that the users enter their post details.
Click on the camera button to select your desired photo.

Input your title.
Input tags.
Add your description. The maximum number of characters allowed in the description box is 2048.
Click on the 'create new post' button to complete the process.

Congratulations, you have made your first post on Steepshot successfully.
Features and components of steepshot
There are a few features and components of steepshot that I've observed so far. Below are some of them:
Simple user interface
I give credits to the developers for making this simple and cool. Since it's an image application, I was scared I would see a crowded interface when I first used it. Everything was well arranged and appropriate space was given to avoid overcrowding of the interface. I could navigate and engage the application without issues.
The profile page
The presence of the profile page enabled me to easily check my account value. I noticed that my voting power showed instead of my display picture whenever I tap and hold the profile picture. The feature is fun.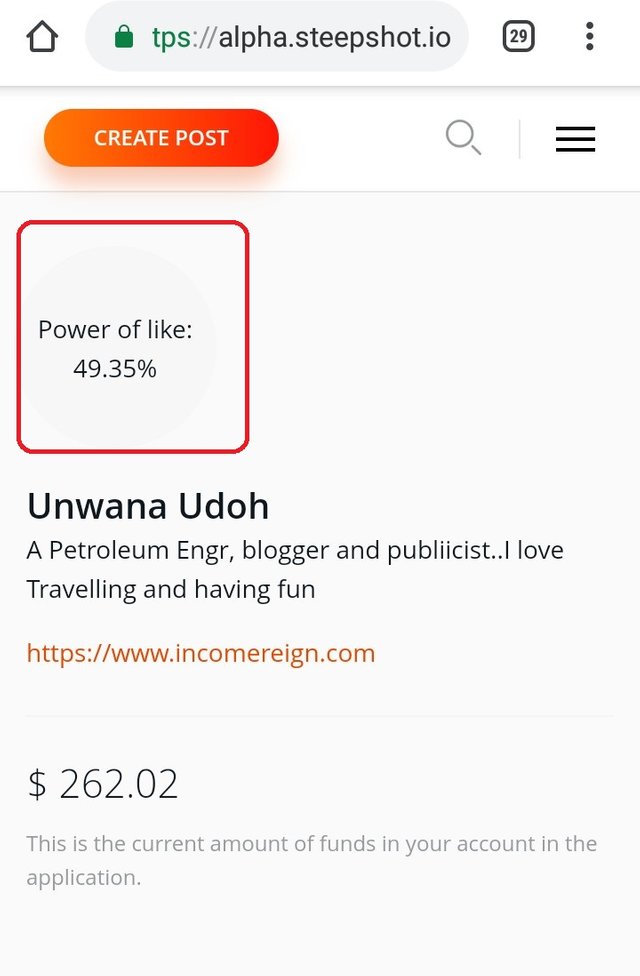 The profile page also displays my previous post, people I'm following, and my followers. There is a + button beside a follower that you are not following. This feature enables you to follow him back with a touch.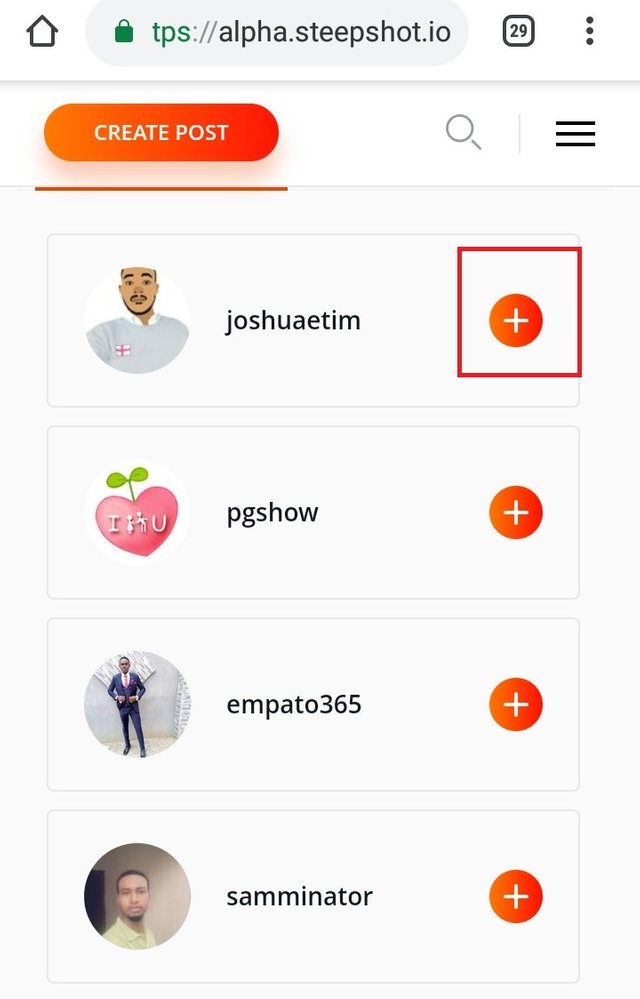 Feed page
This is where the post from people I'm following appear. Just like Instagram, the user is free to scroll and like as many posts as his/her, voting power can carry.
Wallet page
This is the money bank of the application. On this page, I could check my account balance(steem, steem power and steem backed dollars). The page also displayed my recent transactions history.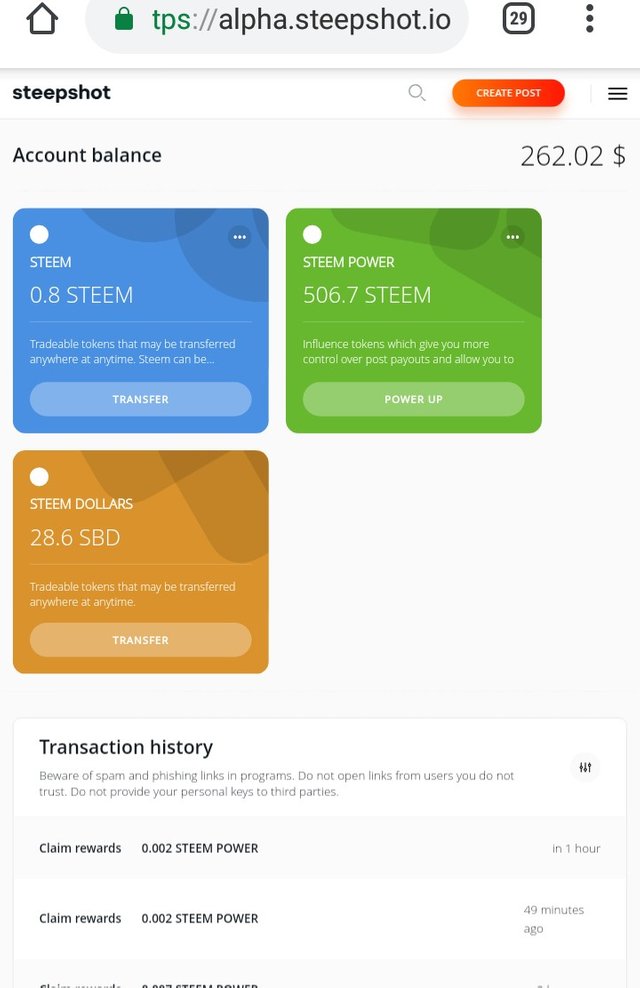 I have never used their wallet to make a transfer. I fell in love with their wallet and made my first transfer. Its beautiful wallet worked like magic and I could send the steem.
Below are screenshots from my transfer process:
1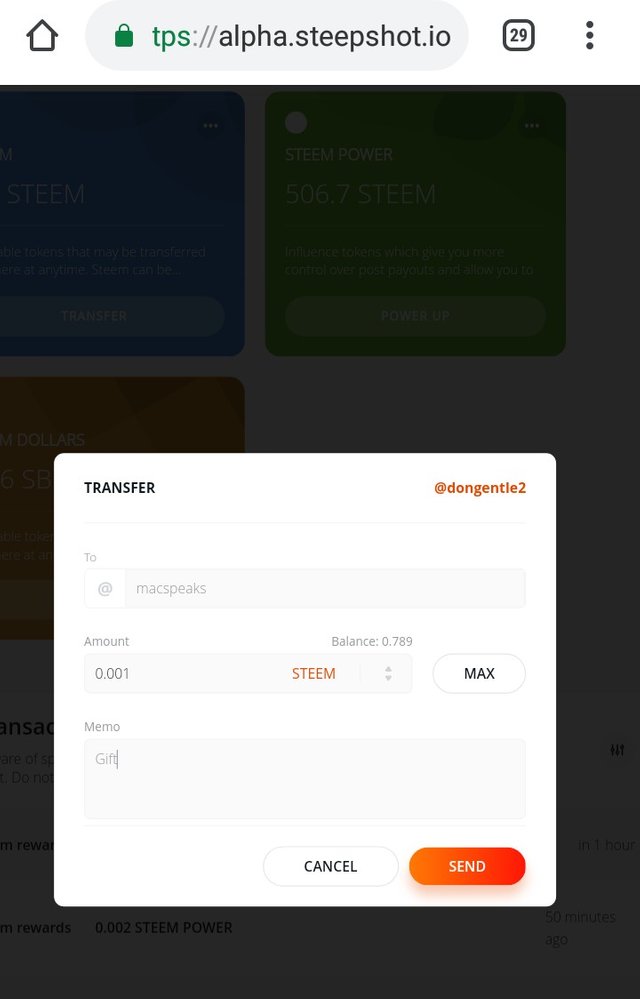 2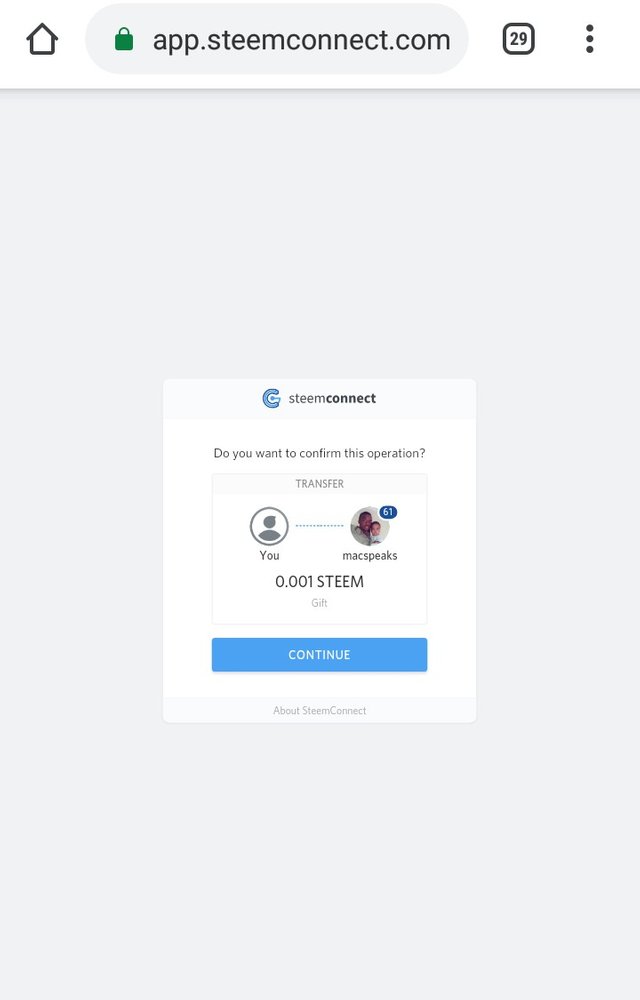 3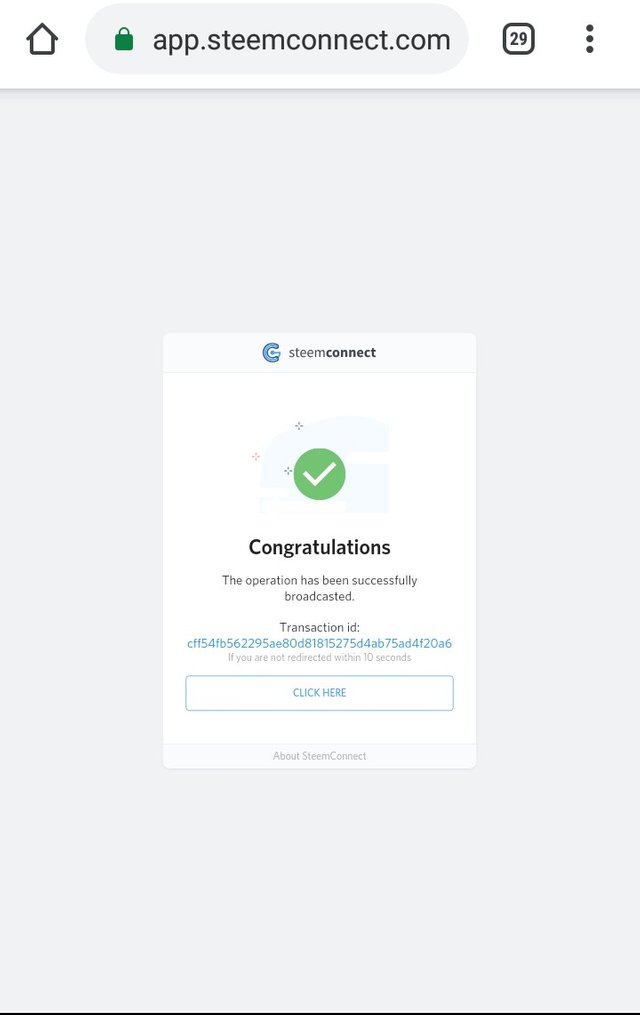 I love their wallet.
Settings page
This page made it possible for me to control what appeared on my feed. I could filter out NSFW and low rated content from my feed.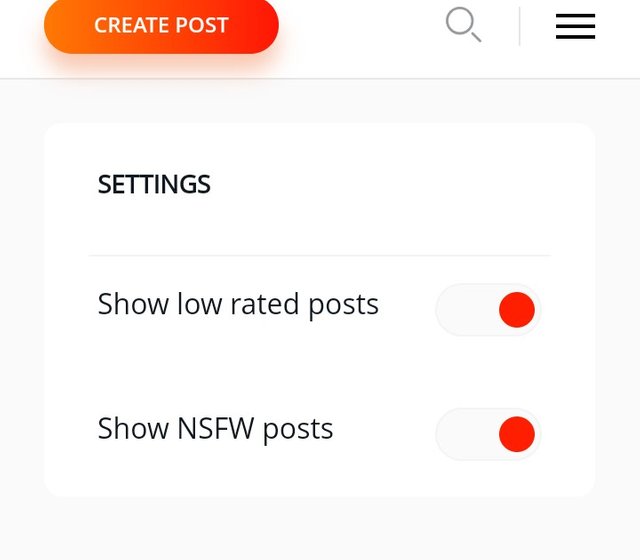 There is also an option for the user to activate push notification for comment, upvote, upvote comment, follow and post.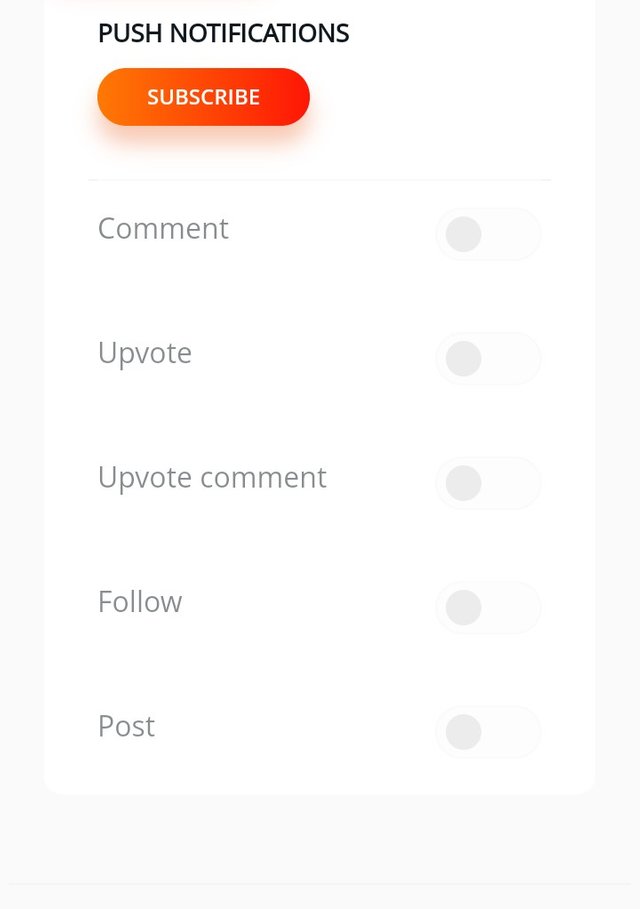 Advantages of steepshot
I think the main advantage of this application is the ability to not just share your moments with friends but also earn from it.
Another advantage is the fact that I can post any picture of my choice without censorship. This is one of the beauties of using a decentralize application.
Disadvantages of steepshot
The main disadvantage of this application is that its performance is in question. It took me several attempts before I could finally get a post out.
I tried uploading over one photo, but I failed. This is a limitation because so many people would prefer to upload over one photo in the post.
Comparison
The only similar application is Instagram. Instagram is a more stable application, and it's not an open-sourced project. Steepshot would outshine Instagram in the 'near' future because of the earning ability of Steepshot. That will happen if the developers work hard in giving us a stable application.
Suggestion
The developers should lift the limit of one photo and give users the ability to post more than a photo.
Conclusion and Rating
Steepshot is a good project with high future prospects. Photo lovers should take advantage of this application.
I'll give it a star rating of 4.0/5.0 because of the issue of posting.
Disclaimer: The views expressed in this article are entirely my view and do not reflect the mind or view of anyone else.
Resources
I wrote this post and all its contents based on my experience, research, knowledge, and personal use of the steepshot platform.
Most images are from my usage screenshots, and I provided links to all external images where applicable.
Links
Visit State of the dapps "steepshot" link: https://www.stateofthedapps.com/dapps/steepshot for more information.
You can also visit https://www.stateofthedapps.com/ to learn and have detailed information on lots of dapps on the blockchain.