Repository:
https://github.com/BijoySingh/Scarlet-Notes
There has been a lot of evolution in the smartphone industry since its inception. The sector has continuously looked at ways it can make life easier for the end-users. Having a Smartphone means you have access to an endless world of possibilities. Smartphones can be helpful in different day-to-day activities. While some are enlightened enough to explore the vast database of apps available, others make do with the inbuilt applications. Studies show that no man has made use of his/her brain up to a hundred percent capacity. Just like in man's brain usage case, most smartphone users do not use their full phone functionalities. I once ran into a female friend that was using a very high tech Android phone. It shocked me when I found out that she only uses such an expensive high tech Android phone for only chats and calls. That is one of the reasons I try to research apps that can make you see your phone from a different perspective.
Keep following my blogs as I am committed to introducing you to the world of cool open source apps.
The Problem
As humans, information is a significant aspect of our lives. We need this information to achieve almost everything in life. The first place we store this information is our brain. Some information we gained years ago are still with us in our brains. However, the brain sometimes disappoints us, and that is why we have the term 'forget' in the dictionary. The ability of an individual to forget acquired information is the reason we need an alternative means of storing data. I am sure students won't have to study so much if their brain could hold up to information without the tendency of forgetting them with time.
As individuals, there are many instances during the day that we get access to vital information, and deep down, we know how risky it might be if we leave it entirely to our brain to handle. In cases like the scenario mentioned above, what comes to our mind is a medium in which we can store the information safely.
This post will introduce you to an Android application that can be a lifesaver when it comes to storing your information in forms of notes.
I know this application as Scarlet Notes.
What is the Scarlet Notes application?
I may define Scarlet Notes as an Android application that enables its users to take and save information in forms of notes conveniently.
However, the developers define it as "a simple offline note-taking app with lots of cool features."
How to set up and get started
The Scarlet Notes application is simple to install and set up. Follow the following steps to get started:
Visit the Google Play Store HERE to download the latest version of the application.
After a successful installation, launch the application and wait for it to take you to the homepage.
How to create your first note
Below are simple steps to help you create your first note:
On the homepage, click on the 'plus' button at the bottom right of your screen, as shown below.


An editor will pop up, input the note heading and the content of the note in their separate boxes, as shown below.


Once done, click the back button as shown below to return to the homepage.
You will find your note on the homepage whenever you open the application.

How to edit, delete, copy, or share your note
Sometimes after saving a note, new details might have been acquired, and the need to update the note arises. The Scarlet note-taking application has made it easy for anyone to do that. Follow the short steps below:
Open the Scarlet App

On the app homepage, click on the note you want to edit.


Once the note opens, click on any of your desired buttons (edit, delete, copy, or share), as shown below.

Components and features
Certain features made me fall in love with this application, and below are some of them:
The reminder feature
I enjoyed using this feature a lot. With this feature, I could perform everything that I saved with the application adequately.
Before meeting this application, I had issues remembering certain information even after I had penned it down in my jotter. My busy schedule kept making me lose out in several minor issues, but everything has changed now. A good example was an incident that happened two days ago. My niece had her birthday, and I had written the poem I'll say to her on her special day. I got so carried away in the day's engagements that I forgot about her. It surprised me when a reminder with the poem popped up by 6 PM, and that was what saved me from getting into the bad books of my little niece.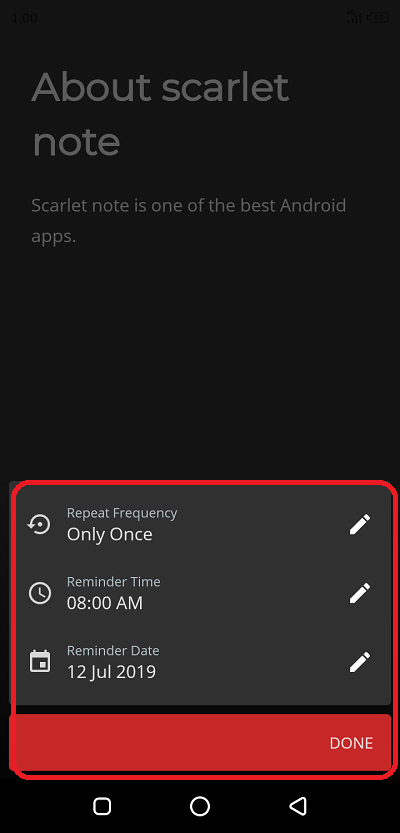 Speak Aloud feature
This feature is helpful to me whenever I want to go through the notes I took in a meeting or dreams. The feature allows me to listen to the audio version of my written note. Only very few note apps can boast of such a unique feature.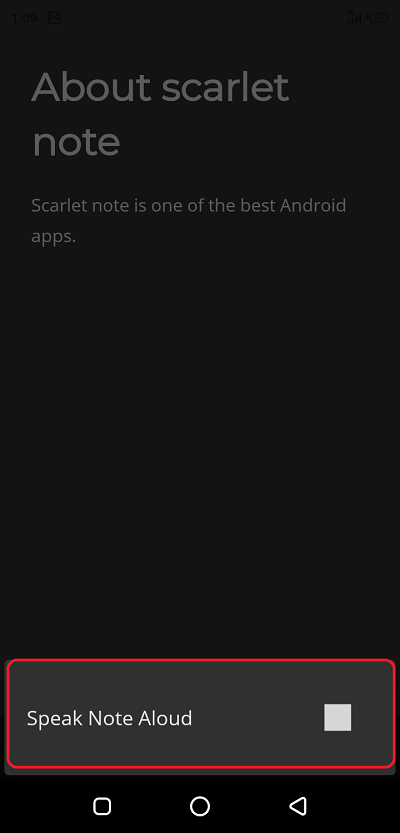 The pop-up feature
This feature helps me when I am carrying out certain tutorials on my device. All I do is to copy the needed steps into my Scarlet Application, then head over to the application that needs to use the tutorial. It serves me the stress of switching between browsers and the app as I can easily read the steps from the pop-up.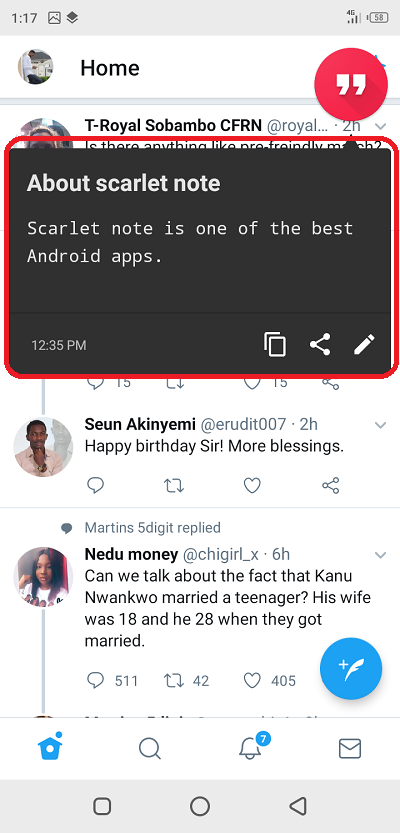 Ability to lock notes
The developers had me in mind when they created this application. I love it when my information stays safe, and that is why I am always cautious about security issues.
This Note-taking application gives me the confidence that my notes are safe from intruders. Imagine the mess that I can find myself if my friends borrow my phone and end up reading my secrets in the note application.
The scarlet note-taking application comes with a security option that allows me to lock the selected notes that I don't want others without permission to have access.
Below is how it looks without the lock.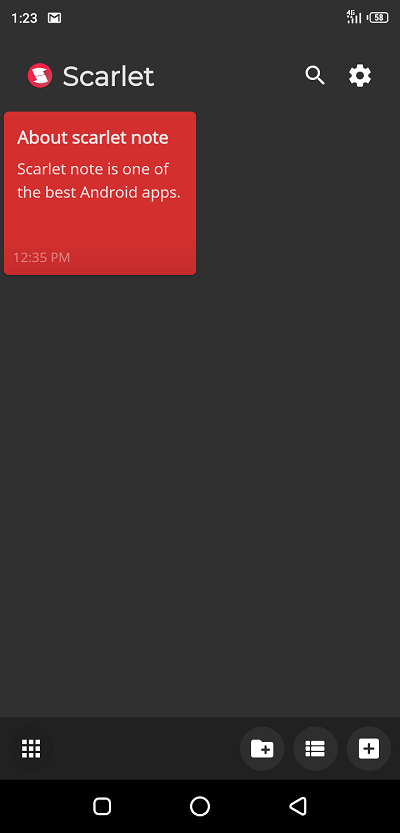 Below is how it looks with the lock.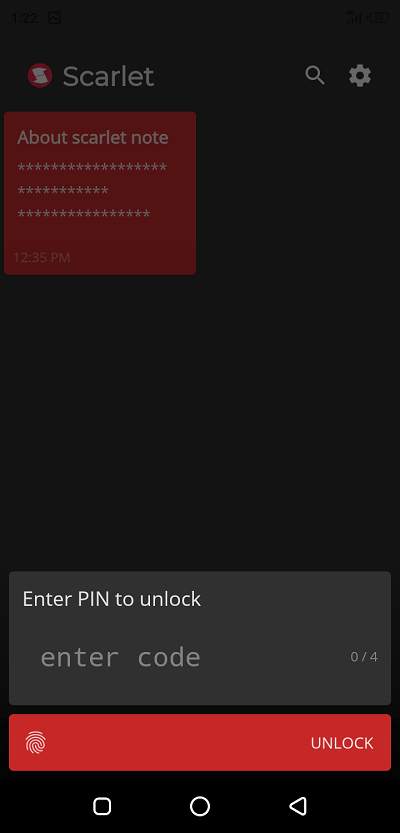 Backup, Import, and Export
I have a special love for any application that gives me the ability to backup, import, and export my content at will. That is precisely what the Scarlet app makes me achieve. I can now have rest of mind that I have a saved copy of my documents in a safe place.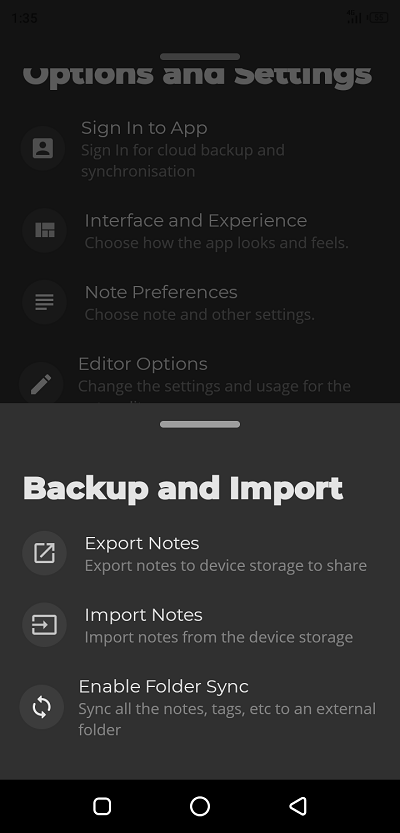 Good Editor
An excellent note-taking app is expected to have a good editor. The editor is where the user inputs the note. I enjoy the editor available in the Scarlet Notes taking app. It is cool with all the essential features. It even has a markdown feature in it. I was surprised when I clicked on the 'bold text' option, and I found it appear in a markdown format. I can't help but love everything about this application.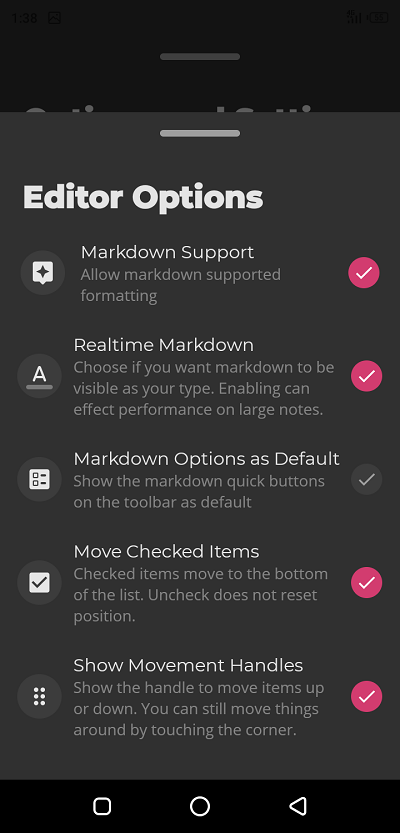 Other features
The article will be too long if I want to write on each feature and customization ability of this application. To save time, below are a list of some customization:
Ability to customize the widget (enable formatting, show locked notes, show archived notes and show notes in the trash).
Ability to delete notes, tags, and other data in the app.
Ability to change the settings and usage for note editor.
Ability to sign in to the app for cloud back up.
Ability to change the app interface through the changing of themes, enabling/disabling list layout, the arrangement of notes, changing of the note font size, changing the home screen number of note lines and changing the note viewer background.
Ability to pin notes, change note colour, and create notifications.
User interface
The app has a neat user interface with a lot of customization options. The users can customize it any way they like, and I so love it.
Advantages
The advantages of this note application are many, but the prominent ones for me are the ability to lock selected notes and the ability to use your notes as an overlay on other applications under the pop-up feature.
Disadvantage
I am yet to see any drawbacks of this wonderful application.
Comparison with the custom Note-taking app
Trying to compare the Scarlet Note-taking application to my custom Note-taking application sounds insulting to the developers of the Scarlet app. The Scarlet app completely outperformed my custom application in all ramification. I almost wept when I visited my custom Note taking app editor. As shown below, the custom note-taking app editor is nothing close to that of the scarlet.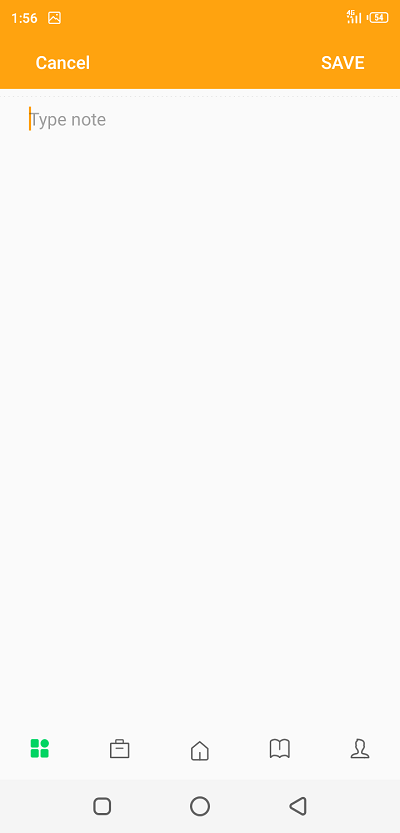 The only feature present in the custom app is the ability to categorize notes.
I won't recommend anyone to stick to their custom note-taking application for any reason.
Project Updates
The developers are doing their best in maintaining the project. The last release of the project took place on 23rd February 2019, while the last commit to the repo took place twenty-two days ago. To give their users a stable and bug-free application, the developers have so far rolled out eighteen different releases.
Here is a link to the release page.
Conclusions
This is a cool note-taking application, and I recommend it to anyone in need of a useful note-taking application.
Resources
I wrote this post and all its contents based on my experience, research, knowledge, and personal use of the Scarlet Notes Android Application.
Most images are from my usage screenshots, and I provided links to all external images where applicable.