MNML: A Must Have Screen Recording App
Repository:
https://github.com/afollestad/mnml
My Smartphone performs a lot of functions for me, and I know it does the same for many people. There are several other reasons we use a smartphone, but being able to record the content of the smartphone screen is a necessity.
My previous post looked at an application that enables its users to take quality screenshots on the Android device conveniently. This post will consider those who might need to take a video of their screen (screen record). This has a lot of usefulness, but the one that applies most to me is for tutorial purposes.
The Problem
So many Android users are sometimes faced with the need to make a record of their screen. While some need it for a tutorial, others might need it for various other purposes.
A reasonable amount of Android versions did not have this feature inbuilt, and their users had to turn to third-party apps for help continually. Most third-party apps are littered with ads, and this makes it hard for a user to use the application conveniently.
I was also among those that always needed a good screen recording application two months ago because my device did not have a built-in screen recorder. I recently got a new device that runs the latest Android OS, and I discovered it came with a built-in screen recorder.
However, many people still use a device that lacks this important feature, and this post is precisely for those sets of people. This blog post will look at an Android application that enables users to take screen records conveniently.
I know this screen record application as MNML.
What is the MNML application?
I may define MNML as an Android application that enables its users to take their screen record conveniently.
However, the developers define it as a "free and simple screen recorder for Android."
We pronounce MNML as 'Minimal.'
How to set up and get started
The MNML Android app is not in any way challenging to set up. Follow the steps below to get started.
Visit the Google Play Store HERE to download the latest version of the application.

Launch the application after a successful installation.
A permission request with the message 'Allow MNML screen recorder to access photos, media, and files on your device?" will pop up. Click the allow button, as shown below.

How to take your first screen record with the MNML application
Follow the steps below to capture your first screen record with the MNML Android application.
On the application homepage, click on the "record' option.


An overlay permission request with the message "MNML needs permission to draw overlays so it can display things like countdowns and controls over other apps," will pop up. Click the 'okay' button, as shown below.


It will take you to the settings page, activate the 'allow display over other apps button' as shown below.


The application will then pop up the last notice, which reads "MNML Screen Recorder will start capturing everything that's displayed on your screen".
Click on the 'start now' as shown below.

Components and features
Certain features made me fall in love with this application, and below are some of them:
User interface
The user interface of the MNML application is as neat as possible. There are no distractions at all. The buttons are visible enough for anyone to engage and click. The interface is super simple that anyone can easily navigate through it with no distractions. I have enjoyed every bit of my MNML application usage.
No ads
Ads are ways developers make money from their apps. Because it is good for the developers to make a profit from their apps, it is so annoying when I always get redirected to some ads pages, or I constantly have to close ads pop up before I can use an application.
The MNML application developers probably knew that I hated seeing unnecessary ads, and that is why they graciously disabled all their ads. This means I get to conveniently use the application without being interrupted by any annoying ads pop up.
User Interface Customization
This feature is one reason that I am in love with this application. I love it when apps give me the chance to tweak a thing or two to my advantage.
We all know how our phone screen can get bright, especially at night. The excess brightness does not go well with the eyes, and that is why it is always advisable to use a dark theme at night. The MNML had this in mind and made it possible for users to switch through the common theme and the dark theme.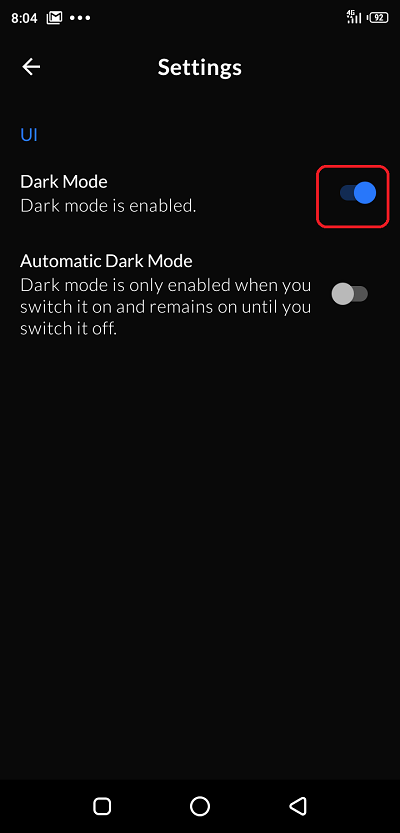 The most exciting part of the story is the fact that I could set the time that I want the application to automatically switch the theme to the dark theme and also decide when to return it to the common theme. The whole process is automatic. Let's say I believe my room will be dark by 8 PM and will be bright by 8 AM, all I need to do is to select these time frame in the application, and the application automatically switches in between the themes to suit my want.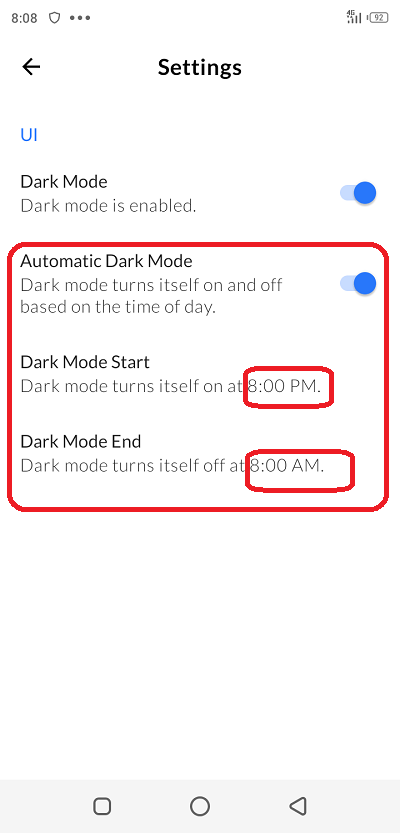 Recording customization
This feature enabled me to effect some changes to my desired countdown duration. Users can choose when the actual recording starts after the user clicks the 'record' button. This gives users enough time to navigate to the intended recording screen.
I could also decide whether to record the audio alongside the screen recorder here. Turning the 'record audio' on/off determines that.
I could decide where the recorded files are saved by selecting it from this page.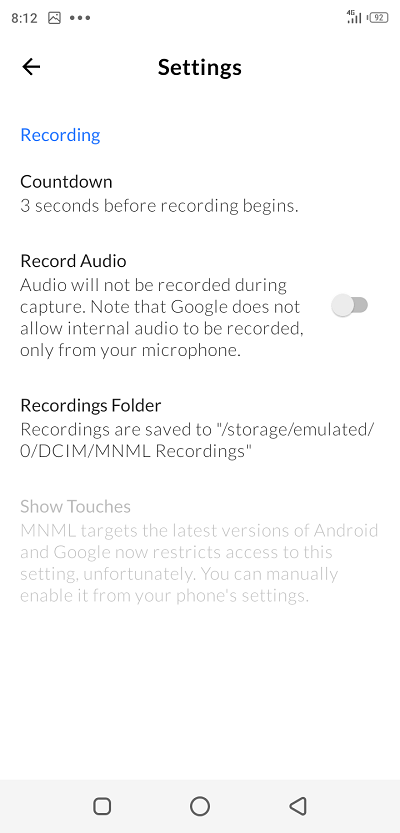 Quality customization
This feature enabled me to set how I wanted the video to look in terms of output quality. The video bit rate and the frame rate can be adjusted here.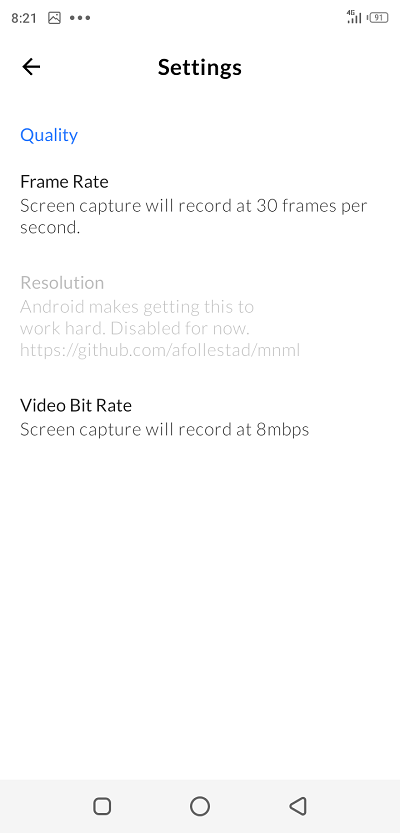 Controls customization
This feature enables me to make some minor changes to the application. These changes include:
Stop on screen off: this feature, when activated, stops all ongoing screen recording immediately your screen goes off.

Stop on shake: This feature, when activated, will stop all ongoing screen recording once the user shakes the device.

Always show control: This feature, when activated shows control at all times and not when recording is in progress.
Advantages
The main advantage of this application over other third party screen recording applications is the fact that there is no trace of annoying ads and the customization of the app makes the user feels comfortable using the application.
Disadvantage
I am yet to notice any significant drawback of this application that is worth mentioning as at the time of this post.
Comparison with the custom Screen recording app
Keeping the two applications side by side made me see things from a different perspective. They both performed their work excellently.
Recording on the custom screen recorder can be started at any screen by just drawing down the menu and clicking it as shown below.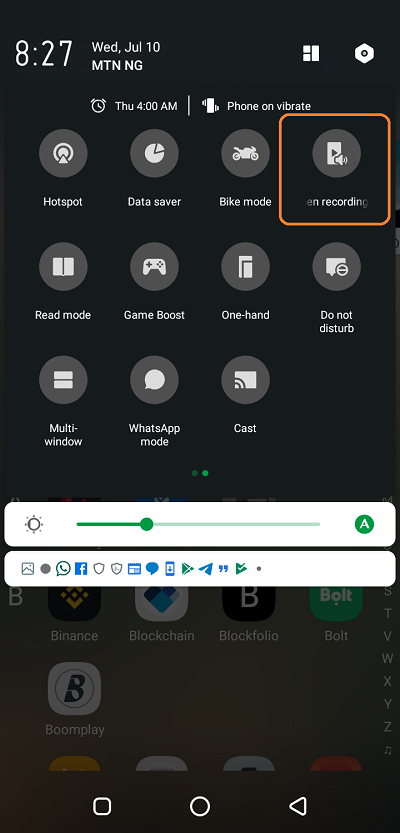 Recording on the MNML application can also be started by drawing down the notification tray and clicking it as shown below.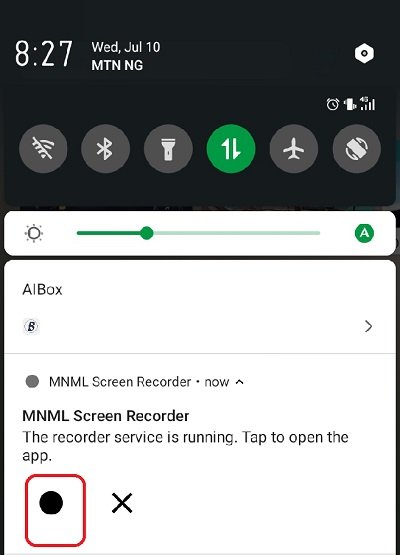 That means starting a screen record in any of the applications is simple; However, ending a recording in the custom recording application is more straightforward. All you need is a press to the power button.
The MNML application outperforms the custom recording application in terms of customizations. I could comfortably change the recording quality, the theme, the frame rate, and access all my screen records in one place from the application. This is a stress saver for me.
Project Updates
The developers are doing their best in maintaining the project. The last commit to the repo took place two months ago. To give their users a stable and bug-free application, the developers have so far rolled out twenty-six different releases, and the last release took place on March 2019.
Here is a link to the release page.
Conclusions
The MNML screen recording application is genuinely one of the best screen recording applications, and I highly recommend it to anyone in need of their services.
Resources
I wrote this post and all its contents based on my experience, research, knowledge, and personal use of the MNML Android Application.
Most images are from my usage screenshots, and I provided links to all external images where applicable.