Finance Manager: One Of The Best Finance Manager App
Repository:
https://github.com/SecUSo/privacy-friendly-finance-manager
As humans, we engage in different transactions daily. Almost all our dreams require a financial commitment. In the olden days, trade by barter was the means of exchange. The method had many complications, and it was almost impossible to keep it. Problems such as finding out who wants your goods, the quantity they want, and the possibilities of the person having the same products you want was a significant setback.
Time has changed, and we now have a convenient means of exchange irrespective of your location or wants. What happens now allows people to place a monetary value on goods, making it possible for a smooth exchange process.
This means that an individual needs to have the equivalent value of the goods in cash before an exchange can take place.
The Problem
Since we must have the cash equivalent of the goods we want to purchase, and our wants are unlimited, it is essential for us to have a means of keeping ourselves in check to enable us to live within our means of income.
Many people always find themselves in several financial crises because they have refused to keep their spending in check. Most people can't even recount how they used their last income. This problem is the reason I am introducing this excellent application through this post. This application provides you with the platform to track your day to day spending. This application is called 'Finance Manager.'
What is the Finance Manager application?
I may define the Finance Manager as an Android application that enables its users to conveniently track, record, and analyze their income and their expenses.
In simple terms, it is an application that helps the user monitor and manages their financial transactions.
How to set up and get started
The Finance Manager application is simple to install and set up. Follow the following steps to get started:
Visit the latest release page HERE to download the latest version of the application.

After a successful installation, launch the application. A short intro slides will pop up, go through them by clicking next, or you can skip the intro by clicking on the 'Skip' button as shown below.


It will direct you to the clean homepage.
How to add a transaction
Adding a new transaction was easy for me. Kindly follow the steps below to add a transaction:
Click the plus button at the bottom left of your screen, as shown below.


Give the transaction a suitable name. Mine was named 'salary.'

Indicate if it is an income or expenses by ticking the appropriate box. Mine was a salary and salaries are always income.

Enter the amount of the transaction.

Select the date of the transaction. The application automatically picks the current date on your phone, but you can alter it by clicking on the date.

Select the account that you want this transaction to be placed.

Select the category you want if any.

Click on the 'submit' button.

Congratulations, you have just added your first transaction to this excellent application.
Components and features
Certain features made me fall in love with this application, and below are some of them:
Neat user interface
The user interface of this application is super elegant. It was the first thing that made me love it. Naturally, I love it when people avoid many distractions and get straight to service delivery.
Seeing just two buttons (menu button and the add transaction button) on my first visit to the application gave me the confidence that I was at the right place. The arrangement and placing of the latest transactions on the homepage are also worth commending. This enabled me to check my last transactions quickly, especially in urgent confirmation cases.
The Menu option is self-explanatory and well arranged for anyone to navigate with no stress.
I thank the developers for giving us such a simple and straightforward user interface.
Repeating transaction feature
I couldn't help but admire the importance of this feature. I have some bills that are constant for me to clear every week. My data subscription bills me weekly, my electricity bills comes monthly, the water bill and a lot of bills pile up. Having this feature has enabled me to input them under repeating transactions. This means the application automatically deducts the money from my balance on a weekly, monthly, and yearly basis depending on my choice.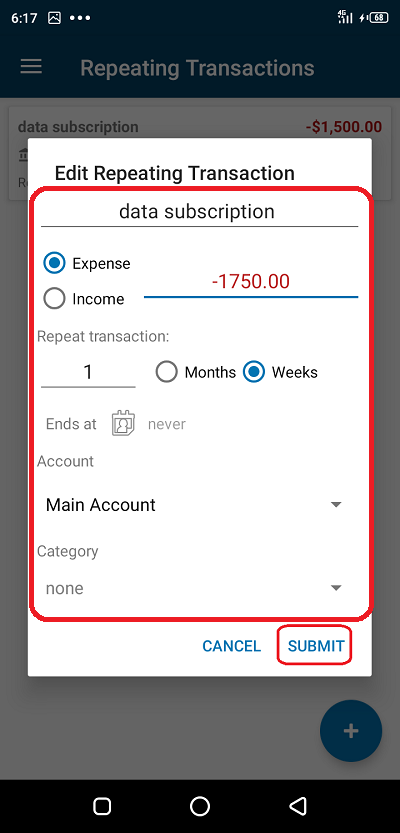 This feature does not work only for expenses. It also helps credit me my monthly salary. All I did was to input my salary and place it on an auto credit. This has saved me a lot of stress.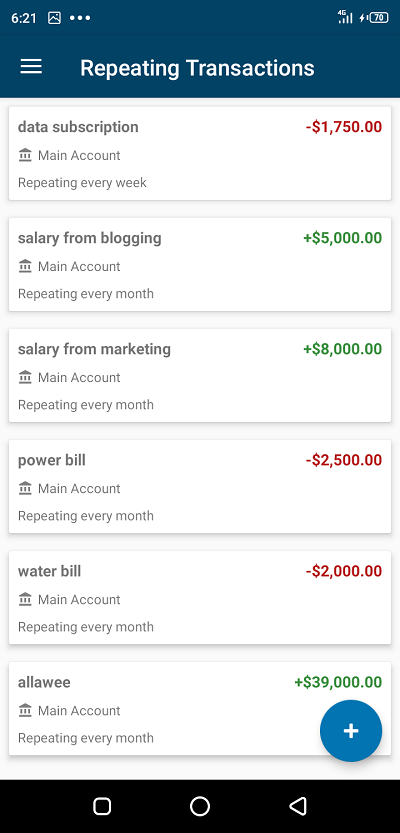 Latest transactions
I love the location of this feature. It is directly on the homepage of the application. This made it easy for me to add or remove a transaction quickly. It also made it easy for me to take a run-down of my day's expenses. The feature should be a friend to all the app users. It is where I go back to analyze my spending habit. I take the time to figure out the expenses that I would have avoided. It's helping me become a better manager.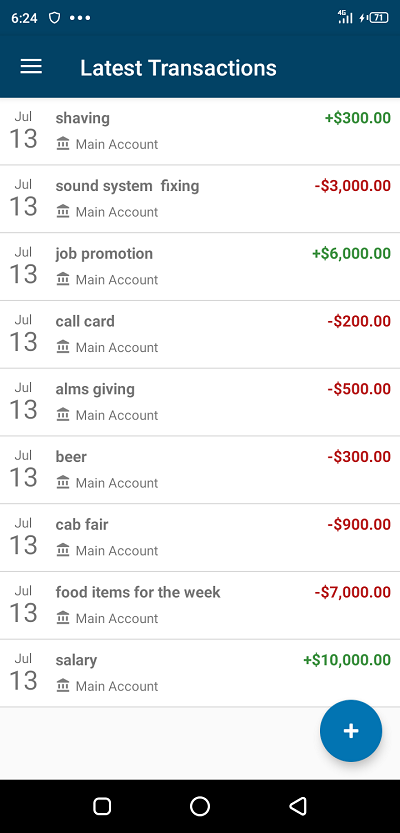 Accounts and Categories
The account feature made it possible for me to monitor all my bank accounts effectively.
Each of my bank accounts is represented in a separate account, and I make sure I input all incomes and expenses to the right account. For example, I can't add my business income with my personal account. The account feature, therefore, makes it possible for me to tie all business-related expenses to the business account.
The category feature is another helpful feature that I love. Users can comfortably group their needs into different categories and set a budget for all. It is terrible for one category of your life to keep gulping all the income. I had to separate food, fashion, traveling, helping people, fitness and other things aside. I then gave them a monthly allocation. This has improved the way I live, and I have successfully carried all parts of my life along.
Advantages
The advantages of this application are enormous, but the main one for me is the fact that it helps me manage and track all my incomes and expenses in one place. This has made me a better finance manager, and I can now handle money better.
Disadvantage
I am yet to find any disadvantage of this excellent application.
Suggestions
I am a very security-conscious person, and it would be nice to have a built-in security system for this application. This would assure me that no unauthorized person will have access to my financial details.
Comparison with a similar app
I placed the finance manager side by side with a similar application called 'my expenses.'
I concluded that they both helped people keep track of their records. However, the 'my expenses' application had a unique feature that enabled the user to add a short note to the transaction and also an image. Apart from that, the Finance Manager outperformed it in many other ways.
The category feature alone helps me carry all aspects of my life along, a feature that was absent in the compared application.
One other thing that is worth mentioning is the fact that the Finance Manager is a hundred percent free app while the compared application has a premium plan.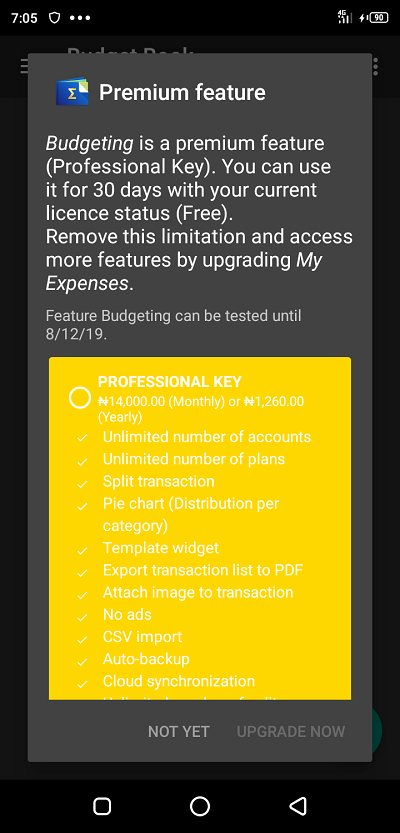 Project Updates
Much work has been put to this project so far. Even though it has just four releases, the developers are continually trying to give the user base an excellent and stable application. This can be seen by the fact that a whopping 433 commits have so far been done to the project repo.
Here is a link to the release page.
Conclusions
I once spent money as it came, but that is now history. The Finance Manager app has helped me place a value on money, thereby making me re-evaluate every penny I spend. I highly recommend this application to everyone in need of their service.
Resources
I wrote this post and all its contents based on my experience, research, knowledge, and personal use of the Finance Manager Android Application.
Most images are from my usage screenshots, and I provided links to all external images where applicable.