Been a while i wrote under the tag utopian-io due to one or two unforeseen reasons, but it's good to be actually back again. Straight to the business of today we all know alot of open source blockchain explorer are built on the steem blockchain, remember steem is just like the mother to all this other blockchain websites and applications. So one way or the other people come up with different applications and website that can help or enhance the work of the steem blockchain making it very easy to get datas and other information which cannot been seen just by going through the website steemit.com .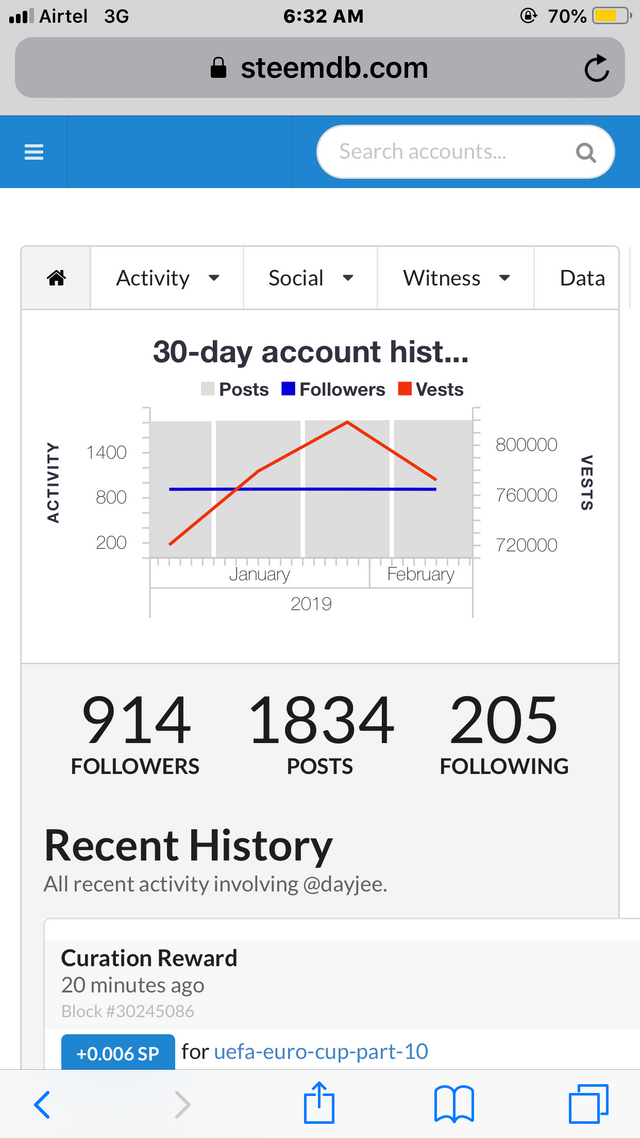 Repository
https://github.com/aaroncox/steemdb
What is steemdb?
Steemdb is a tool that allows individual to know certain informations that goes on in their steemit accounts, you can call it a block explorer or database for the steem blockchain. This explorer allows users to be able to look at datas in different ways and also check historical informations on the steem blockchain.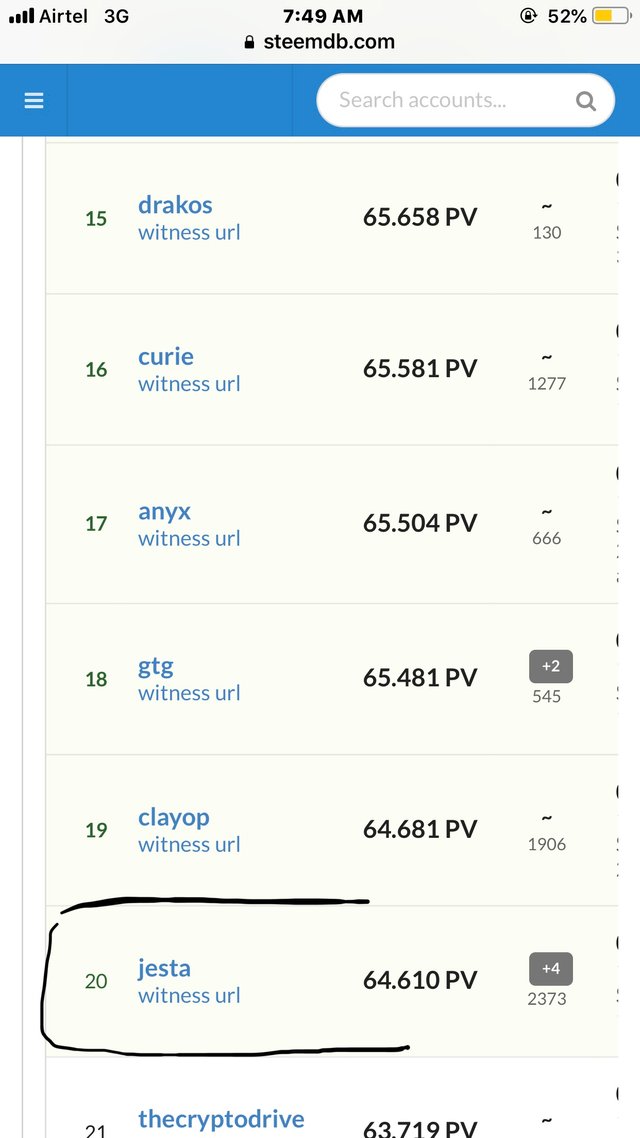 @jesta who is a very active member of Steemit and also currently the 20th person on the witness list created this service so as to enhance and help people fetch data easily from the steem blockchain. Steemdb is widely recognized by alotbof people using the steem blockchain and most people use this service to fetch data and informations all thanks to the team for this wonderful service.
List of data/informations you can get on steemdb
Account overview in general

All rewards on steemit.com (Author/curation)

Your Followers/ who you are following

Re-bloggers

Steem price

Steem distribution in vests

Power down statistics
Account overview in general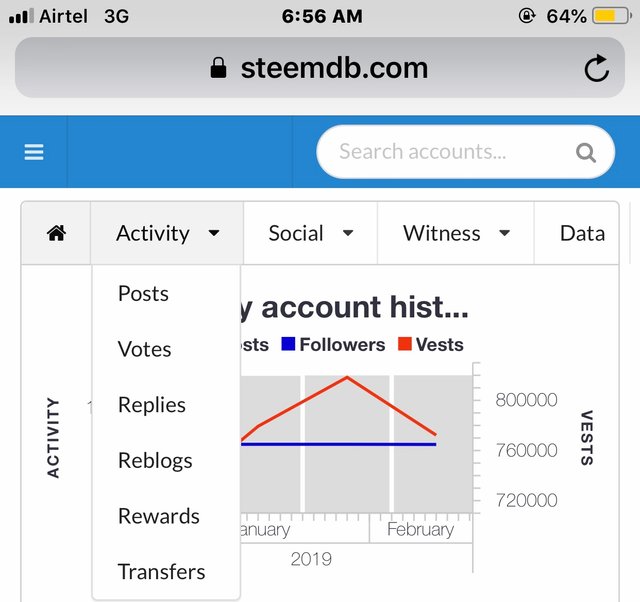 Talking about the account overview in general, there are alot of things that go on the steem blockchain that we cannot see just mere looking through our steemit account. You may be able to see some but then you have to put in extra work to get those informations which may cost you more data and time because you have to keep reloading each page just to get past informations. But with steemdb you can easily check for past posts made by you just by few clicks, There are lots of people who will like to see who voted them and all of that, I understand that you can easily check those that voted you on Steemit website but what if you wanna refer to past votes made by you?? Oh yea you cannot easily do that by checking through steemit.com, but this service can help with that. Same goes for reblog which I hardly find anything that has to do with repost or reblogging on steemit, you can easily find out who reblogged your post on this platform.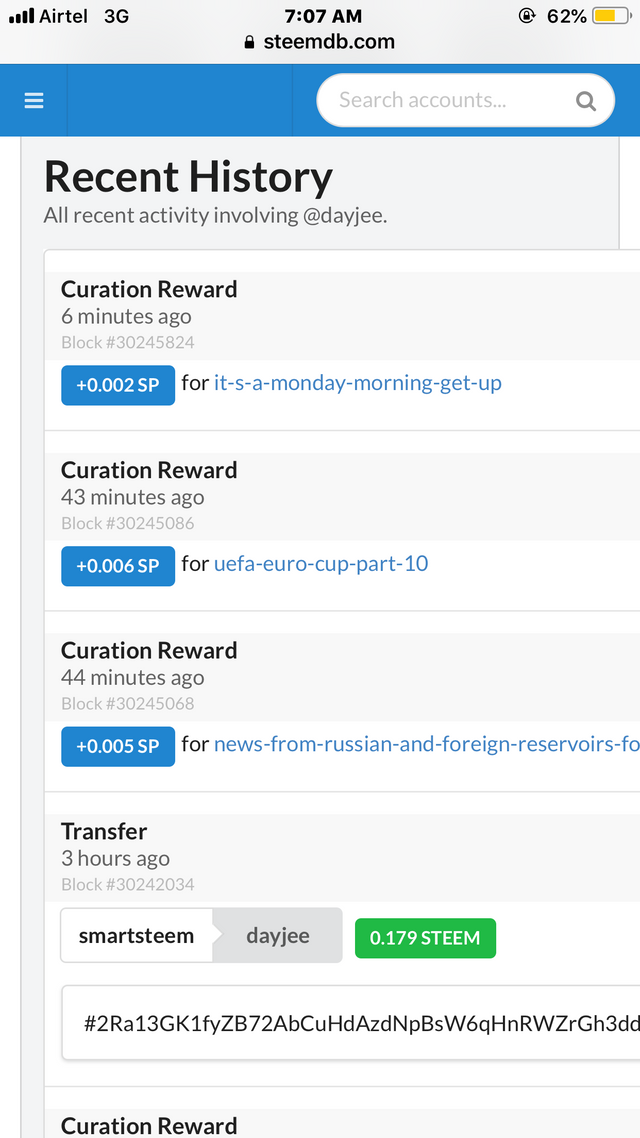 Still under the overview which covers all aspect, you can easily locate current and past citations/ author rewards on your account just by one or two clicks and also transfers made by you and other people can be seen just like the image above. It records all transfers leaving no information unturned.
Likes
Speaking about my likes concerning the service i will first of all appreciate the team for their effort to set this up. They did a great job. Now what i like is the way i can actually get informations very fast without wasting much time, remember time is money and we all are trying to put things in place so for not allowing me to waste so much time looking for data is a plus for the service. And also a very important point which I'm so much happy about is the reduction in data consumption. Only those who spend alot to purchase data will understand this point and why I'm happy, the cost of data in my country is alarming and getting a service that can reduce the cost is great.
Dislikes
Honestly the team has done a great job and I can say that all the issues that made me use the service were solved through the service, so at the moment I cannot draft anything concerning what I don't like or what i want them to improve about the service.
In conclusion
There are also other services that perform same function as steemdb but then i must say this is actually loaded with alot of features and i must advise each and everyone that wants to fetch both old and new data to visit the website to do so, it is very easy to use and less complicated.
Thanks for Reading
Links
All pictures are original images by me
Github Profile: https://github.com/dayjee111