I remember that night just like yesterday. It was the most terrible weather experience I have ever had. It was my first year at University. And just like most freshers, I was quick to find a love interest.
On this particular night, I came out to visit my love interest who was staying in the school campus. I was staying off-campus at the time. I would have invited her over to my place but it didn't seem gentlemanly to do that. It was our first time out.
To cut a long story short, I met her that evening. We talked, laughed, fell in love, and walked around the campus. It was simple, yet magical. So much that I even lost track of time being with her. It was 11 pm when I walked her to her dorm, and kissed goodnight. (A point for me lol)
But then, after my magical moment, reality kicked in. I was right in the middle of campus, far from the main gate, far from my own house. I didn't know any shortcuts. I was only a fresher at the time. I started my journey home one step at a time. Not tillagreat rainstorm met me on an open road with nowhere to hide.
I walked for about an hour and a half in the rain. The cold wind brushing against my skin. I had only a light shirt on. I was shivering like a tuning fork on a high frequency. I finally got to my gate and discovered it was locked. I had to sleep in a small shade close-by. The things we do for love!
Ever since then, I've never stayed out past 7 pm. All these would have been avoided if only I could forecast the weather. Sometimes, whenever I recall that event, I wished I had known the weather forecast for that day.
Today I'll be reviewing yet another weather forecastingapplication. I had reviewed a weather forecasting app called "The privacy weather app" in my previous blog post. The app was nice and straightforward. But it had some limitations regarding its overall user interface and experience.
So, as usual, I started my quest in finding an app with improved features. I stumbled across an app called Forcastie. It has some exciting features which I would like to share in this review. Although this time I will be making comparisons with the one I reviewed in my previous blog post here.
FORECASTIE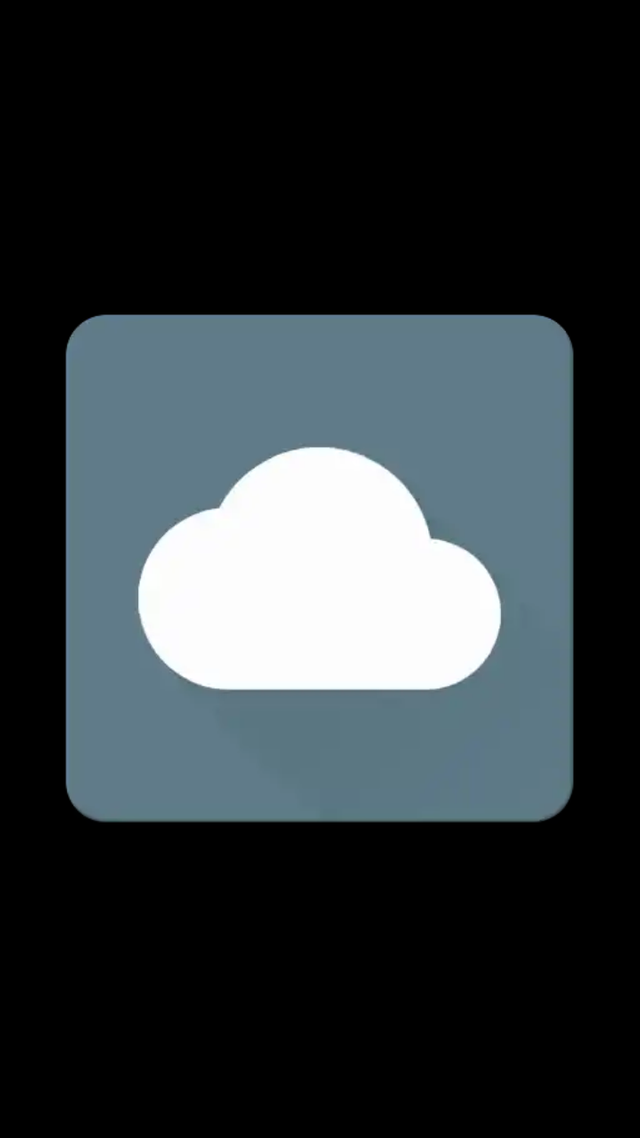 The Forecastie app was developed by a few persons with Tomas Martykan as the head developer. Its first official version was released on December 15th, 2015. It has had over 33 update releases ever since. It'll be safe to say that the app has gained some stability over the years. The app has an update frequency of one update per month. But recently the frequency has reduced drastically, as the last update was in April.
My device didn't come with a stock weather forecasting application, hence my search for one. I initially tried out the privacy weather app which had a few limitations. Then I tried out forecastie. Both apps are currently installed on my phone. This is because they both have some unique features which I find helpful. In the course of my review, I will be looking at the user interface as well as the features of forecastle. Also, I will be making slight comparisons with the privacy-friendly weather app.
USER INTERFACE
I have great attraction for apps with a dark theme. And it seems the developer and I are on the same page on this one. The app has a default blue theme labeled "Fresh blue". The developer also added five other theme options with four variations of the dark theme. Thus making it a total of six as shown below;
• Fresh blue
• Classic
• Fresh dark
• Classic dark
• Fresh black
• Classic black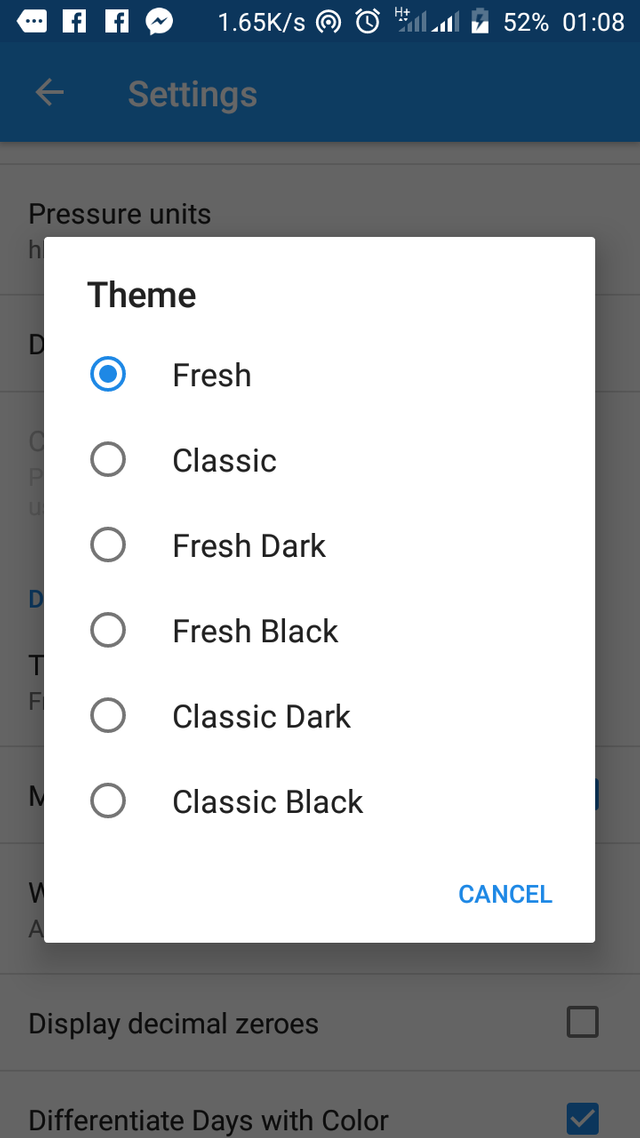 I have never seen so many dark themed options in any app like this one. I am currently using the classic theme. It looks like a shade of ash. I'm using it now because it is still day time over here. At night I usually revert to the classic dark. I have been feeling a little eye-strain lately, because of my long hours looking at a screen. So, using the classic dark at night really helps. I had earlier complained about the privacy weather app having no theme options. But Forecastie beats it hands down in this aspect.
On the homepage section, Forcastie looks great but the privacy-friendly weather app wins it here for me. Although they both have great similarities in their page features and functions. And they both look straightforward to me, in design. You can drop a comment stating the one that looks better from the screenshots below (forcastie on the left and Privacy friendly weather app on the right).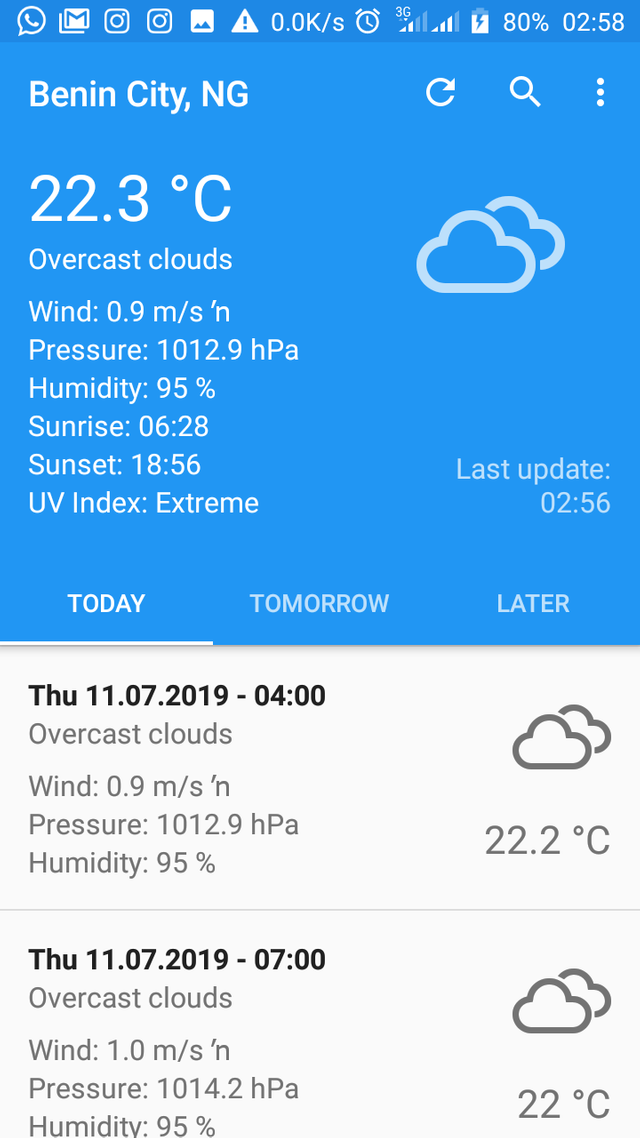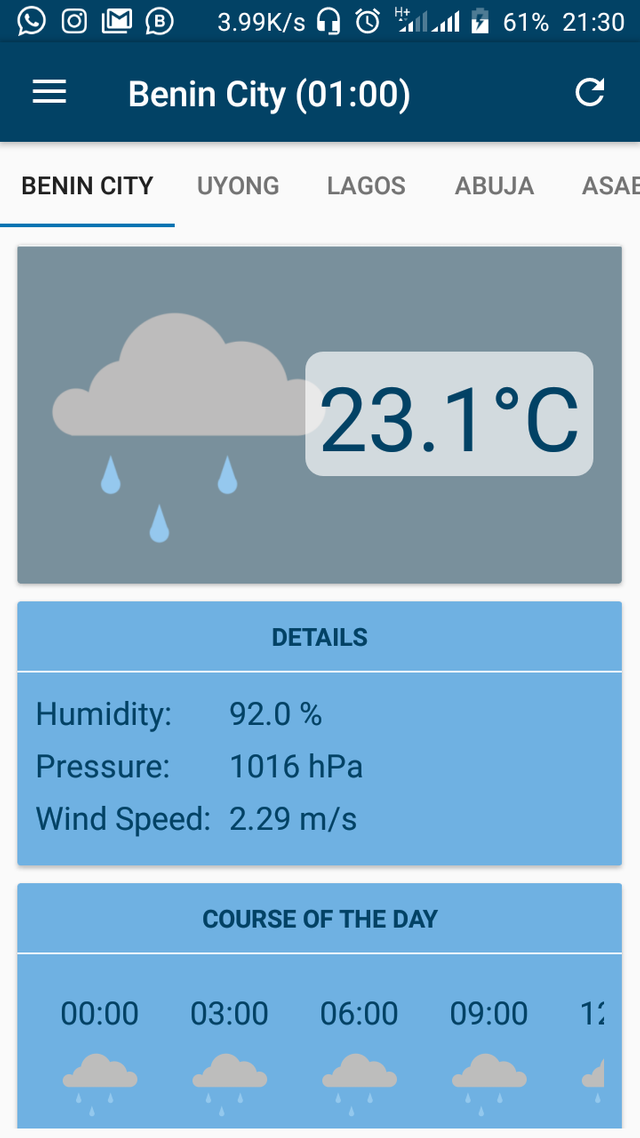 FEATURES
On the homepage, forecastie has a lot of useful information on display. Some of these information parameters include;
• Amount of rain (in millimeters)
• Temperature (°C)
• Wind speed (m/s)
• Pressure (hPa)
• Humidity (%)
• Sunrise
• Sunset
• UV index
All the above parameters are self-explanatory except for the UV index of which according to Wikipedia;
The ultraviolet index or UV Index is an international standard measurement of the strength of sunburn-producing ultraviolet radiation at a particular place and time.
The UV index reading on the app is currently "extreme". I don't know what to make of it though. I don't know much about UV indexes but "extreme" doesn't sound good. I did a little research and came up with some tips on how to avoid sunburns at UV-extreme labeled zones. This can be accessed at the links section below this review.
The privacy weather app only gives information on the following parameters;
• Humidity (%)
• Pressure (hPa)
• Wind speed (m/s)
• Temperature (°C)
Although the privacy-friendly weather app does its primary functions perfectly, it's still lacking in comparison with what Forecastie has to offer. As the information provided by Forecastie doubles that of Privacy-Friendly Weather App.
LOCATION SEARCH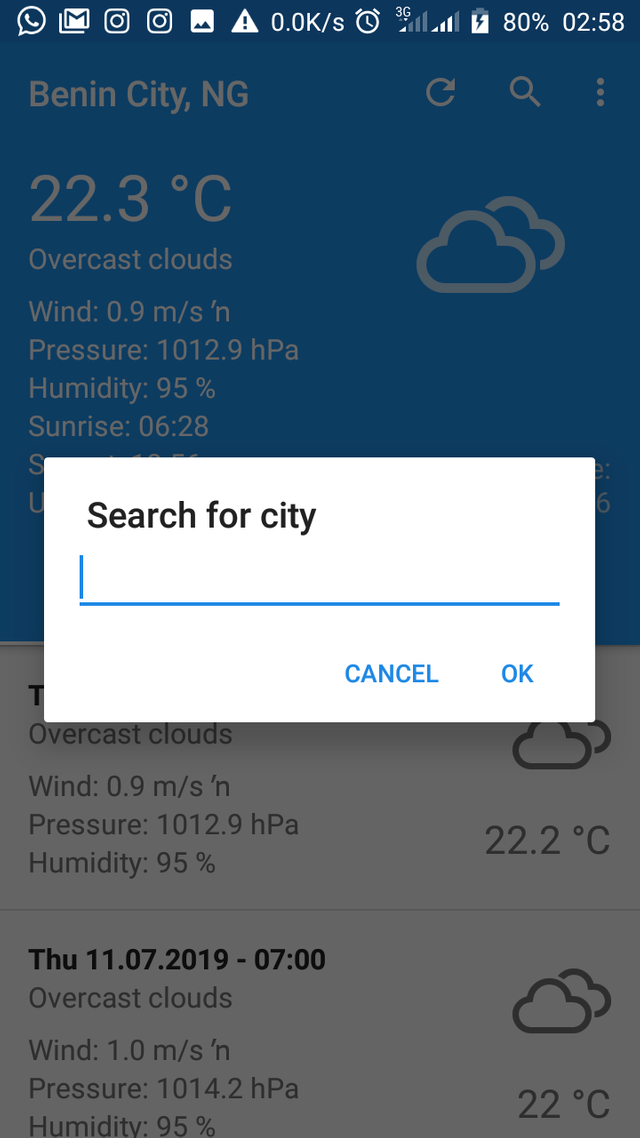 Forecastie has a search icon on its homepage. With it, one can search for the weather condition of any city in the world. It does the same function as the location feature on the privacy-friendly weather app.
Forecastie has a drop-down menu on its homepage. The menu has some interesting features unique to forecastie alone. The features are listed below;
• Weather map
• Graphs
• Detect location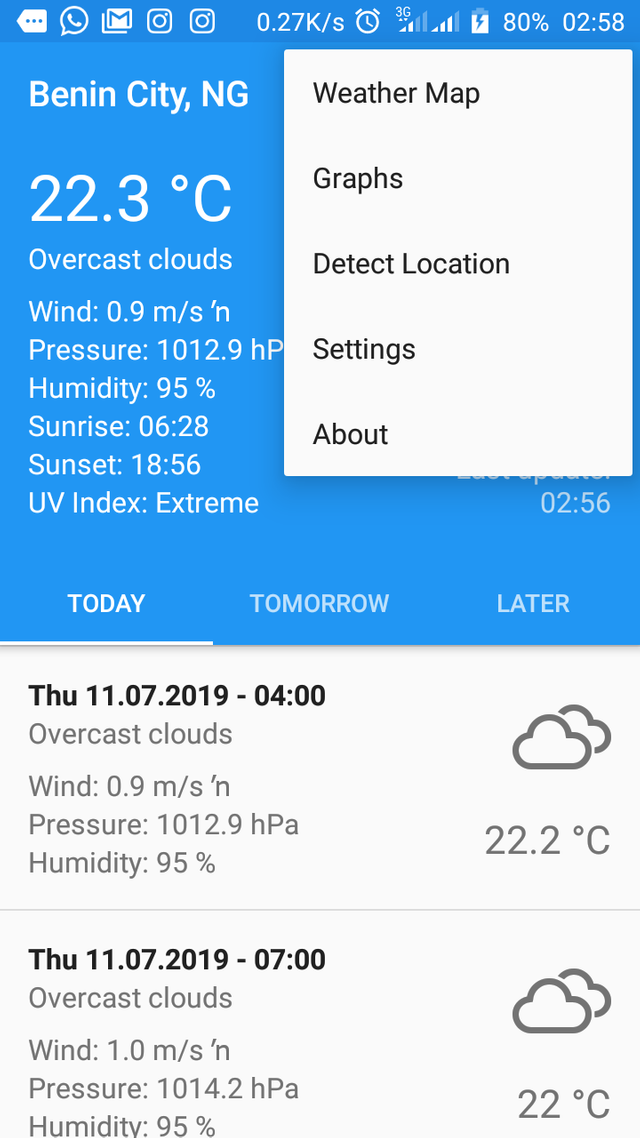 WEATHER MAP
This feature is really exciting to look at. It shows a map of the weather conditions of your location and anywhere else in the world. I've been playing with this feature all day. I've been looking at countries that share boundaries with Nigeria and positions of popular African countries. The feature shows three main parameters on the map which are;
• Rainfall
• Wind
• Temperature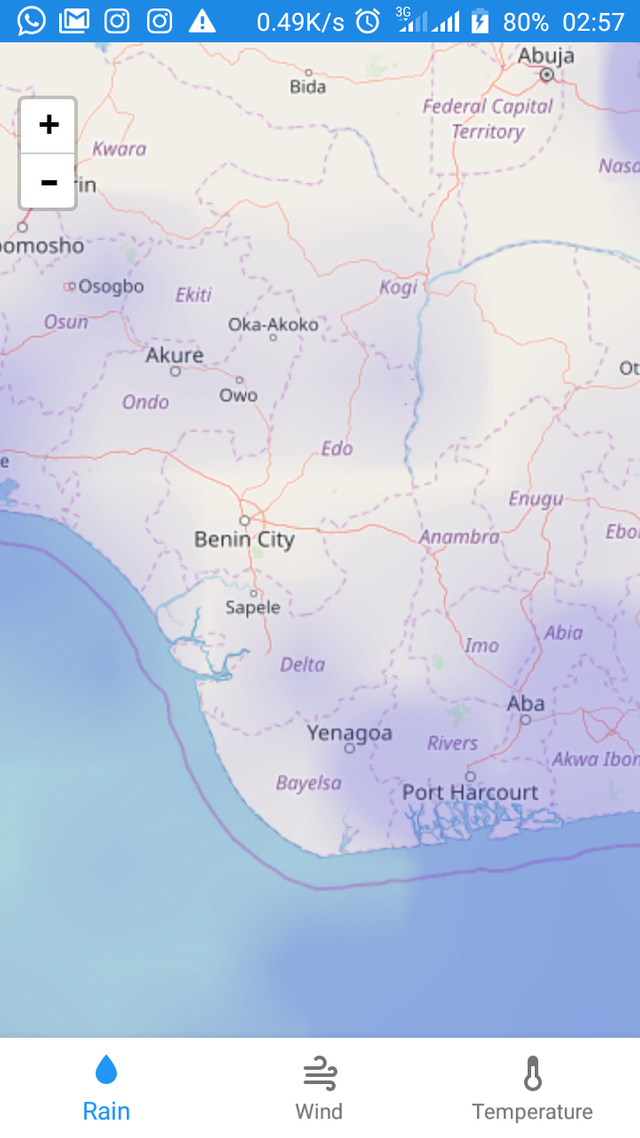 The rain feature is depicted by a shade of purple on certain areas on the map. The shade of purple around the southern parts of Nigeria is very high. This accounts for the nonstop rainfall over the past few weeks. The temperature is indicated by a shade of yellow. Although it's not giving a clear reading as all the areas are shaded yellow. The wind feature is not showing any sign. It could be due to network issues, or a tiny bug in the app. I'll create an issue for it on its repository if something can be done about it.
GRAPHS
I'm not much of a geographer or mathematician or anyone that has expertise in reading graphs. But from the little knowledge I have of it, one can easily get an overview of the weather conditions to expect within the next few days. The graphs are four in number. It includes a few parameters plotted against the days of the week. The parameters include;
• Temperature
• Rain
• Pressure
• Wind speed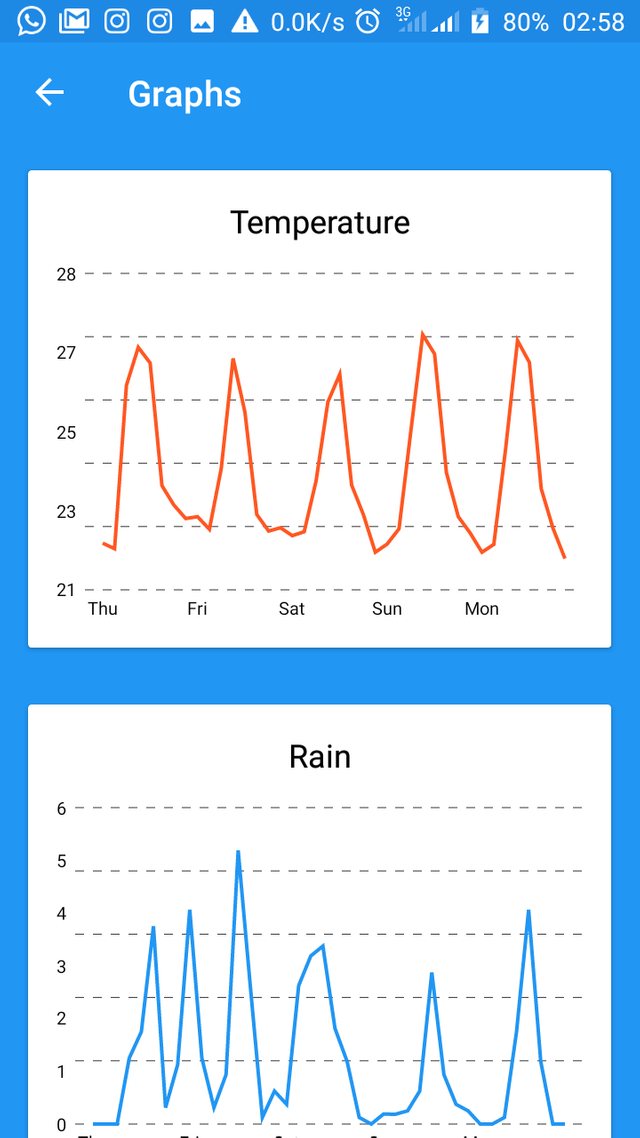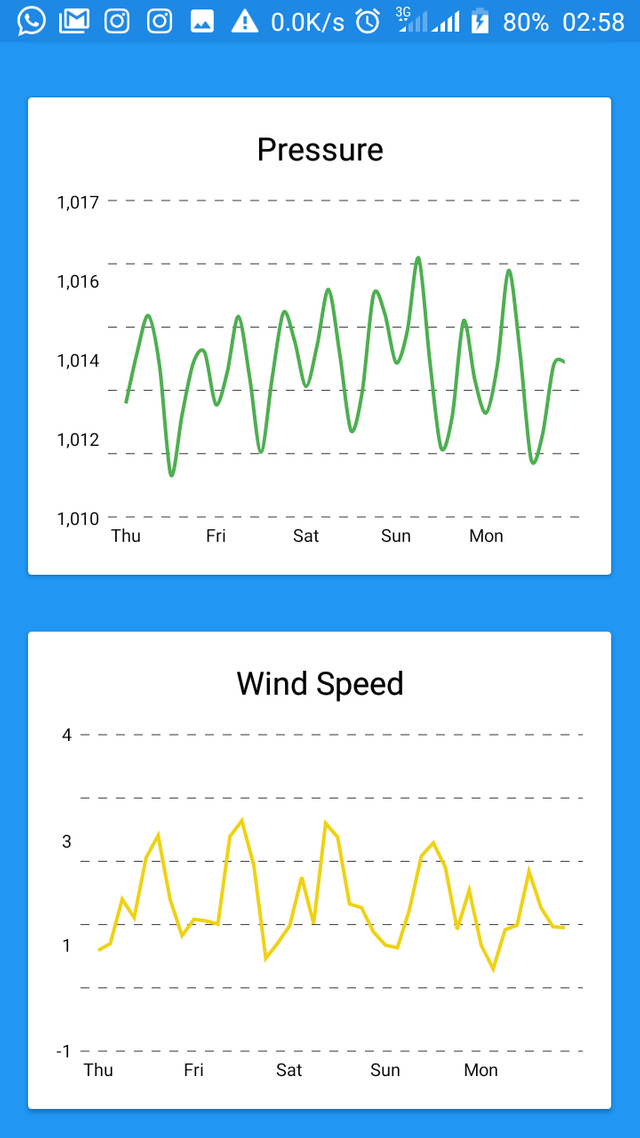 The graph on my device indicates that there is going to be heavy downpours on Friday and Saturday. I'll sure make plans with that information in mind.
DETECT LOCATION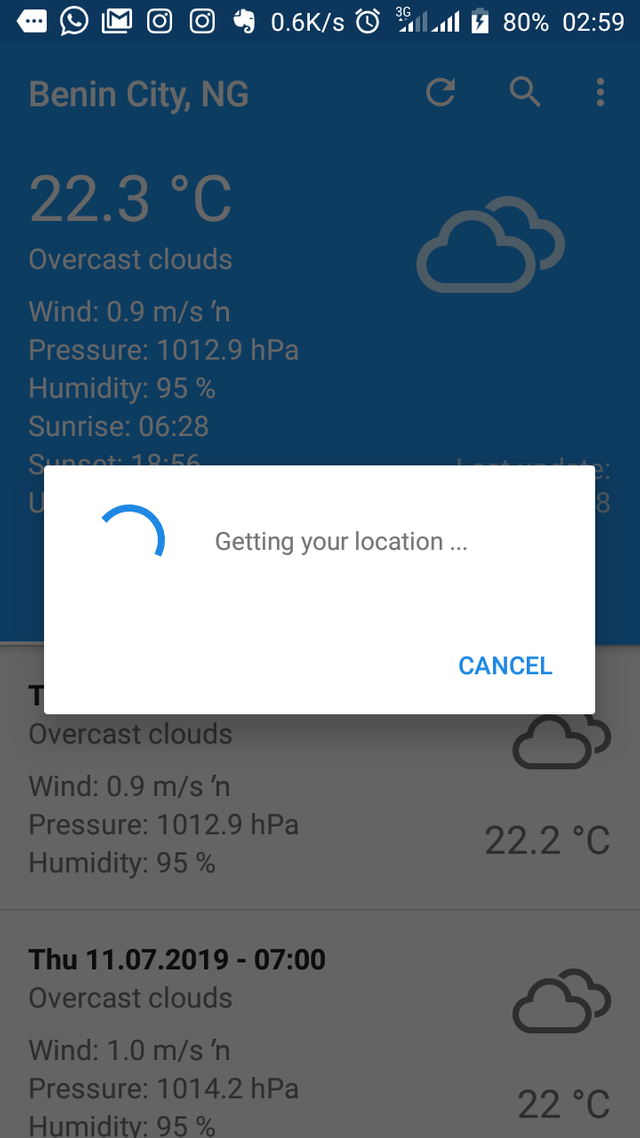 This feature helps to automatically detect your location. The upside is that it is very easy to use. It is with the click of a button. But the downside is that you will be giving up your location access. This is quite a plus for the privacy-friendly weather app. An app that does not ask for any access to personal information.
SETTINGS/USER PARAMETERS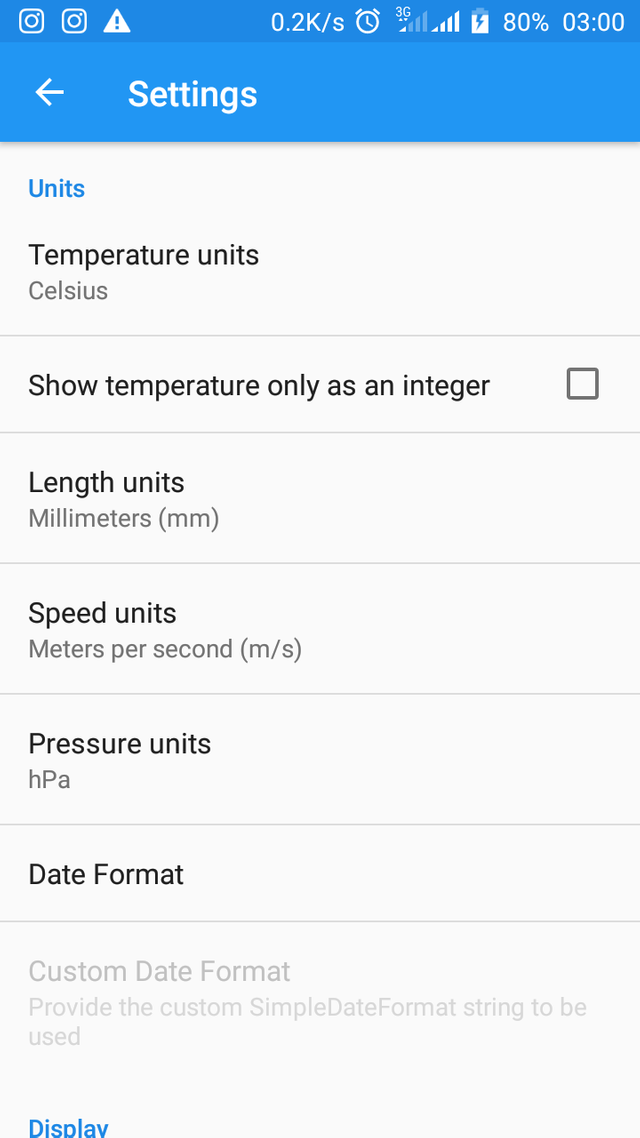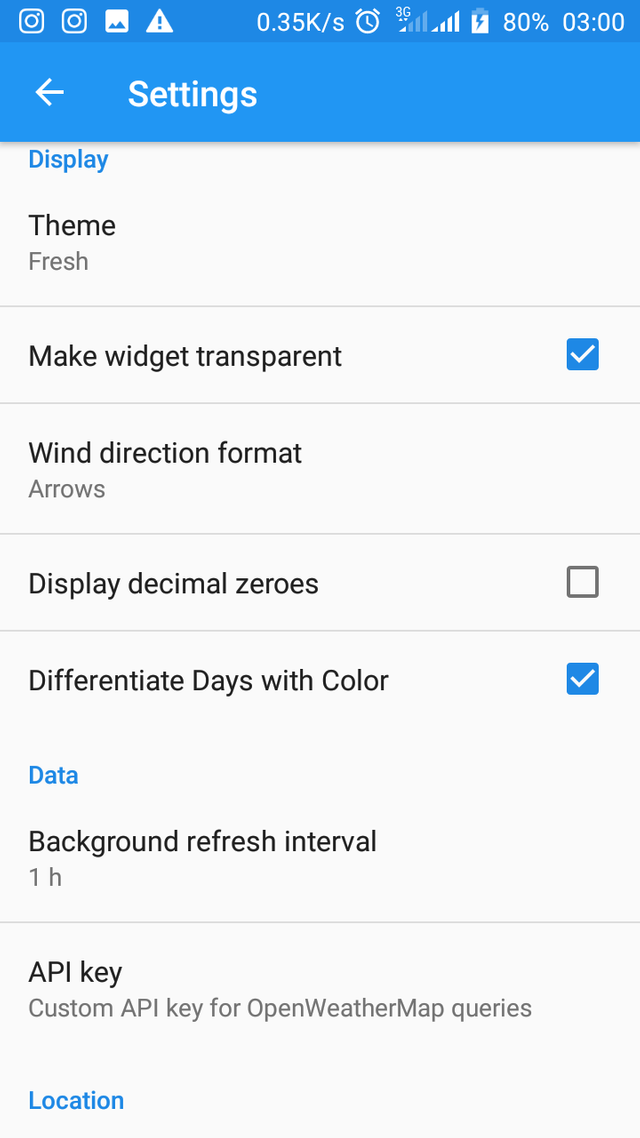 Forecastie has a lot of variable parameters that can be adjusted to fit user preferences. They include;
• Units
• Date format
• Display
• Data (background refresh interval)
• Location updates
The settings are like that of the privacy-friendly weather app. The only difference is the addition of themes which is a huge differential factor for both apps.
Forecastie
PROS
• Great theme options
• More information on the homepage
• A weather map for easy overview
• Easy location search
• Weather graphs
Cons
• Requires personal information (location access)
The Privacy-friendly weather app
PROS
• Does not need any device permissions
• Shows many locations at the same time
• Cool homepage design
CONS
• No theme options
• Lesser information displayed on the homepage
That's all for my review of the forecastie weather app.
SUMMARY
In this review, I've been able to share my experience in using the forecastie app. I was able to compare it with the privacy-friendly weather app.
Both of them are competent weather applications but forecastie dominates in it's features and user interface. They both get their information from the openweathermap online service. This means that they both give out the same information at any given time.
Although, there are no weather animations on both apps. A feature I was looking forward to seeing. Forecastie also had some clarity issues about the temperature and wind information on the weather map. I'll create an issue on the Github repository, so it can be fixed.
In conclusion, I still think both apps are awesome. I do hope reading through my review would give some level of clarity in choosing the app that'll suit any user. As for my story in the beginning, my love interest and I are still friends.
Thanks for reading!
LINKS SECTION
RESOURCES
Other than the above, the content of this post was created based on my knowledge of the project, and mostly from my experience. The images used in this article are screenshots from my mobile phone. Other images used, have their source links provided just below them.
GITHUB PROFILE