Repository
https://github.com/robertoissc/DailyPrayer-Android
Components
My suggestion is about the landing page where you can see daily prayers.
Proposal Description
My suggestion has following three heads:
Play daily prayer
I have been using daily prayer for sometime to read the daily prayers. However I feel that there is a need of prayer recitation option which will recite the prayer by clicking on it.
The purpose of this feature is that it will help users to just click on the play option and listen to the prayer.
Save daily prayer
I also want suggest that there should be option to save the daily prayer in the form of an MP3 or amr. If the users save the daily prayer, they will be able to listen to it on a later date. This will be a handy feature for the busy users as they just have to save and they can listen to it whenever they want to.
Fast forward- Reverse daily prayer
If users miss some lines, they will have the flexibility to reverse the prayer and play it again. Similarly they can also fast forward if they feel that they know some lines.
All this can be achieved by adding a sort of player in the application and ability to download the prayers. Default download manager can be used to download the files.
Mockups / Examples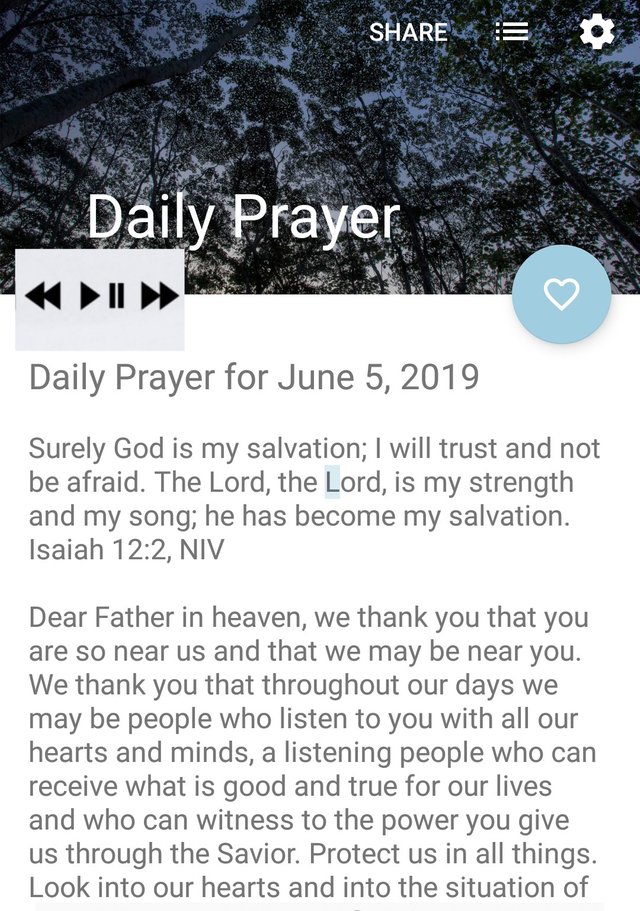 Here you can see that I have placed an option to play the prayer along with fast forward option.
Save prayer can be implemented where you see the "heart" sign. Everytime you click on heart option, a pop up should appear showing two option to save the prayer, viz as audio or simply as a text.
Benefits
I think the benefits are clear if you just read the proposal, however I will still list them below:
Play daily prayer
This will enable users to just listen to the prayer which will be beneficial for users who are still in bed and blind or people with less eye sight. This is a great way connect such people with their God.
Save daily prayer
This feature will be best suited for busy people who don't have time to read prayers regularly. All they have to do is just open the app once and save daily prayer in the form of an audio and then listen whenever they want.
Fast forward - Reverse
This is another great feature which will enable users to fast forward in case they know the lines already and at the same time they will be able to reverse the prayer also in case they miss some lines.
GitHub Account
https://github.com/crysports
Issue: https://github.com/robertoissc/DailyPrayer-Android/issues/29