HELLO my dear STEEMIANS !

So, yesterday i presented my new projects i will be doing starting 1.1.2017. and created budget proposal post for funding my Windows/Android app projects i will be working on.
You can read full post here:
https://steemit.com/budget/@cryptomonitor/steemer-steem-blockchain-transactor-wallet-in-app-exchange-by-cryptomonitor-development-budget-proposal


STEEMER - your future STEEM Blockchain Transactor / Wallet / In-App Exchange for Windows devices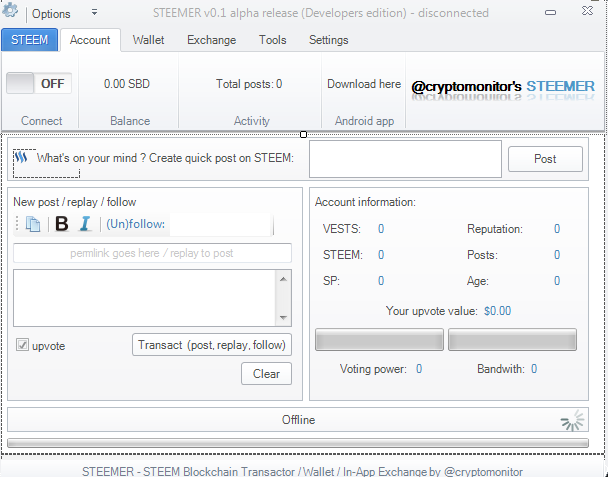 Shortly, i'm in development stage (work in progress) of STEEMER - Universal STEEM software for Windows and (later) Android
devices, that will interact with STEEM Blockchain (read and transact) in various ways.
In STEEMER Windows and later Android app you will be able to do following:

STEEM account / poster
- auto connect/ manual connect to STEEM Blockchain
- read your pending ( 7 days deep, basic ) / actual SBD / STEEM balances
- get account informations like total SP, account bandwith, upvote value and more
- create transactions - upvote / downvote, post, replay, follow, unfollow users
- schedule post option
STEEM wallet
- SBD - send / recieve
- STEEM - send / recieve
- search and visualise transfers history (from date / to date)
STEEM exchange *
- Exchange SBD / STEEM to BTC / LTC / DASH
- Buy STEEM power delegation (30 days / 90days)
* - looking for external partner (
@blocktrades
, interested? )
STEEM Tools
- Upvote worth calculator
- Windows Upvote BOT
- Total pending payouts checker (advanced)
- STEEM posts visualiser
- more features..
App settings
- create new STEEM account
- multi-user adder
- auto-login option
- more
Budget proposal - investors wanted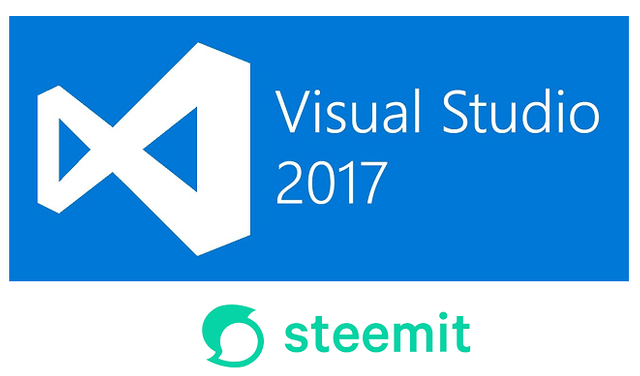 I looking for investors that will fund this projects. My goal is to reach 1200 SBD to cover minimum 6 months of work and hardware / software
( Visual Studio / DevExpress licences ) costs.
Work progress will be presented here and on Utopian.io, GitHub, Busy.org periodically with posts.
23.12.2017 - Total funds collected so far:

83 SBD / 1200 SBD ( 11 investors )

22.12.2017 - Total funds collected so far:

68 SBD / 1200 SBD ( 9 investors )

Funding progress this will be updated every day




How can i be investor / fund this cool projects?
If you are interested to fund / help with donation to this projects,
you can do it in various ways:

a) send Bitcoin, Bitcoin Cash, Ethereum or Litecoin to following address:

1NizmsBFvVq4Rq4uVBvXtsirh3vwCpCqJ6


1CD8mTzuo1X5871baUkEFo3hTdumAE1mbZ


0x1b3D726865FBeBAcb1058235df753f87bf4d1c6F


LSCojv3rfrgekbXMe3dZ99tTW1XVT8qDfx


c) upvote / resteem this post
Every contribution counts !

If you would like to contribute in different way,
you can leave me message on steemit.chat (user @cryptomonitor).
You can also leave comment here if you have questions, and i will answer ASAP. Contributors / investors will be mentioned in STEEMER / In About app / donations section
Thank you all my Steemians in advance !
Thank you for reading this post, have a good day !

@cryptomonitor