Ibibio WebDict
What is the project about?
Every country has traditions and culture which must be uphold and cherished by its citizens even unto generations yet on-born. In Nigeria, culture and tradition is key and necessary as every member of the family is taught the dos and don't of their tradition even communicating in their local dialect. But as of the recent generations, children barely know even a little part of their culture and traditions nor even speak it because they are taught in English in schools.
This project tends to solve that problem by providing a platform that eases learning of their tradition especially their language and promote their traditions and customs. Nigeria is blessed with diverse languages but we are currently concentrating on the Ibibio speaking people of Akwa Ibom State and Cross River State of Nigeria which cover a large population of over 1 million people. They will be provided with not just the meaning of the searched words, but also the proper sound pronunciation and possibly make sentences with them for better understanding of the language.
Technology Stack?
HTML
CSS / Bootstrap
Javascript / JQuery
Angular JS
PHP
Cloudinary (For Sound Storage)
Version control (GitHub)
Screeshots
Search Area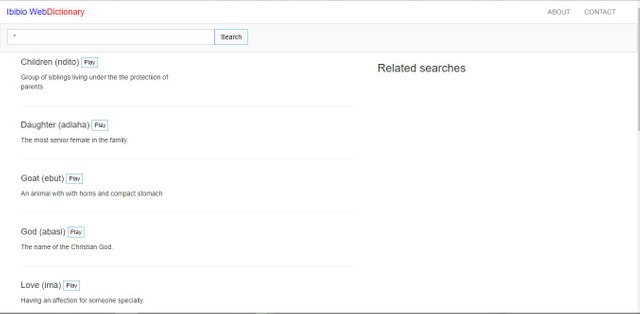 Landing Area: Design mimics google landing page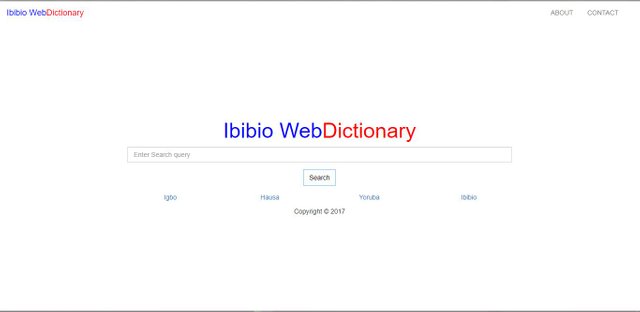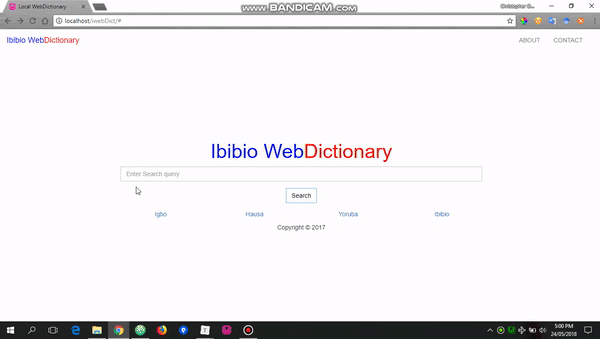 Roadmap?
Allow user to contribute their own quota to extend the database of a language
Accommodate other languages (such as Yoruba, Igbo, Hausa).
Categorize the languages for ease the learning process like Greetings, Relationship, Market e.t.c
Make sentences for each entry and pronunciation
Provide images for some of the words where applicable
Allow translations form English to Ibibio and vice-versa.
Introduce tongue twisters
How to contribute?
To contribute,
Email me at [email protected]
Fork the repository
Checkout to a new branch
Add your features
GitHub Repository