Tutorial How to Document Scanner with CamScanner Via Smartphone Application
Cam Scanner is an application Scan file based on android where this application simplify in terms of work without having to use scanner tool, this application can be used anywhere, either while on the road, home, in caffe and so forth. So we freely beraktifitas without burdened with daily work. Cam Scanner also makes it easy to store important archive data and also keep the document confidential in the mobile gallery and can create data or images in one document, so easily change in PDF form.
This Cam Scanner was created by INTSIG Information Co. Ltd. and is currently on Dowload by 50 million people. now I will discuss about tutorial how to use Cam Scanner application via smarphone.
Here is an example tutorial :
First step, download the Cam Scanner app on the Play Store freezer, then please install and wait until the process is complete :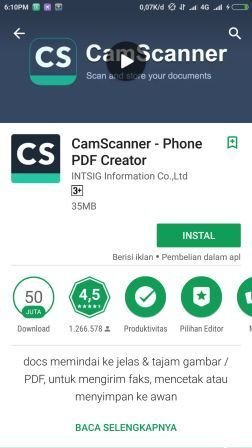 Once downloaded and installed then the next step open the application, it will look the home page as follows, Here we are suggested to register, but I prefer to go.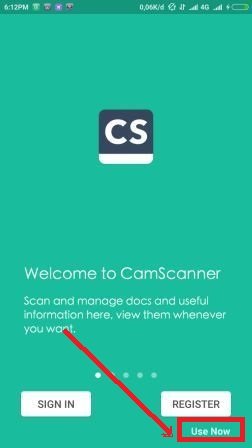 **The next step, Choose star scanning on camera features and gallery as shown below :
**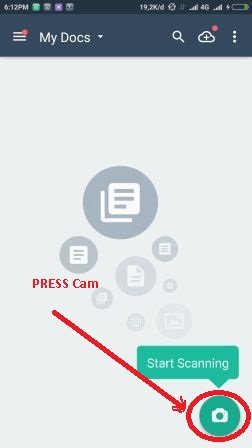 This camera feature serves to take pictures directly by using the phone camera, while the gallery feature serves to retrieve documents from the phone storage.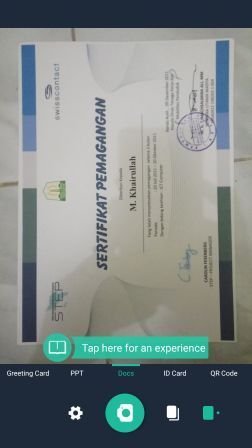 After taking a file with a photo then select edit image then this application automatically detects and crops the image according to the shape of the image. Here are some scanning options between Docs, PPT, ID Card, Greeting Card, QR Code, we can choose according to our wishes.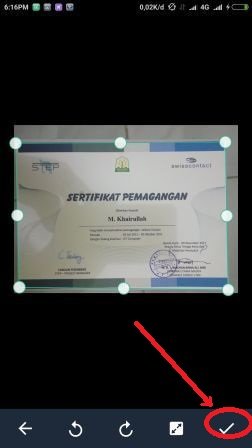 Then we can also adjust the brightness of the documents we have scanned, here are also many options in accordance with our wishes.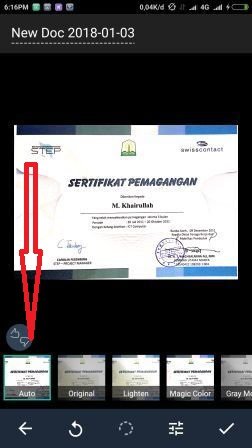 To add a document, please select Tap to add new pages, here we can combine several documents into one, please select the Collage feature, there are several options combined form the file, then choose according to our wishes.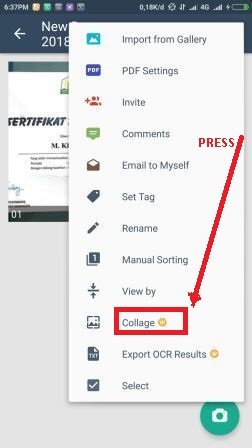 We can also set the page size according to the desire like A3, A4, Letter, Legal and so on with PDF Page Size feature on PDF Settings.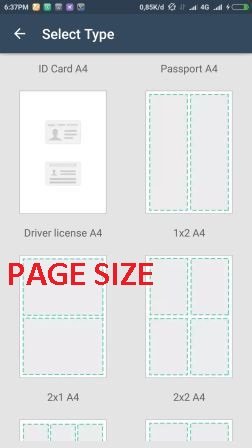 add watermarks on the files that have been scanned, but it also can share documents or PDF on the desired media such as email, bluetooth and other social media. this application is very helpful in doing the process of scanning documents and processing of scans via smarphone.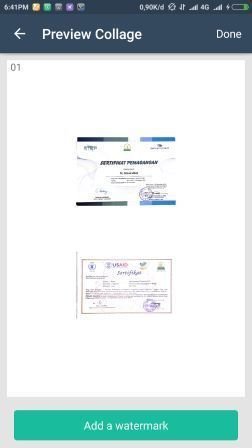 This application offers usability with various features such as Mobile Scanner, Optimize Scan Quality, Advanced Editing, Quick Search, Share PDF / jpeg files, but this application is still many features that are less, we hope that there may be improvements because this application is very useful.
So a little explanation I hope this tutorial useful for everything.
That is all and thank you
---
Posted on Utopian.io - Rewarding Open Source Contributors
---