Blockdeals Front-End Improvements Update - 26th April 2018
Blockdeals is a deals and bargain hunting community who value a dollar and enjoy the chase of finding a great deal. And best of all it's 'Powered by Steem'
Bargains, Coupons and Deals are all over the web, and retailers have never been so generous with their discounts, so why not share the bargains you find with the Blockdeals community.
However, unlike other deals sharing communities, Blockdeals.org rewards user actions with upvotes on the Steem Blockchain. These upvotes allow the users to earn small rewards paid out in Steem.
And if the community likes the deal, they can upvote too, earning even more rewards for savvy bargain hunters and deal spotters.
Now we're only a few weeks old but we've made some significant updates to the code base since our last report. A special thanks to the dev team, @scottweston and @dealsy for making Blockdeals even better.
Bug Fixes
Fix: TimeZone issues losing a day (given we operate over all time zones, the deal expiry has been fixed to ensure local times are enforced)

Fix: Missing result return for not logged in users
New Features
Add ability to hide deals from website (allows us to hide spam and non-deals)

Introduce lazy loading of votes to reduce api load ( the deals page is real time and lazy loading helps us to deliver the important details first followed up with non critical blockchain data)

Colour own user votes (quick colour identifier indicates if a user has previously voted)

On site voting/flagging support (voting now done onsite, real-time blockchain interactions)

Initial support for posting meta data on blockchain (additional meta data is required to ensure all site data is stored on the blockchain

Add: give up voters a direct link to deal (encourages user actions, as when a user upvotes, a deal link button is presented saving the user from having to open the details page to find this link)

Update: Move user actions to a fab bar (when you're logged in quick actions can be selected by hovering over your avatar, bottom right. Current actions, submit deal and logout)

Initial support for own details page (blockdeals now maintains on-site detail pages for each deal)

Initial support for displaying comments (comments now appear on details page)
These are just a few of the new features that have been added on our way to a full Beta Release. But we know there's still plenty more development work ahead. In the meantime we'll be sticking to our development mantra...
"Release Early, Release Often"
And hopefully, we can get these reports out weekly too.
Home Page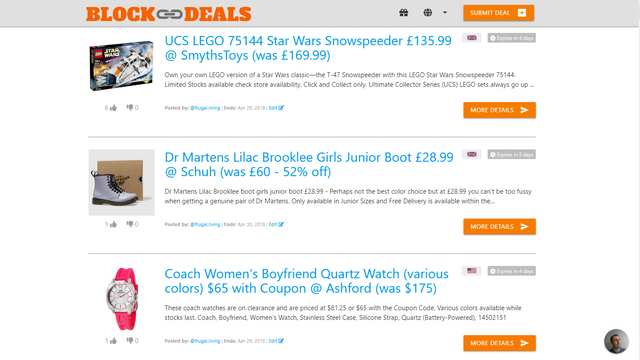 For more information on the project, you'll find us @blockdeals
---
Posted on Utopian.io - Rewarding Open Source Contributors
---