Repository
https://github.com/Steemhunt/browser-extension
I've opened the issue and the PO acknowledged the suggestions: https://github.com/Steemhunt/browser-extension/issues/2
Components
Steemhunt Chrome Extension
Proposal Description
Yesterday, Steemhunt (@steemhunt) has just begun their IEO (Initial Exchange Offering) very successfully: Steemhunt's First IEO 100% Achieved within 3 mins!! (As far as I know, Steemhunt's IEO is probably the first (non-negligible scale) IEO based on the Steem blockchain. Correct me if I'm wrong.)
@steemhunt is also a Steem witness and @misterdelegation also delegated a large amount of SP to support them. So Steemhunt is an important dapp in the Steem community.
One easy way to access and get some free HUNT tokens (probably only when there's a promotion) is using Steemhunt Chrome Extension.
While its features are quite simple (showing daily best Hunts with every new tab, and set Steemit ID to get rewards), the extension is not intuitive designed.
After the installing the extension, all I can see when I click the extension was the following: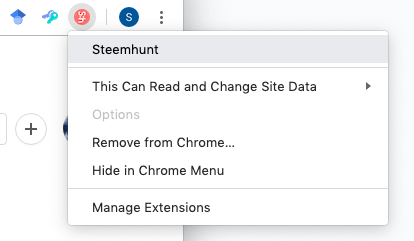 Probably most users expect that clicking "Steemhunt" will direct them to the page that the extension should actually show (as explained in https://steemit.com/steemhunt/@steemhunt/introducing-steemhunt-chrome-extension-and-new-airdrop-or-sponsor-report-22). But it's just redirected to the google web store page.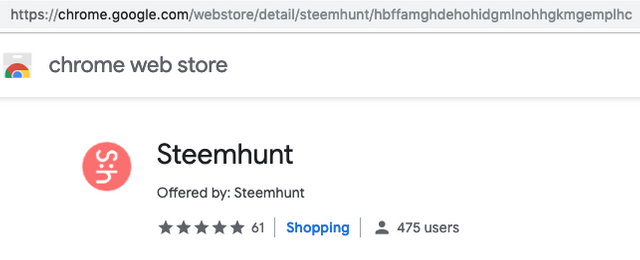 While this itself might be the default behavior of chrome-extension's first menu (unless customized), the chrome web store page also doesn't contain any meaningful information about how to actually use this extension.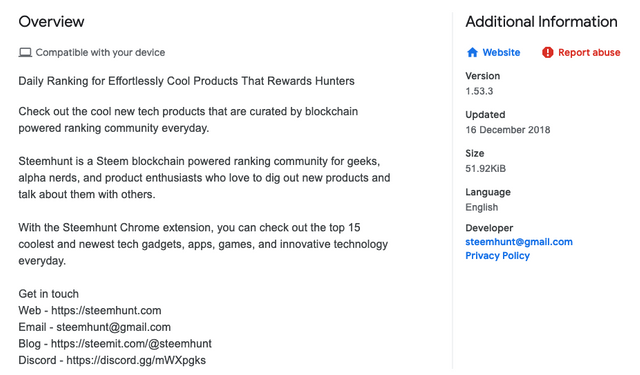 It took me quite a time to find out how to use the extension after googling and found this: https://steemit.com/steemhunt/@steemhunt/introducing-steemhunt-chrome-extension-and-new-airdrop-or-sponsor-report-22
So, it seems that I have to open a new tab manually, which is quite counter-intuitive than click some menu on the extension itself. At least both should work.
Overall, the extension should work much more intuitively. How many people can figure out how to use this extension without googling the instruction? Probably not many.
There should be a menu that redirects to the page that it intends to show.
It is better if just clicking the extension icon does this job.
Showing daily hunt page with every new tab might be annoying. Except for hyper active Hunt users, unless there's a huge incentive, this extension may be disabled or uninstalled soon by users. The extension should allow users to disable that feature, or there should be an option such that new tab function only works for the first new tab.
Mockups / Examples
There should be a menu on the extension itself that redirects the page to the page it intends to show. Of course, it's much better if it's the first menu (instead of redirecting to the google store page) or just the extension icon itself should work what it should.
For instance, this is what a user gets after clicking steem keychain extension icon.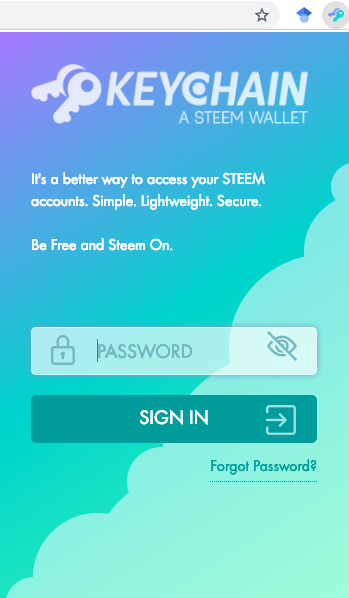 Steemit id setting should be done this way.
If it's unset yet, popup this kind of window to enter the id, and if it's already set, just show the daily hunt page.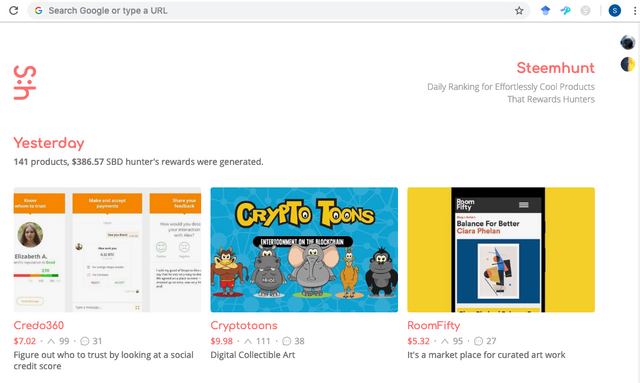 Benefits
Much more intuitive UI
Chrome extension is for convenience, so users should be able to use at least the main feature without referring any further documentation.
Boost Steemhunt dApp usage
From Steemhunt's point of view, this extension can boost user activity on Steemhunt. For this, the extension shouldn't bother users too much. If daily hunt page with every new tab can be disabled in the setting (while clicking the extension still shows the hunt page), the extension can be sustained longer :) so eventually it can benefit both users and the Steemhunt.
GitHub Account
https://github.com/economicstudio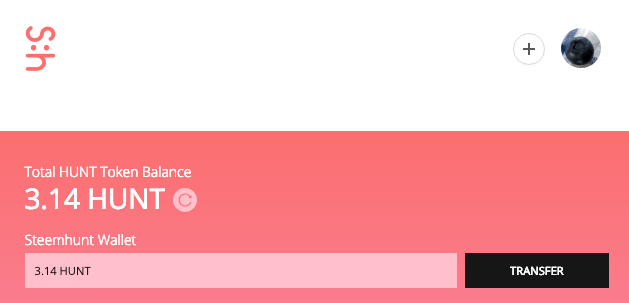 Disclaimer: I haven't participate in the IEO and I only have negligible amount of Hunt tokens: 3.14 Hunt. What a coincidence that today is 3.14!