Repository
https://github.com/holgern/ua-python
Components
Proposal Description
Many people are using @steem-ua, which usually provides more than 10 times of self-voting of the delegated SP up to 7 posts per week depending on the delegated amount. (Of course, if the post ranking is too low, the voting amount can be lower than 10 * self-voting.) With @busy.pay's voting, @steem-ua's voting encourages people to write good posts. It's been running quite stably, but I'd like to make some suggestions based on my experience and many neighbor users.
Suggestion 1: Option to show rankings in comments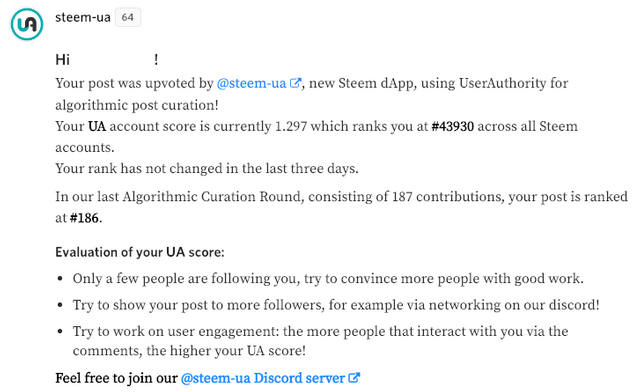 typical steem-ua comment for voted posts, showing UA score/rank, post rank every single time.
Everybody has a different taste, but they are quite many people who don't like steem-ua is showing rankings in every post. I agree that it's trying to encourage authors to make a better post next time, but especially for post ranking, we should admit that it's quite random depending on when the voting round is initiated. Personally I'm okay with showing rankings, since I don't care, but I saw many users who didn't like it. So it's much better if there is an option to choose whether to show the ranking information in the comment.
Suggestion 2: Option to show ranking in the delegators page
So does the delegators page: https://steem-ua.com/delegators/ Currently, it shows the UA score and rank: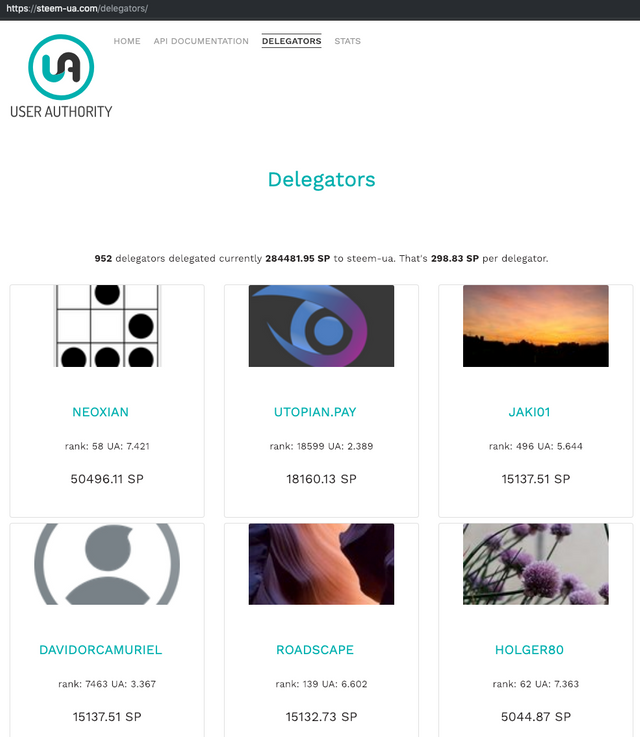 Again, I saw many users (especially when their ranks are low) who don't want this. In particular, ranks are sensitive information in most Asian cultures :)
Of course, we're in the blockchain world! Maybe some people want transparency. But in that case, we can still query everyone's ranking like this: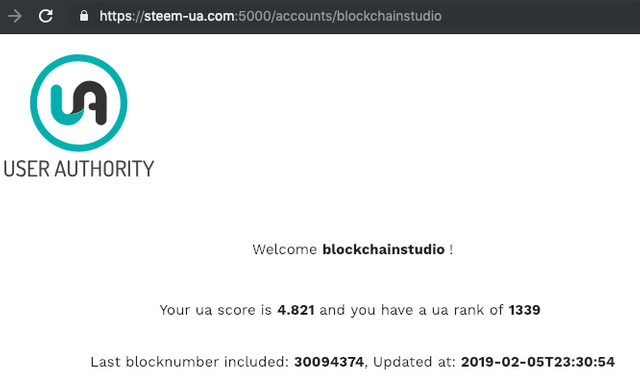 my rank at the moment, still 4-figure, but hey it's not too bad as a normal user :(
So let's make an option so that users can choose!
Suggestion 3: Automatic delegation update
Not sure if this is a temporary issue, but it seems delegator page and thereby voting for them are not updated automatically. I saw people on Discord who said their delegations are still missing after a while. When steem-ua started, it seemed automatic, updated within a day if I remember correctly (or maybe they just ran the update script much more often? :). In any case the update can be more frequently without too much difficulty I guess. At least I should be updated everyday.
Suggestion 4: [Bug] Fix the graph!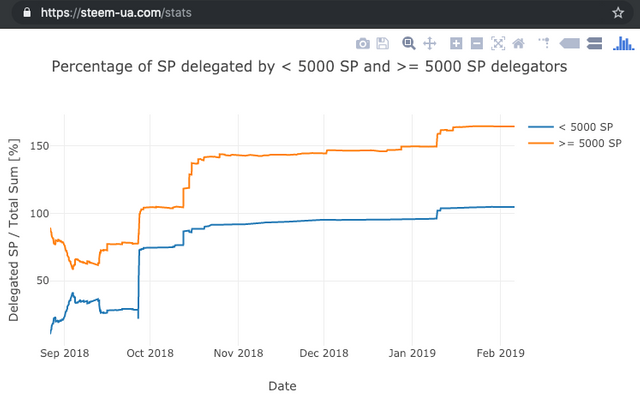 Around the end of last Sep, this graph went wrong. This graph shows the ratio of big (>=5k sp) and small (<5k) delegations. The sum should always be 100%. I actually reported this long time ago, but still haven't been fixed.
Suggestion 5: Voting conflict prevention for Utopian posts
While this suggestions is the most interesting to me, I left it the last since it's only applied to some users.
By the way, how is more than 10 times of self voting possible?
This is possible due to some donors who delegated much more than they receive. Utopian (delegated by @utopian.pay) is also such a case. Due to this collaboration, steem-ua votes Utopian posts. Once your Utopian posts are reviewed and accepted, @steem-ua magically visit and vote your post.

usual steem-ua's comment for Utopian posts
I truly believe that this is a very good collaboration. (Actually, this collaborative voting was stopped for a few days in the beginning of this month, so I was quite worried if the collaboration ended. But after I reported it to holger80, he fixed the problem quick :)
But one "problem" is steem-ua sometimes votes Utopian posts as a regular post if the author is a delegator to steem-ua as follows: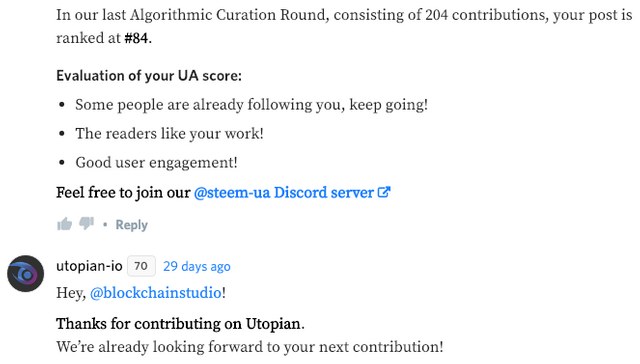 steem-ua voted Utopian posts as a regular post
I think this may happen if steem-ua has already started their regular voting process before being notified by Utopian system.
It happened to me several times and it's still happening to others too. This conflict may lead users to undelegate. While it isn't a serious problem, it's better to be avoided. Personally, I don't like that it's showing post ranking (as explained in suggestion 1) more than lower amount of voting itself.
Mockups / Examples
Suggestion 1 & 2: option to show rankings in comments/delegators page
For these two, I believe the mockups without rank themselves are pretty much obvious. More important thing is how to implement the options, and I think the following @steemitboard's approach would be enough and simple to implement.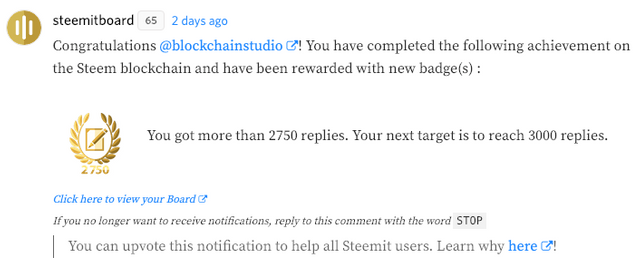 @steemitboard offers users an option to choose to receive replies.
For instance,
NO RANK: no rank information at all
NO UA RANK: no UA rank & score
NO POST RANK: no post rank
without NO, it enables the information back.
Suggestion 3: Automatic delegation update
Just run the update script more often or use the block streaming.
Suggestion 5: voting conflict prevention for Utopian posts
While there are many ways to achieve this, I think one very simple solution would be this:
Don't vote Utopian (based on tag) post less than 3 (or a little bit longer) days old. Utopian tries their best to finish the review within 3 days, so I believe this is already enough.
Benefits
Freedom of choice
Free from stress due to score/rank
Reliability
More stable minimum voting for Utopian posting.
As I explained in my recent proposal, Utopian bot sorting criteria improvement to prevent no voting, recently many Utopian postings can't be voted by @utopian-io due to limited VP. While the amount can never be comparable, still it'd be better if the conflict can be avoided.
Most importantly,
More delegation to @steem-ua
The above benefits will definitely make more people delegate to steem-ua.
GitHub Account