Source Logo
Today I contributed to React project, I just finished it into Indonesian and this is my first job on Dollar Street project.
It took two days to translate an open source project from React, when work was not received there was a deep sense of disappointment. But I am sure to achieve a great thing then it takes a big capital / work for that (thing).
Project Details
React is a JavaScript library for building user interfaces.
Declarative: React makes it painless to create interactive UIs. Design simple views for each state in your application, and React will efficiently update and render just the right components when your data changes. Declarative views make your code more predictable, simpler to understand, and easier to debug.
Component-Based: Build encapsulated components that manage their own state, then compose them to make complex UIs. Since component logic is written in JavaScript instead of templates, you can easily pass rich data through your app and keep state out of the DOM. React On Site
Links related to the translation
Source Language
English.
Translated Language
Into Indonesian Language.
Number Of Words
Number of words translated on this contribution : 1067
Proofread Words
None yet.
Previous translation on the same project
Nothing yet, this is my first job
Proof of Work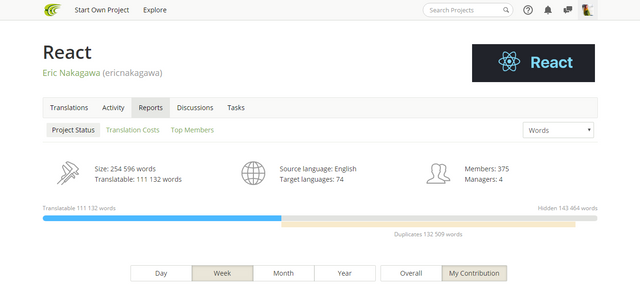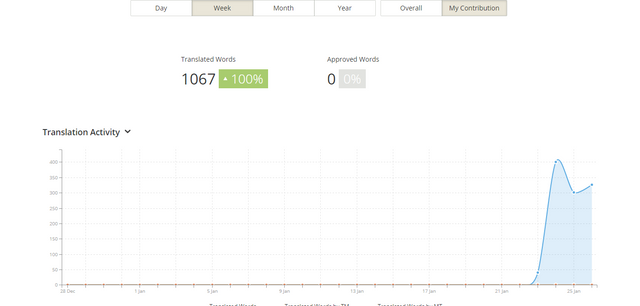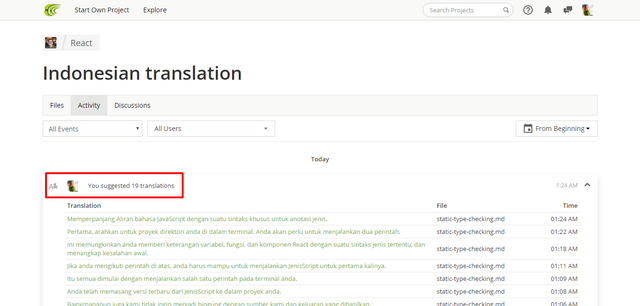 Jika anda mengkonfigurasi Babel secara manual untuk proyek anda, anda akan perlu untuk memasang preset khusus untuk Aliran. static-type-checking.md 12:47 AM
Bahkan Walaupun Membuat Aplikasi React menggunakan Babel di bawah tenda, itu sudah siap dikonfigurasi untuk memahami Aliran. static-type-checking.md 12:43 AM
Anotasi Alirannya sudah siap dikupas secara default jadi anda tidak membutuhkannya untuk melakukan apapun pada langkah ini. static-type-checking.md 12:40 AM

Secara umum, anda tidak mau untuk menjaga javascipt yang dihasilkan pada kontrol sumber anda, jadi pastikan untuk menambahkan folder pembangun untuk anda .gitignore. static-type-checking.md 02:46 PM
Sekarang pada saat kita menjalankan skrip kami membangun kompilator akan keluar dari generator javascript yang dihasilkan untuk membangun folder. static-type-checking.md 02:39 PM
Khususnya itu diletakkan pada bagian atas dari sebuah file. Mencoba menambahkannya untuk beberapa file dalam proyek anda serta jalankan aliran benang atau jalankan aliran npm untuk melihat apakah Aliran sudah menemukan suatu masalah. static-type-checking.md 02:31 PM
---
Posted on Utopian.io - Rewarding Open Source Contributors
---