Today, I have put effort into translation of the project "LWT - Live without Tobacco" from English to Chinese Traditional.
I have completed 1,105 words of translation and suggested 103 translations in total into Chinese Traditional.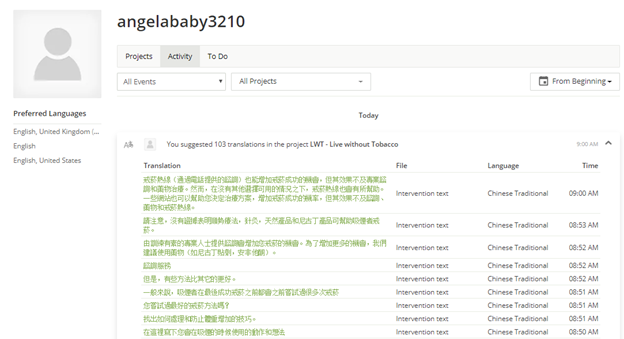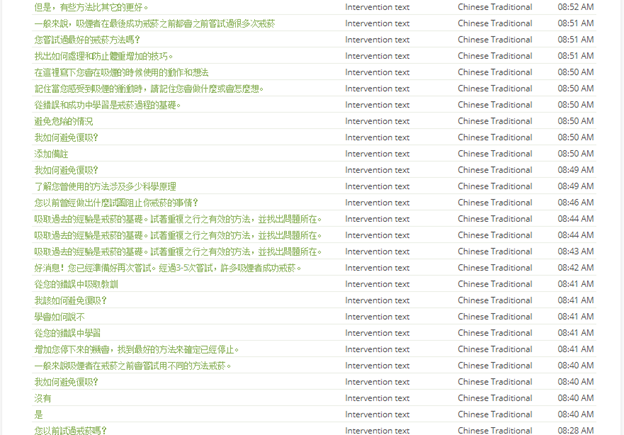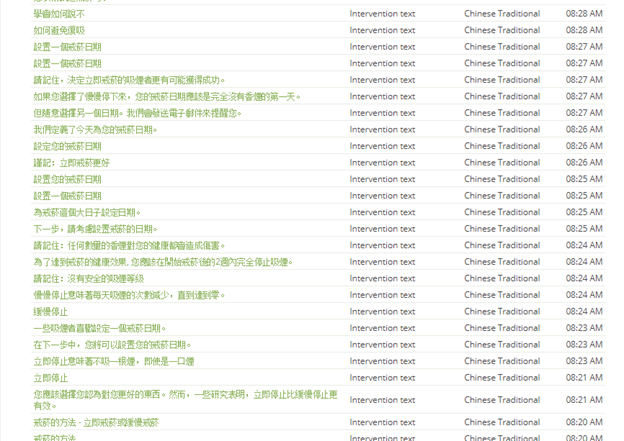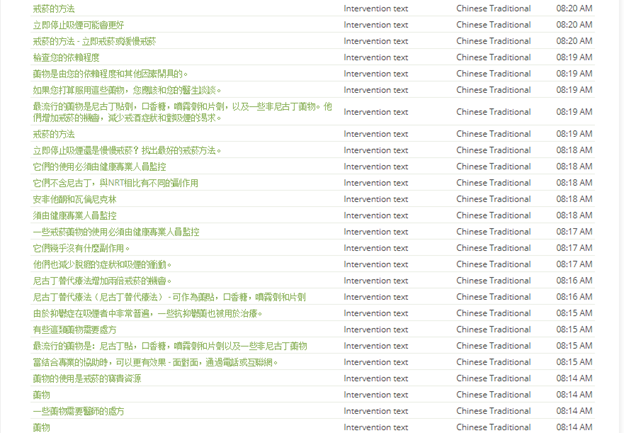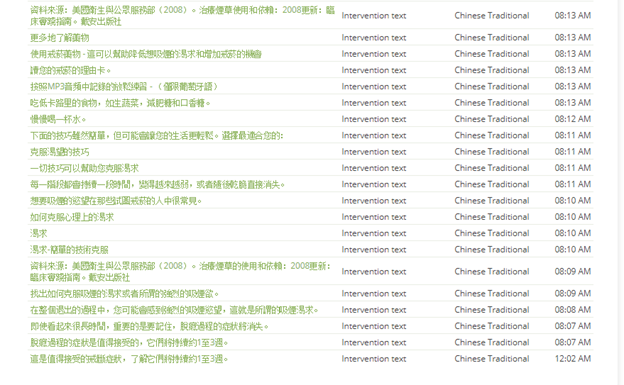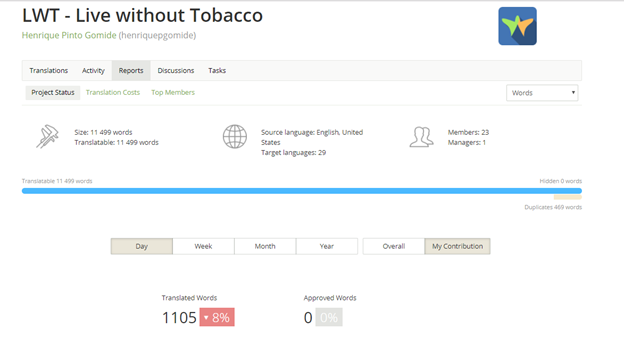 For example,
The most popular medications are nicotine patches, gums, sprays, and tablets, as well as some non-nicotine medications. They increase your chances of quitting, reducing the abstinence symptons and craving.
In order to get the health effects of quitting, you should totally stop smoking at some date--within 2 weeks--after starting to quit gradually.
If you made the option for stopping slowly, your quit date should be the first day completely without cigarettes.
Counseling provided by a trained professional increases your chances to quit smoking. To increase even more your chances, we recommend the use of medications (e.g., nicotine patch, bupropion).
Quitlines (counseling provided over telephone) also increase your chances of quitting, but less than counseling and medications. However, quitlines can be helpful during cravings and when no other options are available. Websites could also help you deciding treatment options and increase your chances of quitting, but less than counseling, medications and quitlines.
The work that was done as follows:
最流行的藥物是尼古丁貼劑,口香糖,噴霧劑和片劑,以及一些非尼古丁藥物。他們增加戒菸的機會,減少戒酒症狀和對吸煙的渴求。
為了達到戒菸的健康效果, 您應該在開始戒菸後的2週內完全停止吸煙。
如果您選擇了慢慢停下來,您的戒菸日期應該是完全沒有香煙的第一天。
由訓練有素的專業人士提供諮詢會增加您戒菸的機會。為了增加更多的機會,我們建議使用藥物(如尼古丁貼劑,安非他酮)。
戒菸熱線(通過電話提供的諮詢)也能增加戒菸成功的機會,但其效果不及專業諮詢和藥物治療。然而,在沒有其他選擇可用的情況之下,戒菸熱線也會有所幫助。一些網站也可以幫助您決定治療方案,增加戒菸成功的機率,但其效果不及諮詢、藥物和戒菸熱線。
Translation progress:
Initially, the bar was 39%.

After my work, the bar became 48%.

Here is the link to my work of translation: https://crowdin.com/project/livewithouttobacco/zh-TW#
---
Posted on Utopian.io - Rewarding Open Source Contributors
---