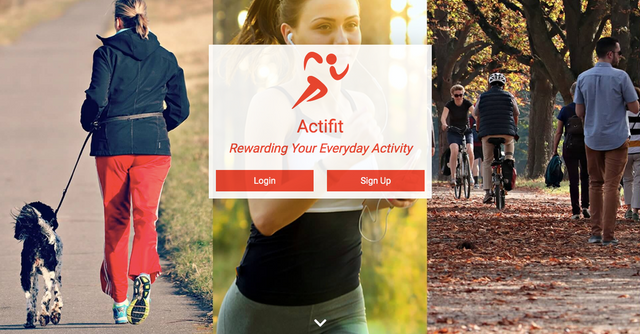 What is Actifit?
---
Many people with a smartphone have one of those 'step counter' apps installed, sometimes they are even native for your phone's OS, and maybe some of us even try to accomplish that daily goal of 10.000 steps these apps often recommend. So you do the 10.000 steps after which you... get a notification? Maybe a badge?
Actifit is like hold my beer, I can do better! Because they let you... ding ding ding... get rewarded for those steps!
The rewards come in two-fold: you will be rewarded in the apps AFIT token and the Steem Blockchain's STEEM token. AFIT is one of the first 'Smart Media Tokens' on the Steem Blockchain and as such they utilise the Steem Blockchain and give out their own token.
How does it work?
---
In short: once you made 5000 steps you made the minimum requirement for 'applying for reward'. This means you can start writing a post through the app and post it on the Steem blockchain. Through several metrics the Actifit program will calculate the reward you deserved for the day and upvote the post on the Steem Blockchain, as well as reward with AFIT tokens through the app.
All in all Actifit is a great way to feel motivated to 'reach your step goal', because it's nice to be able to get rewarded for your work!
Oh, and no, 'steps' is a simplification of the reality: the app allows you to tell exactly which activity you did that day - from 'walking around the office' to 'doing housework' and 'cycling' - there's a wide variety of activities you can choose from before posting on Steem. And as a nice bonus other users of the Actifit app might stop by to say 'hi' and motivate you to continue being active.
---
Translating Actifit from English to Dutch
---
My contribution
Since Actifit is such a beloved Steem based project it brings me joy to know I can bring this app to a Dutch speaking public! I started translating the strings and will cut the project in two parts: one of about 1000 words (this contribution) and one of the next 1500 words (next week). There were some minor context questions I have asked while translating so I can finetune the wording, but overall this is a straightforward project to translate. It helps I've used the app in the past and I have knowledge about the inner workings of Steem. Some strings will be very specific for non-Steem users to translate, so I dearly hope many @davinci.witness translators will jump on this project and complete the translations needed.
Project details
---
If you haven't tried out Actifit yet, try it out via their website and follow @actifit on Steem! The team with amongst others @mcfarhat is working hard on developing the app and bringing something very useful to the Steem blockchain. Move around and become ACTIFIT!