Repository
https://github.com/adasq/pure
PR: https://github.com/adasq/pure/pull/1
What is the project about?
I recently started working on my STEEM-based side project and found it hard to update both post & comments metadata (mostly, json_metadata field).
All of the frontend clients built around a STEEM platform focuses on title, body fields editing - and it is 100% fine, as it covers ordinary Steemian use cases entirely. But, when it comes to the developers requirements, it is sometimes not enough.
I kicked off a small developers tool, pure which basically does the thing. My PoC includes following features set:
Update post / comment fields: title, body, json_metadata
Full support for steem-keychain
So, you can edit some json_metadata quickly in the browser within steem-keychain. Let's say, you want to edit my latest post: https://adasq.github.io/pure/#/@adasq/dynamic-sitemap-xml-for-steemdocs-net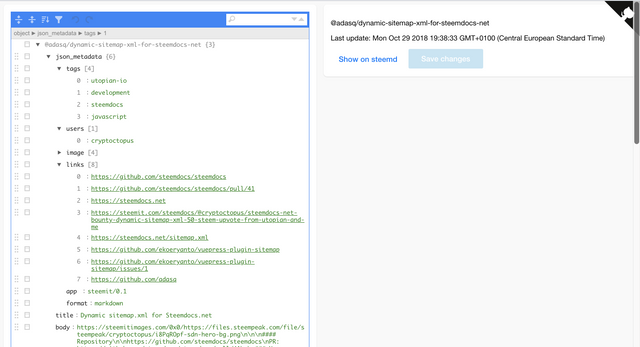 On the picture you can see two columns. On the left side, there is an editable JSON structure, which allows to add, remove or update json_metadata fields. If you change anything in the structure, Save changes button (right side) will be enabled, so you can send STEEM transaction via steem-keychain.
Really simple! What happens on Save changes button click? I do check, whether steem-keychain service is available and then request post update transaction.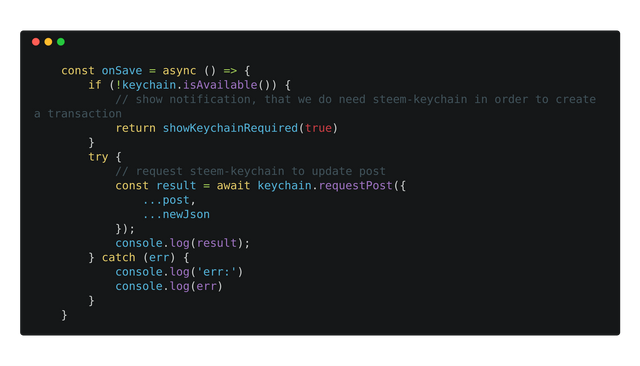 For those who are familiar with new React feature, so called hooks, here is my custom hook for fetching STEEM post: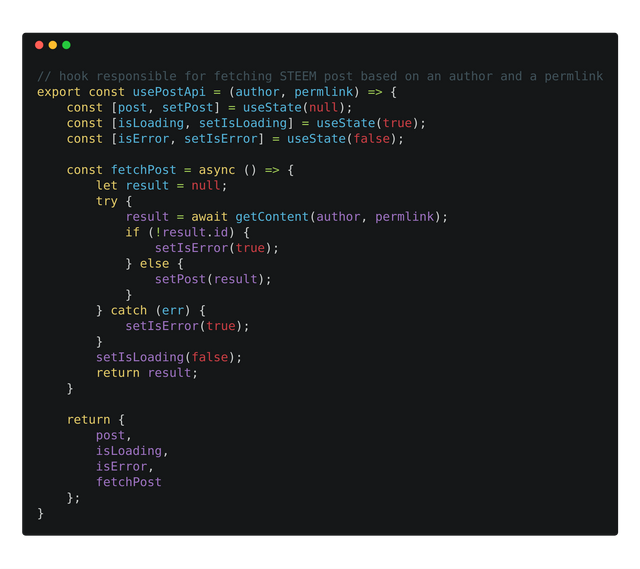 Technology Stack
According to the technologies used behind the scene:
Roadmap
My goal is to cover my usecases for the first place:
Casting custom_json transactions to the blockchain
Covering comments_options, including beneficiaries
Then, I would like to add rest of the features (not available within ordinary frontends), which allow developers to interact with the blockchain in a quick and secure way.
How to contribute?
If you fell it lacks a must-have feature, or has an issue, feel free to post your idea on https://github.com/adasq/pure/issues.
We will discuss it and plan further steps.
GitHub Account
I appreciate any feedback.
Cheers, Utopian colony enthusiast!