Fire rages just off Utah's Capitol Hill
Utah got a major disfavor on its state holiday as fire burned land not far from its capitol.
One hundred acres burned, according to KUER.
"Trees went up in flames" before the fire reached its victim area just 30 seconds later, said Troy Jensen, who was working in the area.
"People were running away from here," he told me late Tuesday afternoon.
"It was scary."
Two firefighters were injured, according to KSL, and one home was damaged, KUER reported.
Tony Naura, who was working with Jensen, said he felt heat on his back.
"I knew it wasn't the sun," Naura said.
"I turned around and there were flames behind me," Naura remarked. "I saw a lady running with her baby, barefoot."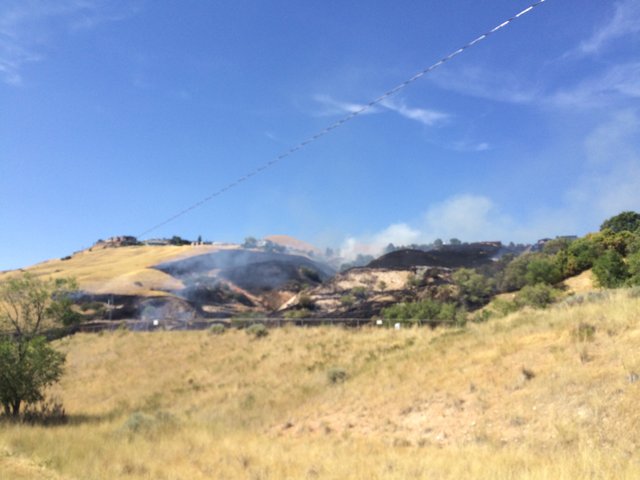 Burned acreage just northwest of Utah's Capitol Hill. Photo credit: Rhett Wilkinson
Jensen told residents to get items out of their house, he said.
"I don't know how it started," he remarked. "It literally scared me."
The acres are perhaps a football field's length northwest of the hill, which features the Utah Capitol, state government offices, an LDS church meetinghouse and Pioneer Memorial Museum.
To the cause of the fire, Jensen told me "it could be a firework."
It is tradition for fireworks to be shot on the state holiday, Pioneer Day.
Two houses were taken out by fire just three months ago on De Soto Street, where the fire took place, Jensen said.
Firefighters and police attended to the scene, which was accompanied by a helicopter and many bystanders nearby.