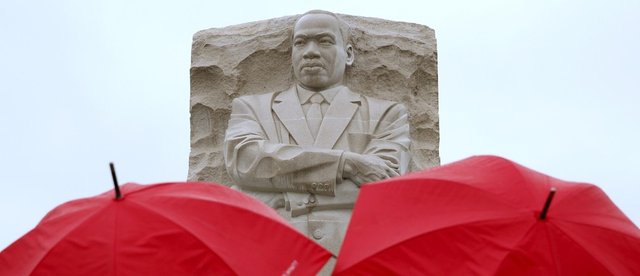 Image: REUTERS/Kevin Lamarque - RTS7ZHV
Every year in January, around the time of his birthday, Americans celebrate Martin Luther King Day in honour of the man that did so much to fight for equal rights for all Americans. This year the day falls on 16th January, and is a paid holiday for American workers. Many states hold special celebrations including lectures, commemorative marches, and street parades. Many use the day to continue campaigning for the equal world that Martin Luther King wanted to create.
These are seven of his most famous quotes:
"We shall overcome because the arc of the moral universe is long, but it bends towards justice."

"Darkness cannot drive out darkness, only light can do that. Hate cannot drive out hate, only love can do that."

"The ultimate measure of a man is not where he stands in moments of comfort and convenience, but where he stands at times of challenge and controversy."

"Injustice anywhere is a threat to justice everywhere. We are caught in an inescapable network of mutuality, tied in a single garment of destiny. Whatever affects one directly, affects all indirectly."

"True peace is not merely the absence of tension: it is the presence of justice."

"It is not enough to say 'We must not wage war'. It is necessary to love peace and to sacrifice for it."

"I have a dream that my four little children will one day live in a nation where they will not be judged by the colour of their skin, but by the content of their character."
https://www.weforum.org/agenda/2017/01/7-martin-luther-king-quotes-that-resonate-today/?utm_content=buffer65deb&utm_medium=social&utm_source=facebook.com&utm_campaign=buffer