Seattle & Portland Road Trip.
After a splendid few days in Seattle, exploring the incredible sites, eating delicious food and attending my friend's wedding, it was time for a little road trip between Seattle & Portland! The journey started off driving down the beautiful Interstate 90, along the bendy roads of Snoqualmie Pass, through Ellensburg and Yakima, before crossing the Columbia River into Oregon state. Our evening stay was awaiting us at the edge of Mount Hood, where there are beautiful hiking trails and ski opportunities, before we ended our 2 day drive at Portland. It might sound like a hectic journey, but the it was a scenic and comfortable one - full of incredible views, stops and things to see. Definitely something that I highly recommend everyone to do!
I-90
Anyone who put their destination into google and finds out that it is a 144 mile drive until lunch is probably going to find alternatives like taking the train or getting a catapult. The last time I did this was my little morning trip from Sofia to Bulgaria's Rila Monastry! The drive from Seattle to Yakima might sound like a ride down a super long highway, but the scenery and views definitely make up for it. It is mile after mile of trees, greenery and easy roads. Just cruise along and the two hours will be gone in no time!
An internet search shows that Ellensburg is a touristy spot, so we popped in to see what it is like. I recommend skipping this and heading straight to Yakima, where you will be closer to the vineyards and you should arrive just around lunch time. You will be starving by now so head over to Cowiche Canyon Kitchen & Ice House Bar, for a nice lunch and relax under their high ceilings and modern decor. We had some really nice fish and the salad was huge and filling - a perfect lunch break after the drive!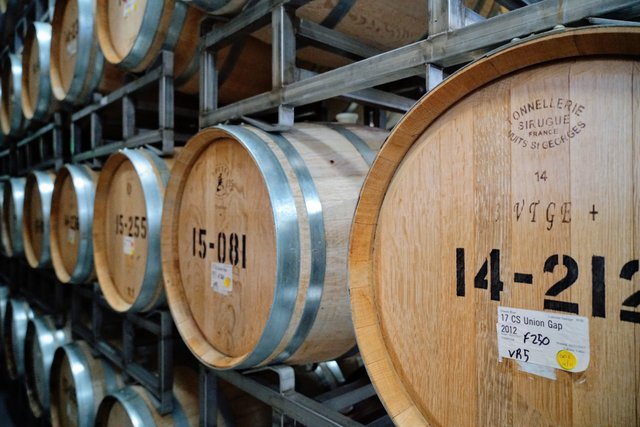 Wine Time
One of the main reasons for doing this scenic route to Portland was because of Yakima's growing popularity of wineries and wine production. This whole area from Yakima to Tri-Cities is filled with so many different little sub regions of wine hubs. It essentially follows the river with different areas showcasing different types of grapes. There are four main wine communities along this stretch (Yakima, Zillah, Prosser and Red mountain) and we were not going to come all this way without trying some grapes!
One of the most promising and highly regarded vineyards in the Yakima region is Owen Roe, who has been committed to practising the highest standards of wine making, since their first vintage production in 1999. The regions has slow and full ripening fruits, allowing for a perfect acidity balance, which is combined with the vineyards methods of hand harvesting, minimal processing, small-lot fermentation and French oak barrel ageing. This allows for the perfect creation of top class wines and it is no wonder that this is being spoken of as the new Napa Valley!
We stopped by at the beautiful winery and managed to get a tasting of a flight of their wines on offer. The tasting area was unique with the storage of some of their French oak barrels. The price of the tasting was a real bargain and can be offset if you decided to buy a bottle or two. The staff were super friendly and even let me try one of their Rieslings, after chatting about my trip down the Mosselle last year. I couldn't resist buying a bottle of their sweet dry white to take home! Their wines were crisp, delicious and very fruity. Well worth the money to get a few bottles!
Crossing Columbia River
From Owen Roe, it was about another 75 miles until you hit Columbia River. There are a few large bridge crossing along the waters and I think we crossed at Biggs Junction. It was a strange and bizarre feeling when we crossed from Washington state into Oregon. Maybe it is to do with the fact that the river literally divides the two states or maybe it is the concept of different laws and jurisdictions. What we did find as a real surprise was when we fuelled up our car for the first time during this trip at River Hood. The cost of a full tank was unbelievably cheap and we thought the gas meter was broken! We realised that this state has no sales tax, meaning everything costs as it is priced! There's only one other state in the US that has this and its Vegas! We found out more of the advantages of this when we stopped at River Hood, a really cutesy little town perched by the river.
The whole town was really nicely decorated with a high street filled with small stores and a few local brands. It just felt really clean and different and we definitely loved the no sales tax rules here when we did a bit of shopping!
There were also some really cool looking old wall designs and even a local distillery shop and old banks!
Knowing that our Airbnb was in the middle of nowhere, we opted for an early dinner at Boda's Kitchen after our wander around the town. This place is literally my dream restaurant/cafe. They are a passionate gourmet delicatessen serving up seasonal ingredients and pretty much everything was locally sourced. I am talking about a counter filled with homemade foods, wines, beers, jams, local cheeses and sauces. It was a real introduction to Oregon's incredible approach to sourcing locally. Everywhere we went, it was filled with local produce from local farms, roasters and locally made handicrafts! The food here was delicious too as we had the daily special chicken!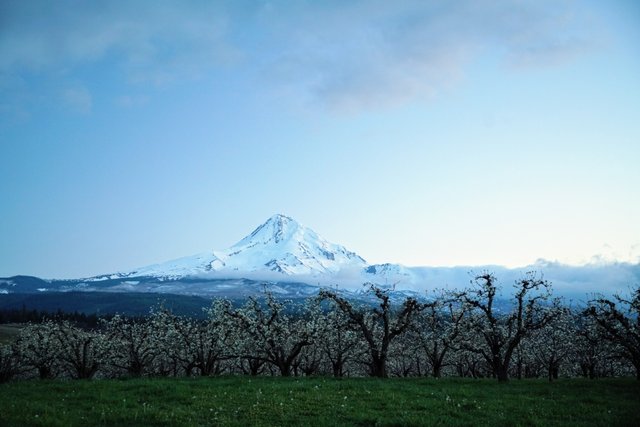 Bed Time
After an exhausting day of driving and exploring we were ready to retire for the evening but we had to navigate into the proper countryside to find our Airbnb. Nested in some country lane and within a pear farm, we arrived at this beautiful lodge with the most incredible views of the snow capped Mount Hood. Being literally on a farm, it was peaceful, quite and so scenic. We arrived just before sunset and managed to catch some photos of the farm and the mountain!
Our hosts weres uper nice, with everything well prepared for us. We occupied the downstairs of the house which was spacious with a cabin feel to it. The beds were great too with a great view of the fields! You really cannot ask for a better finish to the day!
Day Two
Waking up to the natural sunlight and the beautiful surroundings was so peaceful, especially on a slightly chilly morning. The weather was perfect and we could see the rest of the farm spreading out from the house so magnificently. We were greeted with a fantastic breakfast that was really well accommodated upstairs, with views of the mountain! Our hosts were really helpful and recommended a light trail to hike around which we were very excited about!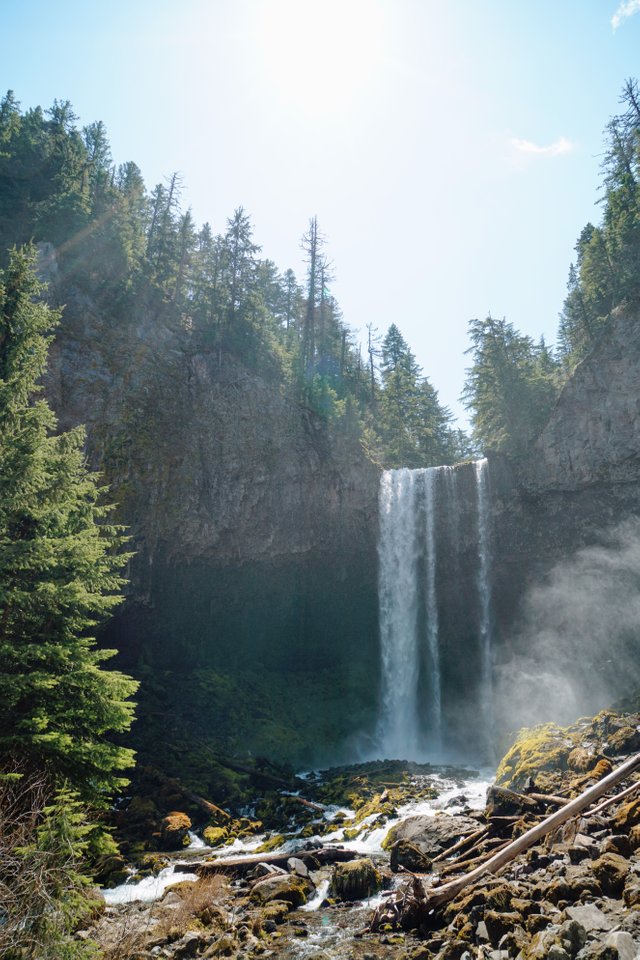 Tamanawas Falls
After taking about a hundred pictures of the pear farm in the morning, we packed up and made our way towards the mighty Mount Hood. Our first stop was at Tamanawas Falls, a beautiful walking trail that covers a range of terrain and ends with a beautiful waterfall. The walk was gentle and comfortable and it took us around 2 hours in total to reach the waterfall and back. It is a perfect morning bit of exercise and was so nice to be surrounded by such amazing nature!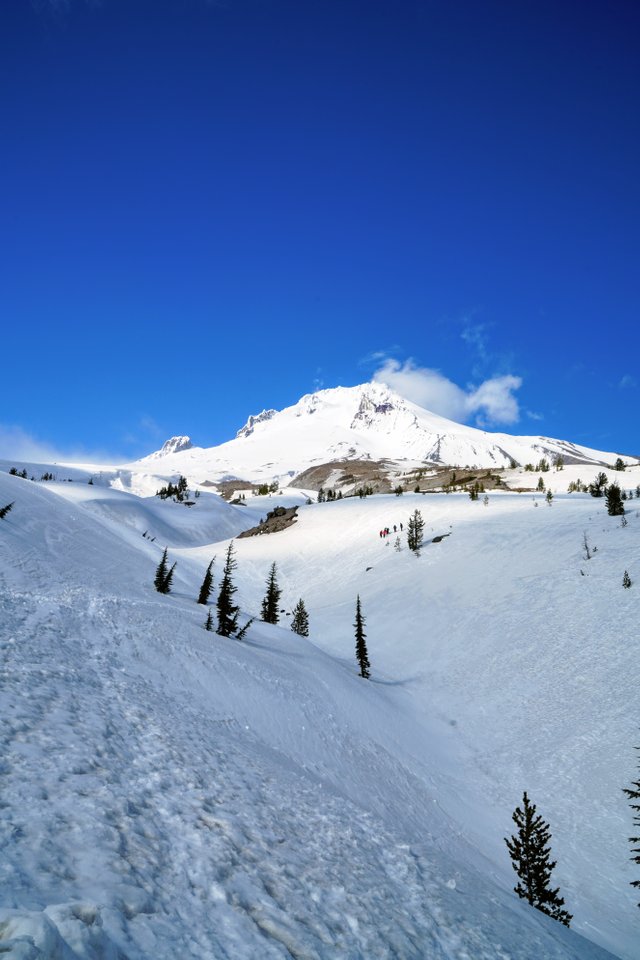 Mountains
Lunch time would be creeping up and our hosts recommended us to drive up to the Timberland Lodge of Mount Hood for lunch. As we climbed higher and higher, you can feel the temperature starting to drop and the white snow starting to line the roads. The journey up was gorgeous, with lovely turns and really nice country roads.
Once at the top, you will be completely surprised by how much snow there actually is on the slopes! People are full on skiing and snowboarding! There was so much snow and we visited in April!
Head to the upper lodge for a proper sit down meal and try to grab a table by the windows, so you can check out the slopes and all the skiers coming down!
Multnomah Falls
Our final stop enroute to Portland was at Multnomah Falls, something that was inspired by Instagram pictures. What was surprising was that this massive waterfall is literally right beside the interstate highway! In fact, you park your car in the middle of the highway and take an underground tunnel to the entrance of the waterfall. Besides that, the waterfall was really impressive. There is a little bridge that crosses right underneath it but due to a recent fire, it has been closed off. With the background of the waterfall plus the little bridge, no wander it is an Instagram sensation!
All in All
We wanted to make our drive from Seattle to Portland a bit more adventurous and scenic and we couldn't have made it any better! This road trip was filled with amazing nature, walks, waterfalls, wine, pear farms and the best Airbnb! This is the perfect road trip for those looking for something different between Seattle and Portland!
Don't forget to check out my Travel Essential's page for my favourite travel accessories!
Reach out if you have any questions or want your perfect holiday planned all for you!