[Crypto Report] GMT : 19:00 01 Mar 2019 / [Bonus] Payback SBD 100% to Vote Contributor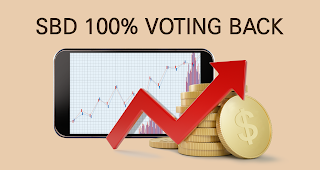 [Table] GMT :19:00 01 Mar 2019
| Name | Volatility | Price 2 weeks ago | Current price |
| --- | --- | --- | --- |
| KMD | 28.3 % | 0.000205 BTC | 0.000263 BTC |
| STEEM | 18.8 % | 0.00008668 BTC | 0.00010294 BTC |
| OMG | 8.4 % | 0.00031587 BTC | 0.00034254 BTC |
| NEO | 5.9 % | 0.00266001 BTC | 0.00281807 BTC |
| LTC | 5.9 % | 0.0118 BTC | 0.01249041 BTC |
| ETH | 5.2 % | 0.03379948 BTC | 0.03554799 BTC |
| QTUM | 4.8 % | 0.00053142 BTC | 0.00055714 BTC |
| ZRX | 2.5 % | 0.00006305 BTC | 0.00006461 BTC |
| LSK | 0.8 % | 0.00031535 BTC | 0.00031794 BTC |
| XLM | 0.5 % | 0.00002203 BTC | 0.00002214 BTC |
| XRP | 0.2 % | 0.00008366 BTC | 0.00008384 BTC |
| ADA | 0.1 % | 0.0000113 BTC | 0.00001131 BTC |
| DASH | -1.0 % | 0.02181123 BTC | 0.0216 BTC |
| ETC | -2.6 % | 0.00113166 BTC | 0.00110233 BTC |
| BTG | -2.6 % | 0.003168 BTC | 0.00308501 BTC |
| XEM | -3.2 % | 0.00001151 BTC | 0.00001114 BTC |
| XMR | -4.2 % | 0.01309722 BTC | 0.01255196 BTC |
| ZEC | -4.3 % | 0.01408544 BTC | 0.0134797 BTC |
| ZIL | -4.9 % | 0.00000473 BTC | 0.0000045 BTC |
| WAVES | -5.2 % | 0.00073456 BTC | 0.00069661 BTC |
| TRX | -6.5 % | 0.00000659 BTC | 0.00000616 BTC |
| DCR | -7.3 % | 0.00461868 BTC | 0.00428186 BTC |
| REP | -10.4 % | 0.00371832 BTC | 0.00333023 BTC |
[Summary]
@crypto-report reports on coins & tokens price changes in real time four times a day to help you establish various investment strategies.
The above table is a list of the 'Upbit Exchanges' listed coins within the top 50 CoinMarketCap market.
All coins are categorized as 'bull(+) / bear(-) ', and you should pay particular attention to additional price drops when investing on bear trap coins.
[Bonus]
If you upvote on this post, @crypto-report will refund you the total amount of SBD generated after payout, calculated as the percentage of the profits.
Do not miss the chance to track coin changes, check out the market trends, and collect the steem dollars as bonuses.