Mr. Xplorer Upvote Service: Congratulations To First 6 Registration.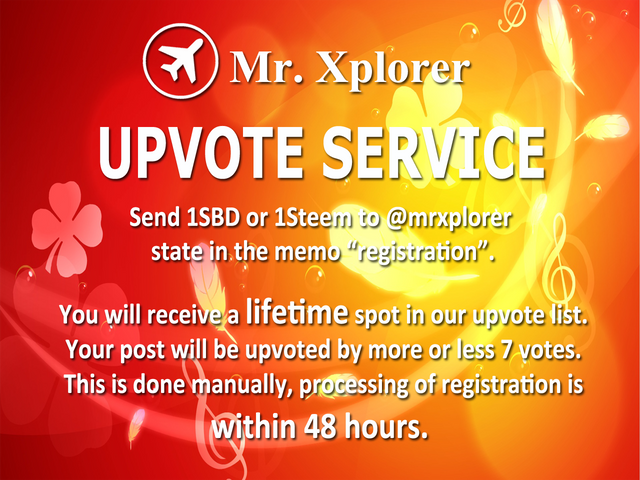 Hi Steemians!
@mrxplorer would like to congratulate the first 6 steemians who registered with Mr. Xplorer Upvote Service. They are now included in our curation list for life. Their posts will gain additional upvotes from now on.
The steemians that were included in Mr. Xplorer Upvote list are the following;
Again congratulations the first 6. If you need more information you can read What is Mr. Xplorer Upvote Service?
I will continously give updates who are now member of Mr. Xplorer Service. I am looking forward to help our members more. I am also planning to give rewards and hold contest to share the fun in building our community.
======= ======= =======
How To Join Mr. Xplorer Upvote Service?
Follow @mrxplorer first.
Send $1 SBD or $1 Steem to @mrxplorer account, in the memo field type "registration".
Since this is done manually, we will process your request within 48 hours after sending the registration fee.
We will send you $0.001SBD to notify you that your request is approved.
We will upvote your latest post that is 5 days old and earlier.
You will be included in our curation trail for life.
Note: We are looking for high quality content, thus we reserve the right to decline enrollment. Spammy account will not be accepted.
Additional Benefits:
You will be added to #UnliSteemersPh facebook group page and discord channel to promote your post to more steemians, just strictly follow the rules of the group. Spamming is not allowed.
Follow @unlisteem to resteem your post.
To communities that have new members, you can sponsor them with this upvote service just follow the steps in joining. Just include the account you want to sponsor after the word "registration".
=======
In order to grow our community, please resteem this post and tell your Steemit friends about this upvote service.
Donations and Deligations are welcome!
Mr. Xplorer: Keep on Xploring