Join us on UPTRENND today.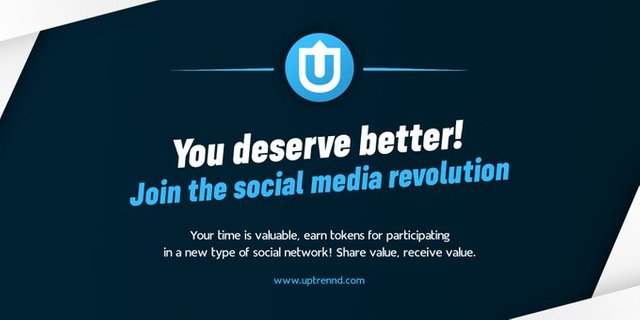 Uptrennd is a Social media blogging platform that puts you first
Kindness is our foundation and watchword
But why choose UPTRENND??
Distribution of Wealth
There are no whales on uptrennd. Your level and hardwork determines how much you earn. For instance if your level is 1 and when someone upvotes you get 1.5point, then thats it. No matter the level of the person that upvotes you, you will get only when your level is worth- 1.5points. No body controls how you earn but you.
Freedom of Speech,
Uptrennd values freedom of speech. Your voice deserves to be heard. Let uptrennd give you a voice today....you deserve to he heard.
Equality of Opportunity
Algorithms should be transparent and fair.
Wheather you are new or old, everyone gets the same visibity. No favouritism or injustice.
Data Security
we all know that social media platform like facebook do steal its member's data. Mark even admitted that. But thats not the case with uptrennd ya data is safe and not used at all.
-Every time a member's post or comment is upvoted, they receive rewards.
-The higher a member's level, the more rewards they can earn.
-At level one, members earn one token per upvote.
Join us today:- https://www.uptrennd.com/signup/OTk4MA
How do I earn points?
Receiving an upvote on your post or comment

The Sharing Economy - Reposts earn you 50% of the points

Receiving donations from other users

Daily Activity Bonus (Visit 10 pages in a day)

Monthly and Weekly contests

Inviting new users onto the platform

Exchanging tokens for points.
Social media platforms
Telegram: https://t.me/Uptrennd
Twitter: Check out Uptrennd (@Uptrennd): https://twitter.com/Uptrennd?s=09
Reference:- https://www.uptrennd.com/how-it-works