[IEO] Get Ready For Upbots IEO on FTX!
What Is UpBots?
The first blockchain-based all-in-one trading ecosystem designed to simplify digital asset management and empower anybody, regardless of skill or experience. What does it mean? It means that no matter what you are a professional trader or do not have any knowledge in trading, UpBots will make the whole process easier by providing training and resources that help you improve your skill. Besides, and you can also manage your assets on both centralized and decentralized exchanges from one single point.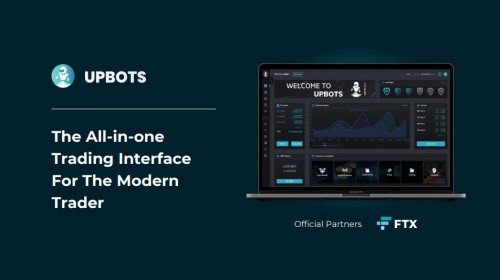 UpBots Main Features
Manage your assets on one single place using CEX, DEX or DeFi Solutions
Autopilot trading as a result of automatic algorithms and copy-trading
A complete marketplace accessible with courses, bots & signals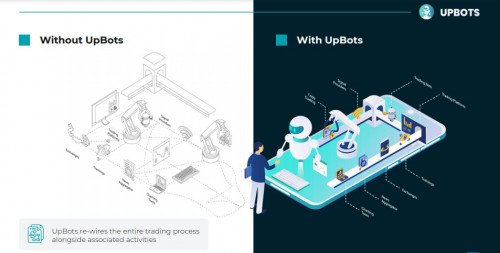 How To Acquire UpBots Token?
The only way to earn UpBots token now is to participate IEO on FTX on September 14th. You will have roughly 8 hours to join. Countdown link here: https://www.pscp.tv/w/1yNGaBOEXOdJj
Timeline of Events:
9:00 PM HKT, 14th Sep: Bidding for UBXT starts on https://ftx.com
10:00 PM HKT, 14th Sep: Bidding ends for IEO
Maximum Bid per ticket: 100 USDT + 8 FTX
Notes:
1/ There is no Public sale. Presale is closed as well. Only IEO on FTX on Sept 14th. Be aware of scammers!
2/ The IEO is not being offered in the United States or to any U.S.People.
3/ Your trading volumes on FTX must exceed $50,000 by 9PM HKT, September 13th and participants must pass KYC level 2 on FTX exchange to purchase UBTX
You can learn more via this link https://help.ftx.com/hc/en-us/articles/360048784352-How-to-Participate-in-the-UpBots-Sal
Token Sale
Ticker: UBXT
Total Supply: 500,000,000 UBXT
Protocol: ERC 20/SPL
Token Distribution
TGE: ~100.000.000 - 120,000,000 UBXT
($1,000,000 - $1,200,000 value at IEO price)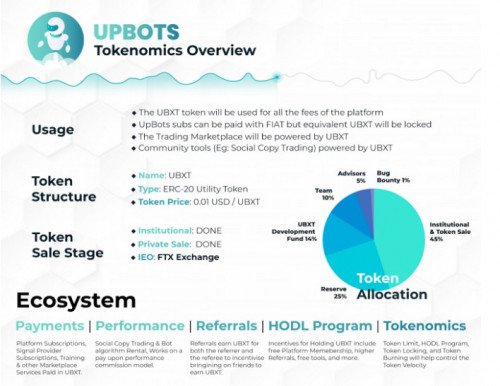 25% Reserve Holdings - locked until Upbots platform reaches 15,000 registered active users
22% - allocated to Institutional Sale - 110M UBXT sold
17% - allocated to the Private Sale - 85M UBXT sold
6% - allocated to the public FTX IEO with NO lock-up - Pending & scheduled for 14th September.
10% Team - locked for 2 years, with 25% unlocked every 6 months.
5% Advisor - lockup to 12 months from the official Listing date with 50% stake unlocked in the following first 6 months.
1% Bug Bounty
All lock-ups are programmed into smart contracts.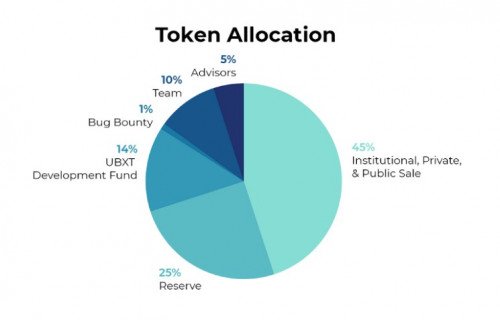 The result will be announced in UpBots Announcement Channel along with major announcements.
Make sure you are subscribed to our channels below
Overview
Website: https://upbots.com/
Whitepaper: https://upbots.com/whitepaper/
Pitchdeck: https://upbots.com/picthdeck/
Onepager: https://upbots.com/onepager/
Community
Twitter: https://twitter.com/UpBotscom
Telegram: https://t.me/Upbots_announcement
Medium: https://twitter.com/UpBotscom
LinkedIn: https://www.linkedin.com/company/upbots/about/?viewAsMember=true
Instagram: https://www.instagram.com/upbotscom/
Youtube: https://www.youtube.com/channel/UCFjbtkzDJDlJVSS9AaBfLKA/videos
Facebook: https://www.facebook.com/UpBotscom