Crypto seeing red as UPbit gets raided
The cryptocurrency markets are awash in red today as news out of South Korea is likely the driving factor.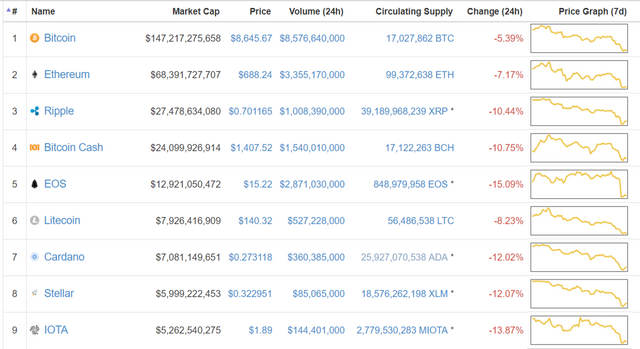 (Source: https://coinmarketcap.com/)
According to Coindesk, prosecuters in South Korea have raided the largest cryptocurrency exchange in the country, UPbit.
It isn't entirely clear exactly what UPbit is being investigated for as several reasons have surfaced.
First it was rumored that UPbit was basically embezzling from customer accounts and transferring coins into their own accounts.
Then later that was updated to say that Upbit was instead selling cryptocurrencies to clients that it didn't actually own.
This was the updated quote from Coindesk:
"UPbit is suspected of fraud for allegedly selling cryptocurrency to customers that it does not actually hold, according to the report. We have secured hard disks and accounting books through confiscation. Analysis is expected to take days."
(Source: https://www.coindesk.com/koreas-biggest-crypto-exchange-raided-over-suspected-fraud-report/)
On first glance that sounds bad, but it could also be something that is a part of the normal market making process.
Stock exchanges in the US routinely sell shares that they don't actually own, they do this to provide liquidity for their customers and to "keep an orderly market".
The trades are eventually settled by transferring shares between exchanges so there is no harm done.
What has gone on here is anyone's guess at this point, but the fact that the local authorities are involved probably means there was some kind of nefarious activity going on.
In general, regulators don't like to take action unless they have proof of something.
What this means going forward:
In general it shouldn't have too much of a long term impact.
Regulation among these markets was coming already and this is just another example of why it is needed.
When there is a lot of money at stake, people have proven time and time again that they need to be policed.
That being said, we could continue to see a bit of weakness in the very short term due to a customers selling out of UPbit.
Though, in my opinion, those sellers will likely eventually move their money and holdings to other exchanges and we will continue on with business as usual.
Could possibly have some effects on Steem and SBDs going forward.
One thing to keep in mind regarding Steem and SBDs is that the UPbit exchange was the largest exchange in terms of volume for both Steem and SBDs.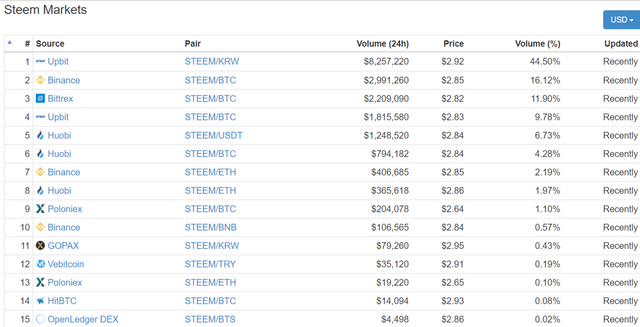 (Source: https://coinmarketcap.com/currencies/steem/#markets)
How UPbit being under investigation affects those two is anyone's guess.
If the exchange were to be shut down it may affect them negatively, though it being shut down doesn't seem likely to me.
UPbit has likely been responsible for some of the current premium in SBDs, though.
Stay informed my friends.
Follow me: @jrcornel