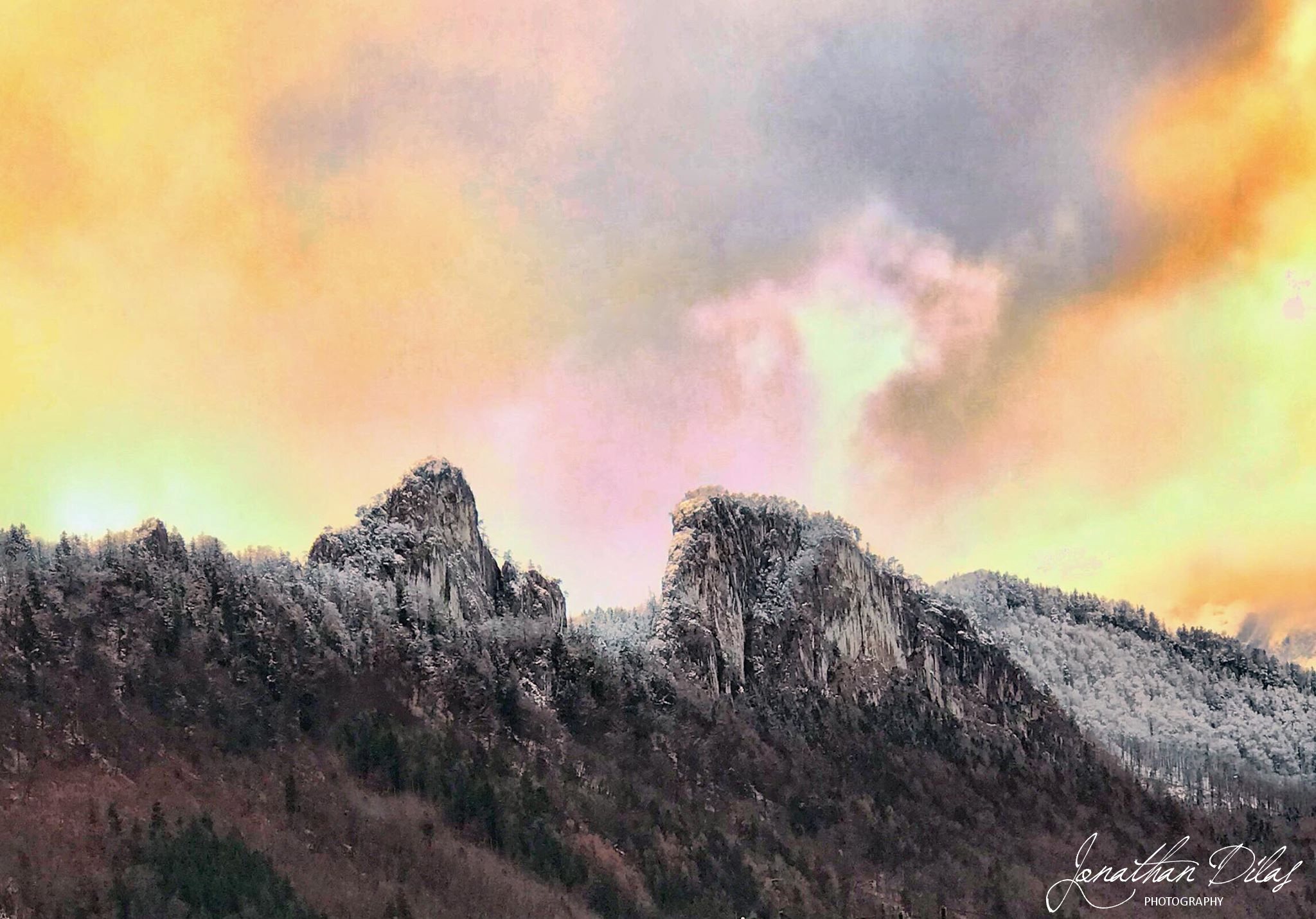 While driving through Salzburg, in Austria, I came through Hallein, a little town nearby. Then, suddenly, I could see two giant rocks on a hill surrounded by woods. In the very first moment I really thought, that I have been switched into the world of Lord of the Rings. In an instance I took a photo and tried to keep that moment (see above). It was a really magic moment, because this was my first time I saw these rocks. They are called the Barmstones and a old legend says, that two giants were fighting each other and then turned to stones.
The appearance and the placement of the Barmstones do not look created accidently by nature, but how could someone move two giant rocks, which are more than 800 metres high?
Their name is more likely to come from the Celto-Romanesque "barme" = the rock. At least this is the assumption. A deeply cut groove divides the two rocks and it is precisely this gap in a second saga. It is supposed to be a work of the devil, and it went like this:
"Once the evil enemy lay across the mountain, which at that time was not yet divided, and let the sun burn on its fur. He glanced pleasantly up and down the beautiful river Salzach and the valley from his view, pondering eagerly how he could do evil to the people down there.
Suddenly his face darkened and he uttered a horrible curse! In the depths, a procession was in progress against the Oberalm. When the wind turned, the devil, at his height, could distinctly hear the litany of prayings. He become more and more angry about this and then, on top of that, there was the worst smell of something that he could identify as garlic. Now the devil went crazy out of anger. Dark clouds opened and a howl and whining was heard. It was the devil at work. In his anger he had begun to rake and rake against the wall so that the fells rubbed down to the Salzach. For so long, he dug himself into the depths, until today's deep gap had formed, which are now these two rocks.
Sometimes, in the area of these rocks, strange things happen. You can hear voices, see strange lights or feel that something is there, but you cannot see. It is really a strange place near the Barmstones and the people still wonder.