We are definitely living in a time of great change. People are waking up in growing numbers. The layers of darkness can now be seen. As each layer is peeled away it will expose to all of us how best to address the needs that may still remain.


As much as I dislike talking politics and even the subject of government overreach and abuse around the world and have tried to distance myself from it all together, I find one can not look away. If we truly want to make the world a better place and a safer environment for children this must be our first focus unfortunately.
Yes, this is Christmas time and most people simply choose to avoid the negative sides of what is happening in the world to focus more on family and the traditions they share and that is great for them. For me I feel it is the best time to look at the sufferings in the world and give thought to those less fortunate. It is simply a personal intended choice for me.
How many children in the world this day are not home with their loving families? How many are at this moment, crying and scared, dark inside, alone in their despair? How many children are trapped in a sex trafficking ring in route to the next vile abuser that thrives on the pain, suffering and fear they impose? How many have been reported missing but still no picture of their face to show in helping to even find and identify them? How many children are taken from their families in Africa and other countries for slave labor in the mines building more wealth for the few elite? How many families have simply been torn apart only days before Christmas by CPS? How many families today are not having Christmas because they can't afford to spend the money that is needed to pay for the many hoops laid out by a family court system? How many are cold and hungry? How many have no place to sleep tonight that they can call home?
If you really want to know the answers to these "tough" questions:
Simply follow the most focused team of REAL researchers, investigative reporters and journalists who are not afraid to ask the tough questions. You will want to follow the contributors to #familyprotection as well.

@familyprotection and @markwhittam and @canadian-coconut
Funds raised by @familyprotection are used to help families that are struggling with the many illegal kidnappings done by those that see children as a commodity.
Let there be Light!
Maybe by "coincidence" or possibly by universal syncronicity (my favorite) a great deal has been happening through the White House here in the US. An Executive Order was signed and released to the public on Dec. 21st, the winter solstice. Along with that EO is what is called an Annex that lists the names of international "big guys". Long story short: If it is found that these "big guys" are also doing business with some of the largest perpetrators of the most disgusting and vile crimes then their property will be seized and indictments served on them as well. (And the good NEWS is that the ARE connected!)
(I believe no news these days as being perfect and true, but always consider all sides as they become known to me, find as many dots as I can and see how they may connect. I don't proclaim to know everything and even what I know today, maybe I will know it differently tomorrow)
When we look at a disease we should be looking for the cause of that disease, right? Not simply how to treat the symptoms. That approach can be applied to other forms of distress as well. As the Light is shining on the darkness more layers are found. This article from @dakini5d and the videos within it (especially the 3rd one and don't let Alex Jones turn you off there is a lot of info on this page) and it reveals how the next layer connects to the more local and well known "powers that should have never been".
https://steemit.com/dakini5d/@dakini5d/infowars-emergency-broadcast-imminent-deep-state-retaliation-plan-to-assassinate-president-trump-qanon-storm#comments
As @dakini5d says: "Let's all focus our attention on defeating the deep state using our prayers, our heart resonance, our power to speak and spread the news, our ability to discuss the hard issues with our friends, families and community members over the holidays."
We ARE a Rising Voice for Children!
When we shine the light into the
darkness it loses its power over us.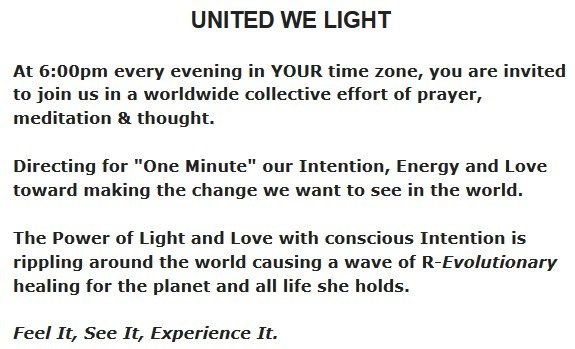 Working together we will shine the Light around the world exposing the lies and darkness which is revealing a new way to enjoy all that has been Given. I've been following the Light for many years now and it as not let me down yet. Has certainly made for an interesting journey and here I am on a most incredible Steemit platform with a most exceptional community and growing number of friends. Merry Christmas and Love to All!