What do you sell?
Some people at CTP sell products other people created.
Some sell their own. Others do both.
Some just see CTP as a leisure activity.
I must have always been the latter.
I'm not here to talk of how, or if, people in the community sell.
But... what do they sell?
Did you choose a niche? Did you go with the flow and promoted what comes naturally to promote, i.e. programs for promoting stuff that allows you to promote products that will help you promoting other promoting tools?
After all, that's what we all have in common.
Why would selling cricket gadgets in a traffic exchange be a good idea? How many surfers are genuinely interested in cricket gadgets?
Of course, most people surf traffic exchanges because they want to promote their affiliate programs.
While products vary from educational content to platforms that offer several different tools, there's only one safe niche: TRAFFIC.
What do the majority of people promote? Traffic.
Wise choice, except for the harsh competition it comes with.
I will explain it with a meme.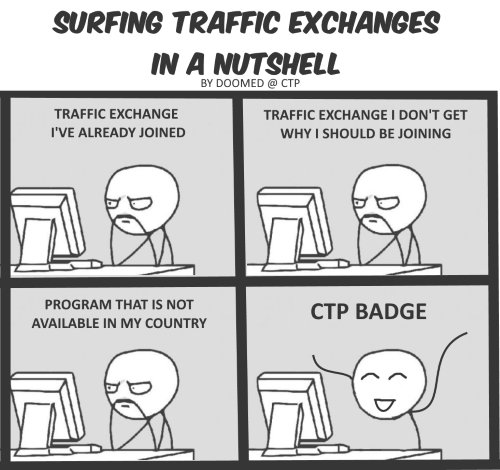 Can I be proud of it? It's lovely! CTP needs more memes!
Enough of blabbing.
This is why I'm planning to promote something that doesn't involve traffic.
It's going to take a while because I still have to create it.
Keep your expectations low, please. It's supposed to be simple.
I will take my time to learn and practice the little amount of skills required to make it happen, and hopefully... make it happen.
This is all for now. I hope you enjoyed reading my rant.
Please, tell me what you think and answer my next question, if you'd like to.
It would help me to know you better, and it could also inspire whoever is looking for something to promote.
What do you sell?
What niche does it belong to? Is it a physical product or a digital one? Is it your own or someone else's? Did you try it yourself before promoting it? Do you believe it's valuable? Is it available in my country?