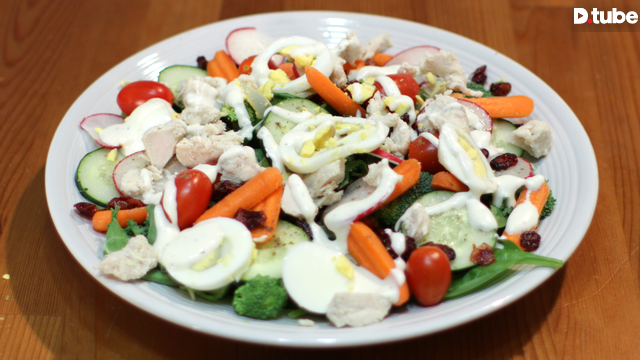 ---
Hello DTube and Steemians!
In this episode of In the Kitchen with Matt I will show you how to make a salad. This easy salad recipe is my favorite salad to eat and I eat it all the time. Salads can be super healthy for you depending on what you put on them. I had a request to do a video on a vegetable salad so here we go! In order to be a true vegetable salad just leave off the hard boiled eggs and chicken and craisins. Salads are very easy to make, if I can do it, you can do it. Let's get started!
What's your favorite salad? Drop a comment down below and let me know.
Ingredients: (Note I rarely measure my ingredients for my salads)
Handful of Spinach (or your favorite lettuce)
Handful of Kale (Kale is super healthy for you)
Some raw broccoli (add more or less)
Cucumber, sliced thin
Carrots shredded or sliced
Tomatoes, grape, cherry, or sliced
Radishes, sliced thin
Craisins
Chicken, cooked (optional)
Hard-Boiled eggs (optional)
Bacon (optional)
Other ingredients could include croutons, variety of different seeds, mushrooms, etc.
Salad Dressing:
Ranch (this is my all time favorite dressing
Thanks for stopping by!
Matt aka mrchef111
---
▶️ DTube
▶️ IPFS