We're pretty sure that if you've paid a friend in the past couple of years, you've probably used a payment app. There are a bunch of popular ones out there, and more are popping up all the time. We're also pretty sure that if you have used one of these apps, none of them have ever given you a reward just for making or receiving a payment. And it's not just a reward like a coupon, or something you can't actually use. It's real money that you're earning, in the form of cryptocurrency. That's the Metal Pay difference.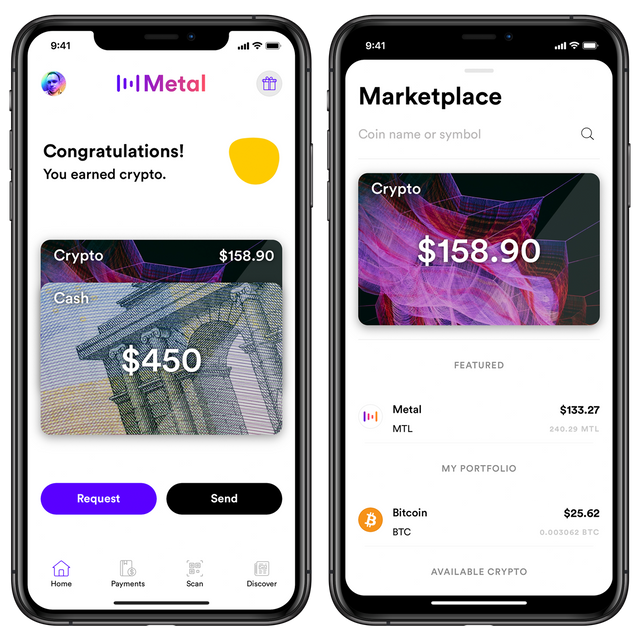 When you first open the app, you see two balances, displayed in the form of cards: Cash and Crypto. Connect your bank account to Metal Pay and you can load up your Cash card and start making payments to friends in your contacts list. When you send cash to other friends using Metal Pay, you'll start noticing something pretty amazing: you'll begin seeing your Crypto card balance begin to rise. Metal rewards are earned over time as you make and receive payments, and invite friends using your referral link.
Inside the Crypto card is a feature called Marketplace. Here you'll find our native token—Metal—that powers our rewards, as well as a list of all of the cryptocurrencies you can store and trade. And that's the next thing that you need to know about Metal Pay: You can buy and sell 16 different popular cryptocurrencies including Metal (of course), Bitcoin, Litecoin, Ethereum, and more on the way in the near future. You can start turning your earned rewards into a crypto portfolio, as well as purchase them using your cash balance. Soon, you'll also be able to pay your friends with any available cryptocurrency we offer, instantly, and for free.
And let's not forget another feature that's unique to Metal Pay. Your cash balance is actually held in an FDIC insured bank account. When you transfer money from your bank down the street to Metal Pay, it's a bank-to-bank transfer, and it's never put at risk. We know that this is your hard-earned money, and that's why obtaining FDIC insurance through an established partner bank was made a priority long before the app was launched. Ask your other payment apps if they do this (or just Google it right now) and you might be astonished when you learn the answer.
Another thing that Metal Pay values is your privacy. The defining feature of one the most popular payment apps on the market is basically financial voyeurism: everyone can see everything that their friends are paying for. It's an endless social media feed of people paying each other for dinner, drinks, babysitting, movie tickets, rent, cab rides, yoga, piano lessons, and anything else you can think of. We take a different approach: who you pay—and for what—is your business, always, and forever. This is a value that was formed in the cryptocurrency ethos, and we live by it.
Finally, the most important feature Metal Pay has to offer is something that we didn't create. That feature is, of course, our users. When you use Metal Pay for the first time and make a payment to a friend, you're doing much more than just sending a few dollars. You're helping to build a future where people rethink their relationship with money. Bringing cryptocurrency to the mainstream by allowing anyone to earn it through the same actions they already perform with other payment apps allows more people to take part in a financial sea change that is still only in its infancy.
We hope to see you there.
🤘
Download Metal Pay for iOS from the App Store at: http://m.tl.pay
Android users, we're building a brand new app from the ground up just for you. Please join our waitlist at: http://android.getmetalpay.com