UMKA A PLATFORM THAT EMPOWERS THROUGH BLOCKCHAIN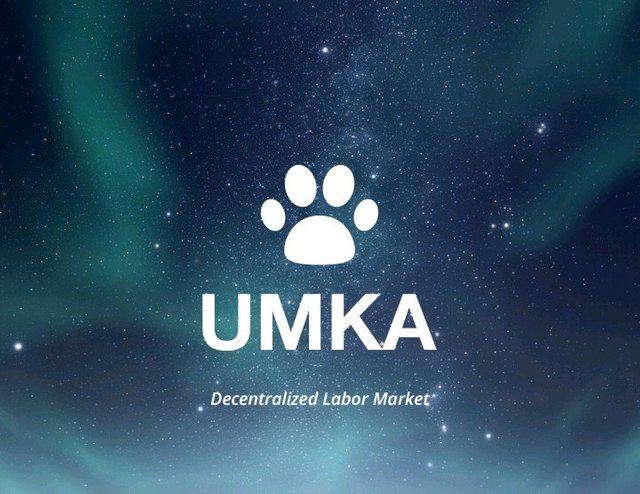 INTRODUCTION 

In the world today we can't do without the internet has it generate good revenue for big companies all around the world today. The internet has given opportunity for people all around the world to develop themselves into one field through which they can make money online. Today we have internet radio , online tv , live broadcast of a event online, writers, bloggers, web designer, graphic designer , online marketers/ influencers and many more. The internet gave birth to all this and there is need for their services to reach the world. This is why UMKA bring a platform through blockchain technology connect freelancers and people who need their service. This platform will be on ethereum blockchain where the UMK token will be issued from and it will be a ERC20 token.
ISSUES AND SOLUTIONS
No guarantee: no guarantee on a proper fulfillment and also no guarantee on payment.
User cooperation: on all the platform that a available interaction is only possible through peer-to-peer process. And there is a need for multiple freelancers that are working on a simple project to make use of live communication.
Safe deal: through the Agile Smart Contract (ASC) smart contract will allow progress payments and it will also add introduction of changes to the contracts.( with the consent of both parties )
Project group: any UMKA employers will be able to create a project group to organize the work that many freelancers are working on to a single task.
High commission: exiting platform commission and fee are high but on UMKA you will be charge at a good rate.
FOR EMPLOYERS:
With UMKA users will be able to deal safely, this is done through an Agile smart contract that allows successful payment.
WITH UMKA searching of freelancers will be made easier.
Google Neural Machine Translation integrated in UMKA's chat engine will help facilitate communication within users of different countries.
With Umka, the integrity of professional freelancer is guaranteed.
FOR SPECIALISTS
With UMKA integrated online courses, users of the system will be able to take online courses in world's leading educational institutions.
UMKA ecosystem will pave way for attractive freelance job opportunities.
Umka will help create professional communities.
With Umka users' payment through the blockchain technology is guaranteed.
The digital passport stored on the blockchain contains user's data, this will comprises of users skills and any other qualifications. This will be able to help employers to locate freelancers with the required skills.
FOR EDUCATIONAL INSTITUTIONS:
UMKA will serve as employment opportunities.
Sharing experiences with the world
Feedback from labor market
Growth of demand for services
OTHER FEATURES OF UMKA
There is user-friendly interface implemented as a mobile application, a web version and a desktop client (4Q, 2018)
There will be a customer-oriented service and 24-hour technical support.
Customers are going to be able to make deals in all other cryptocurrencies like ETH, BTC, LTC and many others.
Accepted currencies in UMKA system are: BTC, ETH,Bitcoincash, Dash, Dogecoin, Emercoin, Ethereum Classic, Litecoin, Ripple, Fiat currencies
UMKA will be a smart contract on the EOS blockchain, where users will be able to carry out a deal securely and every single deal will be trackable.
UMK TOKEN DESCRIPTION
UMK token is an ERC20 token built on the Ethereum Blockchain.
Token issued: 180,000,000
Token cost: 0.10$/1
Softcap: 1,000,000$
Hardcap: 10,000,000$
Accepted currencies: ETH
        TEAM 

The team consist of people who understand business , freelancing and blockchain technology
      CONCLUSION 

This is a unique project with good features because it will help millions of freelancers around the world. This project need everyone support to strive.
To know more about UMKA visit the following links
UMKA's Website: https://umka.city
Whitepaper: https://umka.city/wp-content/uploads/UmkaWP_Eng.pdf
Telegram: https://t.me/umka2018
ANN Thread: https://bitcointalk.org/index.php?topic=3382203.new#new
Facebook: https://www.facebook.com/freelance.umka/
Twitter: https://twitter.com/umka_freelance
Author: Dammy
Bitcointalk Username: dammy1988
Bitcointalk URL: https://bitcointalk.org/index.php?action=profile;u=1340111;sa=summary