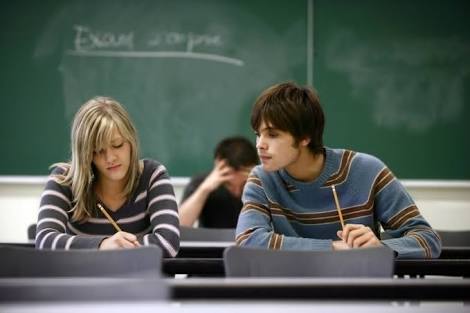 photosource: google
For me, the biggest thing that I regret in my life is when I am in high school, I didn't take my studies seriously. I'd always come late in school, AND ALWAYS COPY MY CLASSMATE'S ANSWER ESPECIALLY IN MATH!
I don't know why, I just can't really understand numbers, especially when it combines with letters. I don't have interest with math, I feel so sorry to myself.
At my first year high school, I am still competitive, I'd always participate to class participation, school contests, been top in class (top 8) hahaha . In mathematics subject, I'd try to answer it by myself without copying my sit mates work. But time goes by I just can't stop the feeling inside my bone😂 Nothings permanent except this world except change. People change talaga ba. Second, third, fourth year high school Nah I became worst, too much barkada (friends) because of them I learned how to cutting classes, drink liquor (not much, I have control) to absent classes.(sometimes) Overall I passed high school, I know I am smart but I am just lazy.
I regret those things because of it when I was in first year college, I failed two subjects. Programming and Algebra (lol) in my mind college is like a high school thing, If you are always present, you will pass. But it's not true huhuhu. I regret it so much, if only, if only I could turn back the time to make it all alright. There comes a time, I want to stop studying college. But no, I know I was just frustrated that time and yeah here I am no coming 4th year college irregular 😂
Lesson learned, dont believe in YOLO. (You Only Live Once) Yeah we only live once they say live your life to the fullest but YODO (You Only Die Once) Live your life in the right track. It's not too late for everything we can still do good things. Again nothing is constant in this world except change.
THATS ALL THANKYOU =)
@jason04 thankyou for having this wonderful contest. "My Life's Biggest Regret Contest"