ULOG: 12 "PGRI 1 Karanganyar Vocational High School Bus Falls into the Gorge"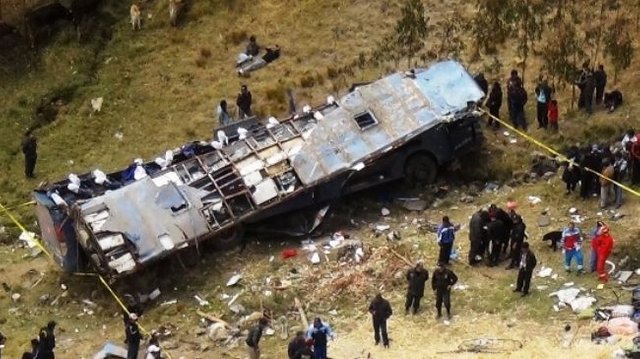 Img source : abovewhispers.com
The bus group of the PGRI 1 Vocational High School Karanganyar plunged into a ravine in the Cemoro Sewu Sarangan groove, Magetan, allegedly because the driver did not master the terrain. The sharply curved road conditions precisely on Jalan Raya Mojosemi, Plaosan, this makes the driver unable to control the rate when the road is down and cornering.
"It started when PO Suka Damai Bus Nopol K 1745 AZ driven by Agus Riyanto moved from west to east. Arriving at the location of Jalan Mojosemi in the direction of Sarangan-Cemoro Sewu, precisely on the upper corner of Mojosemi Park, cornering and descending sharply. Allegedly lacking anticipation and concentration, so the bus is shaky and goes into the abyss, "explained Visibly the Magetan Police Chief AKP Himawan Setiawan told reporters at RSUD Dr. Sayidiman, Tuesday (09/25/2018).
As a result of the single accident, explained Himawan, two people died. Namely a bus driver named Agus Riyanto, a resident of Grobogan Central Java and a travel agent, a transportation service provider named Elmufida Ullya (24) from Bolon Village, Colomadu Karanganyar District.
In addition to causing 2 deaths, he added, the accident also resulted in 11 injuries.
"So our official data of the dead victims were two and wounded 11 people. Still there were only two people treated at Dr. Sayidiman Hospital. The others had gone home and some were asked to be referred to Karanganyar," he said.
This group of PGRI 1 Karanganyar Vocational High Schools is expected to be a comparative study to a tractor company in Madiun. The group consisted of 2 buses departing at 10.00 WIB from Karanganyar and arrived at Madiun at 1:00 p.m. After Madiun, they continued their trip to Bali. Namely visiting a local television station in Bali. But this accident caused the school's comparative study to be canceled.