ULOG: 06 "DFSK Open an authorized dealer in Yogjakarta"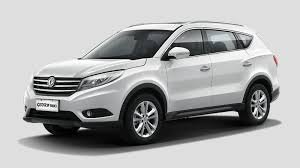 Img source : motorblog.com
Yogyakarta Special Province (DIY) and its surroundings become a potential market for the automotive business. Here there are many potential customers who need a modern and comfortable vehicle.
High market potential can be seen from the number of motorized vehicles in DIY which have reached 1.6 million units. Every year the increase ranges from 140,000-150,000 units.
"Glory 580 SUV that is loaded with excellence in various aspects will be able to reach the hearts of the Indonesian people, including potential customers in the city of Yogyakarta and its surroundings. In addition to the abundant features and high driving comfort level, DFSK Glory 580 also has a number of variants that can be tailored to the needs of consumers, including very competitive prices in its segment, "said Permata Islam, PT Sokonindo Automobile Marketing General Manager of Sales Center in Yogyakarta, Thursday (9/13/2018).
Therefore DIY is one of the expansion areas for the DFSK. DFSK also featured Glory 580 for the first time at Plaza Ambarrukmo, Atrium Mall 1st floor, Yogyakarta City. During the launching period, DFSK provided a DP program starting at 20%, low interest and a booking fee of IDR 5 million. In addition, there are also other marketing programs such as lucky dips to consumers with mobile phone prizes and shopping vouchers worth hundreds of millions of rupiah.
To embrace more customers, the DFSK also held a Super Experience Activity Program program which is one of DFSK's activities to build public trust in Glory 580. The Super Experience Activity Program is a national scale test drive program held from August to December 2018. Prospective participants come to the DFSK outlet and can directly join this program, where test drive participants can have the chance to win the DFSK Glory 580 car.
In addition to presenting quality products, DFSK also guarantees consumer comfort for its products by providing Super Warranty 7 years / 150,000 km (7 Years worry free). This is a DFSK commitment in providing the best service to Indonesian consumers.
DFSK Glory 580 comes to Yogyakarta city market in four variants, namely 1.8L Comfort 5M / T (Rp256.9 million), 1.5L Turbo Comfort CVT (Rp293 million), 1.5L Turbo Luxury 6M / T (Rp306 million), and 1.5 L Turbo Luxury CVT (Rp319.5 million).