ULOG: Smoking places with Smokinglems featuring: Miniature model of Ruwais City in UAE by Smokinglems.
One of my hobby is whenever I travel, I see to it to take some memories with me of the places I've been, to share with people so I can contribute wonderful places, adventures and experiences to everybody who loves to travel and to see places new to them.
This is a a miniature model of the city of Ruwais. Ruwais is a beautiful city that is located in the western part of Abu Dhabi in UAE. About 240 kilometers west of Abu Dhabi city. The Ruwais-industrial and Housing Complex has been developed by ADNOC as a major contributor to the national economy and represents a series of multi-million-dollar investments by the company.
This are the photos I took using only my mobile phone of the amazing miniature model of Ruwais. Admiring the beauty and the effects of the light coming from the main entrance door to the building gives a realistic effect. I love just looking at the view.
This is the venue where I found this miniature model
As you can see the exact location where We took our picture beside the pool.
More photos from the miniature model
Its nice isn't it?
In the decade of 1970, plans were established for tracing from a beautiful desert to an autonomous industrial city, without losing the natural beauty that Ruwais characterizes, and thus able to meet the requirements of Abu, The flourishing oil and gas industry of Dhabi. Centered around the Ruwais Refinery of Takreer, the complex was officially opened in 1982 by Sheikh Zayed bin Sultan Al Nahyan, the late president of the United Arab Emirates and Governor of Abu Dhabi, and the visionary of the remarkable development and prosperity that characterizes to Abu Dhabi. Ruwais is today one of the most modern industrial complexes in the Middle East, and which today opens the doors to international tourism.
Ruwais expands its vision, to receive tourists from all over the world.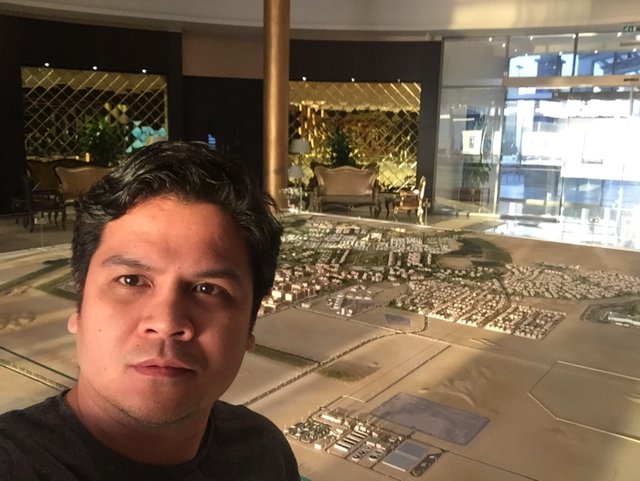 This are some of the places you can visit if you happen to pass by UAE and Ruwais. Photos taken from Danat resort, haven't tried it but I think I will recommend.
If you want to see more about this place visit them on their website
Those are the pictures of the miniature model I found during our visit to Ruwais. Hope you enjoyed and liked what I shared for you today. Keep on upvoting and I keep on sharing you my adventures.
That's all for now, hope you like today's episode and I hope to see you again on the next Smoking places with Smokinglems.
If you like my post , please follow and upvote
Smokinglems By this you are helping me to share more of my adventures.
Vote for them to be part of your witnesses...
Philippines:
@steemgigs (@surpassinggoogle)
@precise
@cloh76.witness
@ausbitbank
The ALLIANCE:
@noblewitness (@sircork)
@enginewitty
@thekitchenfairy
Others:
@canadian-coconut
@acidyo
@teamsteem
@curie
@blocktrades
@jerrybanfield
@themarkymark
@aggroed
@roelandp
@timcliff
@gtg
@pharesim
@gmuxx
If ever you haven't voted any witness,
Consider casting your witness votes for @steemgigs (@surpassinggoogle), @precise, @cloh76.witness, @ausbitbank, @teamsteem, and @curie who have been adding an invaluable contribution to the community.And don't forget @blocktrades!!!
To cast your votes, just go to
https://steemit.com/~witnesses
Thank you and have a great Steemit day!!!