ULOG: Completion of the mortgage bank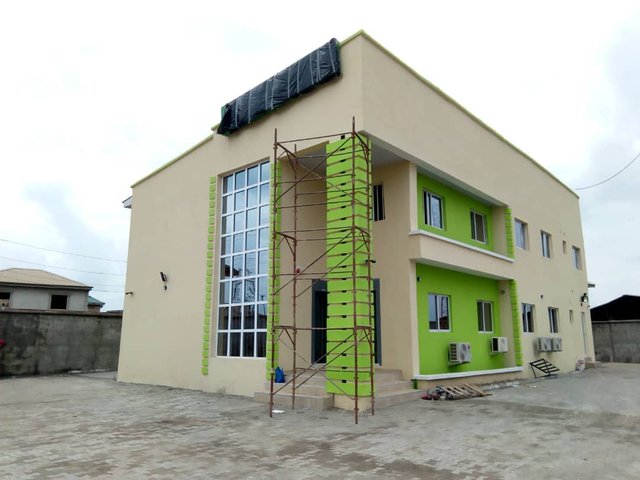 The completed bank
---
Helo everyone. Finally, the eagle has landed.
I know you all will be surprised at this statement but I am here to tell you we have finally completed the Mortgage bank we have been constructing for the past three months now.
The construction of this bank has been met with a whole lot of difficulties and mixed feeling. Lots of disagreements and arguments. Lots of fall outs and fall ins. That notwithstanding, I got to learn a whole lot of things that I am grateful for working on this project. I learnt human relationship, project management and human management. Above all, I got to perfect my knowledge of house wiring and installations.
My boss on the site happened to be a man who studied project management and so he was able to plan the construction process so as to fit into a 60 days window but encountered some shortfalls along the line. One of the shortfalls was the fact that he underestimated the construction of the bank vault. I believe this was an oversight on his part as he has probably never supervised or built a bank before. The time frame he inputted for the construction of the bank vault was just 3 days for the iron works and form works but to his greatest surprise, it took us nothing less than 2 weeks to complete. You can imagine having such a lag in a job that was to be completed in 60 days.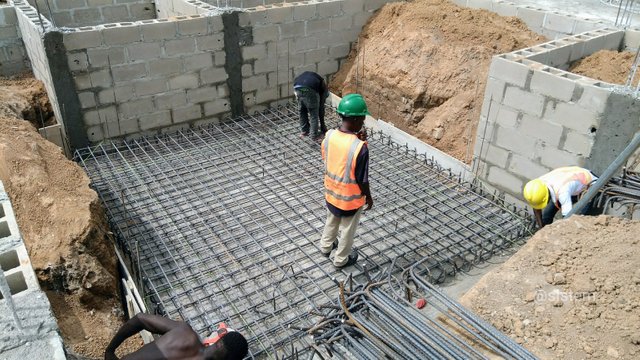 The bank vault foundation under construction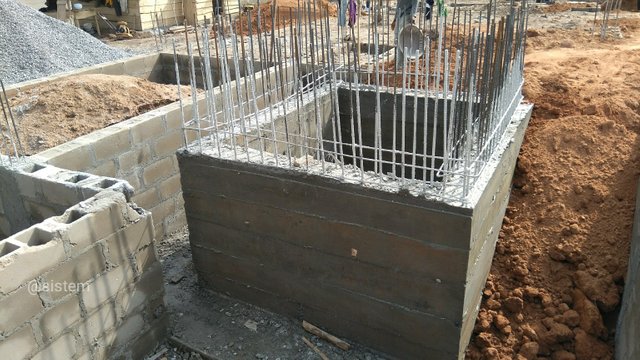 The bank vault foundation completed
The pressure was so much on all of us that we had to keep explaining to our clients but would you blame them if they didn't listen? We gave them the work program and got their hopes high so they expected us to deliver when the time was almost due but could clearly see that we couldn't and so they had to extend the time a bit for us.
Another shortfall we had was the fact that funds were never released on time. If you have worked in a public or private sector before, you would agree with me that the process in which documents approved are always a tedious one as they need to be passed from one table to another and before that can be done, time will be wasted. My boss ended up using his funds to carry out the project as he understood the fact that the job had a time frame and if he was to wait for the office to approve every fund he requests from them, the job would suffer. This might be one of the things often taught in project management, I have no idea but I definitely learnt from him.
Oh how can I forget the incessant rain falls that didn't allow us to work for some days. During this periods, my boss often kept records and finally drew up a rain fall chat which he always presented to the clients whenever they come to complain that the job was slow or that what they expected to be done wasn't done. Rain is one thing that can't be controlled even though I have heard of occasions people hold the rain and stop it from falling (I have never believed this for once and have decided to do my own research on this and then make a post about my results so stay tuned #winks). There were some days we made plans of the activities to be carried out the next day only to get to the site the next day and be confronted by heavy rain. We would end up sitting around the whole day dig nothing but wait for the rain which wouldn't stop until we leave the site in the evening. It was a big problem as we were in the rainy season when the project was ongoing but I am happy it's all behind us right now and I am telling this as one of my success stories.
Talking about human management. It is really difficult to manage humans especially illiterates and semi illiterates. These are the kinds of people I got to work with on that project. The money approved for the construction of the bank wasn't much so we had to hire cheap labour which consisted of people who didn't go to school and people who couldn't even speak or understand simple English. You can imagine trying to explain something to a person and the person would be looking at you like an alien. It was fun though because the job made me get closer to the people of low cadres and I got to realise that we are all one, rich or poor, intelligent or dull and above all, I got to learn that with the right mentoring and monitoring, no one is really dull. It only takes time and determination to bring out the best in people and I am glad I did with the little time I spent with those workers.
I will be showing you a picture splash of the time spent on that construction site and the activities that were carried out and I hope you will enjoy it.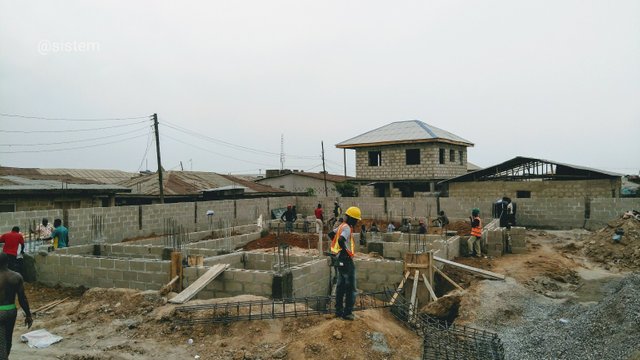 The bank at the foundation stage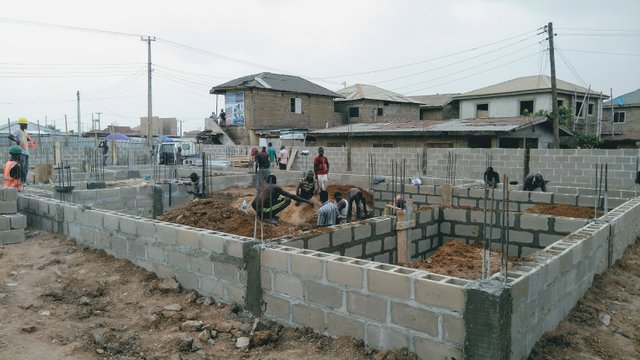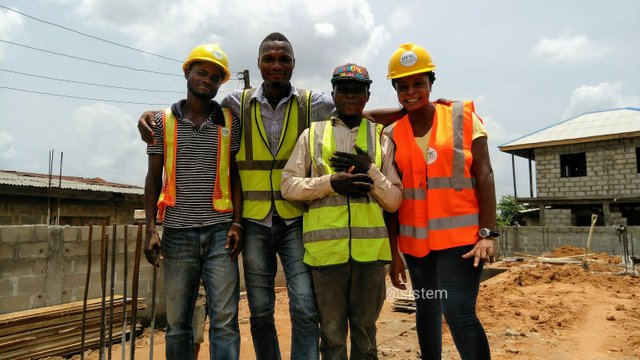 Some of the staff we worked with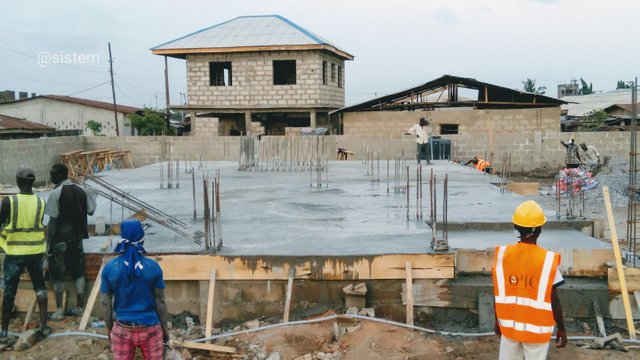 Casting of the ground floor slab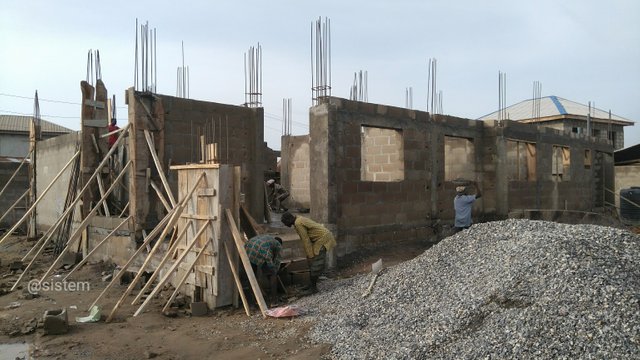 The bank at lintel level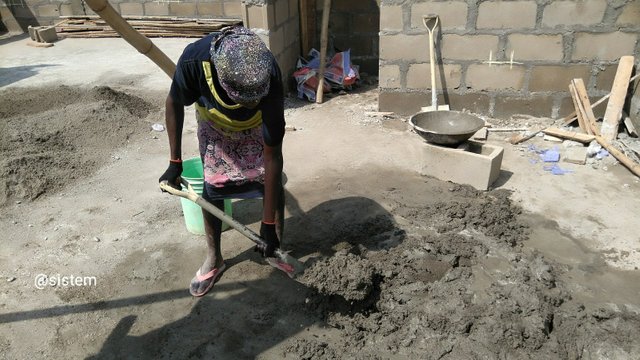 A female labourer mixing cement morter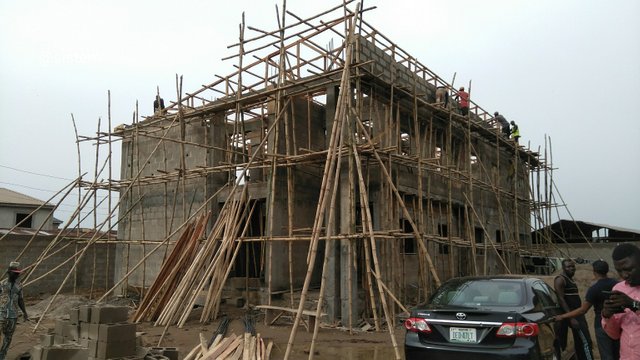 The bank at roofing stage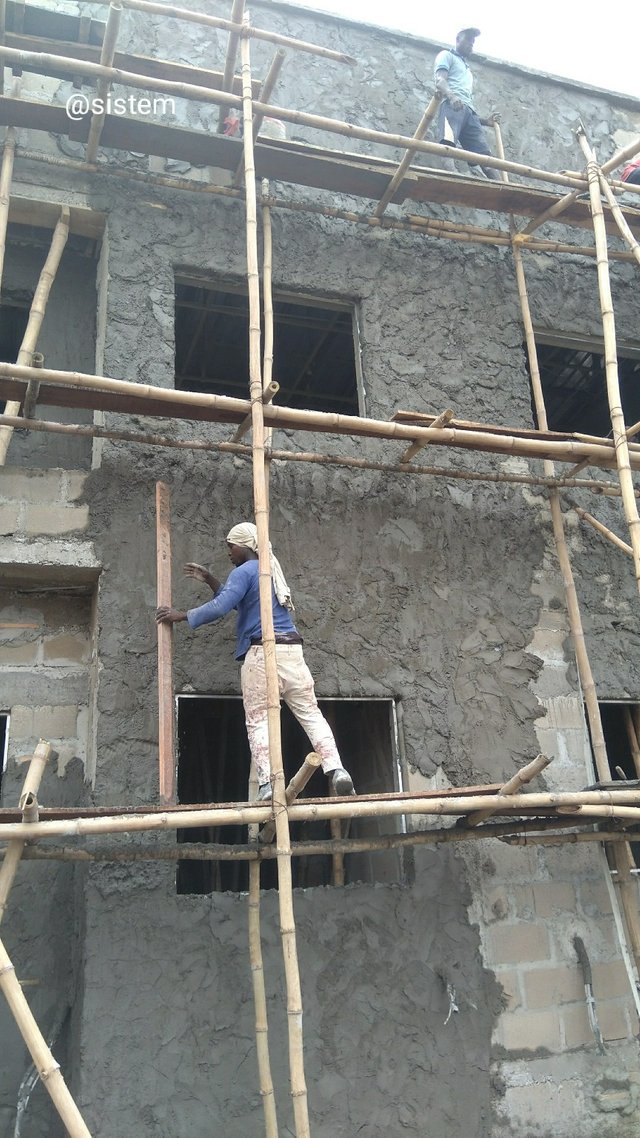 A mason plastering the building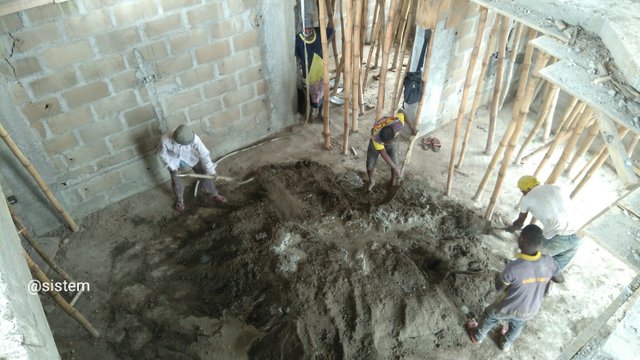 Mixing of cement mortar for plastering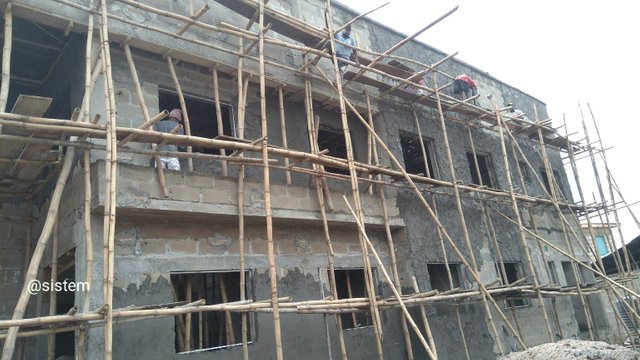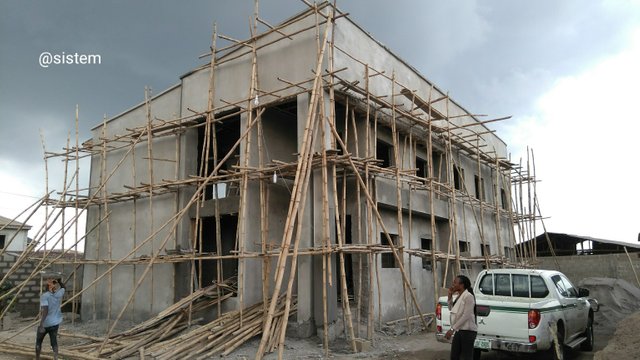 Plastering completed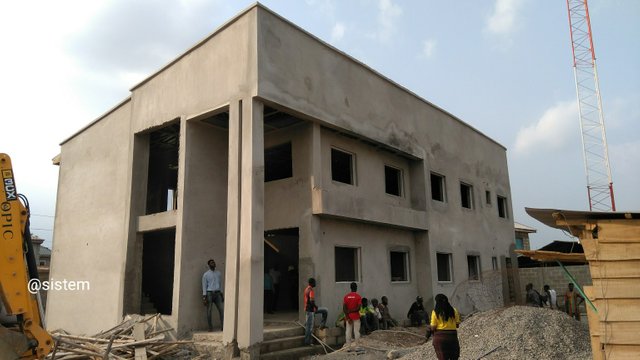 Scaffolding taken off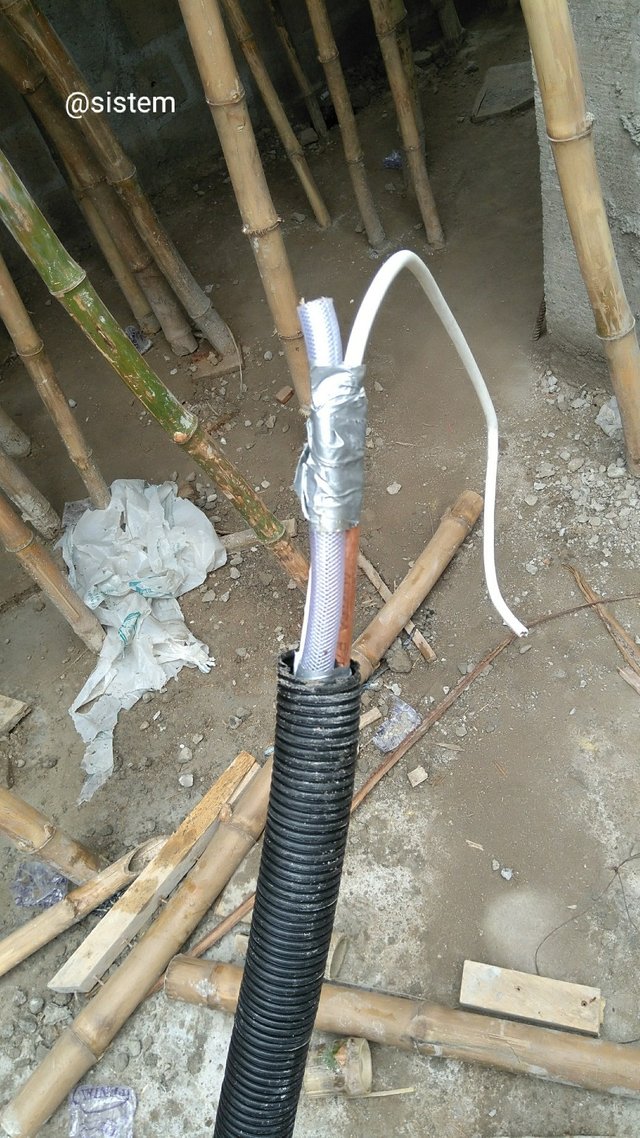 Installation of AC refrigerant pipes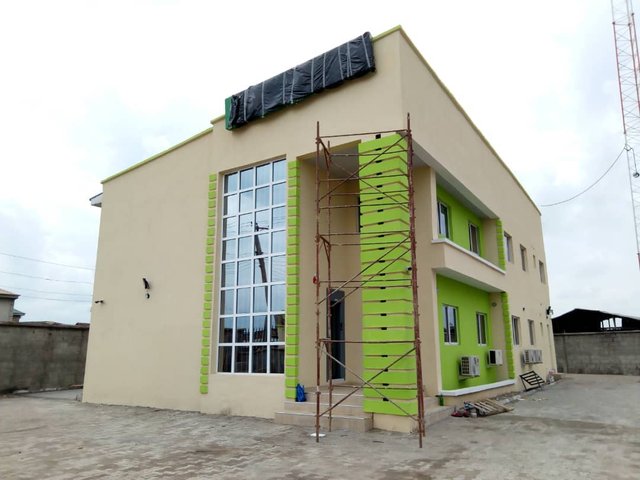 Painting of the bank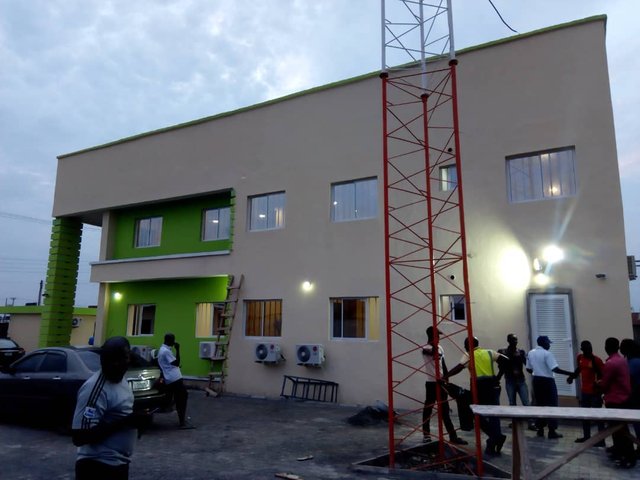 Bank construction completed
Next time, I will be making a post, teaching you how to build a bank from start to finish…stay tuned.