ULOG (QUOTES): #4
Hello friends,
Yes, I love Ulog-Quotes, so here I am again.
Freshly made for you. If it does not become famous, even so, I'm going to celebrate it. I like everything I achieved here. Hahaha.
Inspired by many real life situations, in @surpassinggoogle with your imaginary SMT Teardrops, in Terry Ajayi the human, in you dear human and in me.
Hola amigos,
Sí, amo Ulog-Quotes , así que aquí estoy de nuevo.
Recién hecha para ti. Si no se convierte en célebre, aun así, voy a celebrarla. Me gusta todo lo que logré aquí. Jajaja
Inspirada en muchas situaciones de la vida real, en @surpassinggoogle con su SMT imaginario Teardrops, en Terry Ajayi el humano, en ti querido humano y en mí.
---
And it says:
"Tears flow in summer to refresh the soul,
in winter, to prevent our inner being
from being shipwrecked
and in the spring,
just to remind us that we are human."
By @samic
Y esto dice así:
"Lágrimas fluyen en verano para refrescar el alma,
en invierno, para evitar que nuestro ser interior naufrague
y en primavera, solo para recordarnos que somos humanos."
Por @samic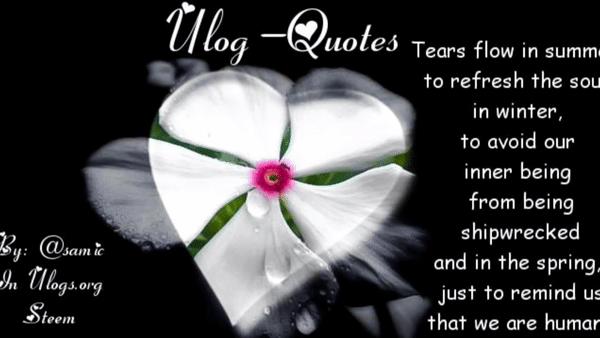 En video/In Vídeo
Texto, fotografía, gifs y video de mi autoría
Text, photography, gifs and video of my authorship

---

Si te gusta compártelo, llevemos steemit afuera.
¡Hagamos ruido!

If you like it, share it, take steemit out.
¡Let's make some noise!

---

Guía para hacer y postear Ulog-Quotes: En este enlace:
Guide to make and post Ulog-Quotes in this link:
https://ulogs.org/ulog-quotes

---