ULOG: 12 "Two buses crashed the canyon in Cikidang Sukabumi, 17 people died"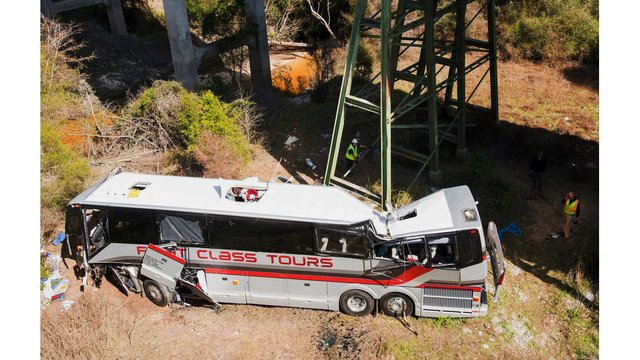 Img source : wane.com
Two bus accidents occurred in Cikidang, Sukabumi Regency, West Java. The first accident, a bus belonging to the National Resilience Institute (Lemhanas) with license number 1010-00 carrying dozens of teachers from DKI Jakarta fell to a ravine as deep as about 100 meters in Cisarakan Hill, Cisarakan Village, Sukabumi Regency, West Java.
"Before the bus went into the ravine, it had experienced a brake, so the driver could not control the vehicle," said Danramil Palabuhanratu Captain (Inf) Dudung Sumarna in Sukabumi on Saturday (9/8), reported by reporters.
The bus immediately shook and fell into the ravine. Based on the information, it is planned that the group of elementary school teachers (SD) will travel to the Geopark Ciletuh Palabuhanratu tourist attraction. The group departed from West Jakarta and entered Sukabumi at around 10:00 p.m.
Allegedly to shorten the time, the group of elementary school teachers chose through the alternative route Cikidang-Palabuhanratu. But around 11:00 p.m., precisely in the village of Buniwangi, Palabuhanratu Subdistrict, the bus experienced free brake. The victims who were all in the brink of asking for help, and soon came motorists who immediately gave help as well as called the security forces.
Soon, joint officers from the TNI, Sukabumi Police Station, SAR Team, volunteers and residents arrived at the location and immediately evacuated all the victims from the ravine. The victims were all brought to Palabuhanratu District Hospital to get medical treatment and care.
"The accident happened to the teacher group with the Lemhanas bus, 1 person died on behalf of Saepul Bahri (45) address Kalideres, RT 08/01, Kelurahan / Kalideres Sub-district, West Jakarta," Taufik said.
The second accident occurred on the B-7025-SAG police number bus carrying a group of employees of Honda motorbike dealers PT Catur Putra Group from Bogor. Their buses plunged into a 25-meter ravine in Cikidang, Sukabumi Regency, West Java.